Quote:
I believe that rugging horses is over rated
I
kind
of agree; there are some people at my agistment who have 3 layers on their horses: a cotton, a thick stable rug and then a waterproof, when the horse already has a winter coat o.0
Many do fine witout rugs and some just need a waterproof sheet to keep the rain off.
But some horses DO need the extra protection. Just today I had to walk my horse home from Pony Club (10 min walk) in the rain. He had a light fleece rug on, and it wasn't terribly cold, but when we got back to the paddock it was only a few minutes later that he started shivering.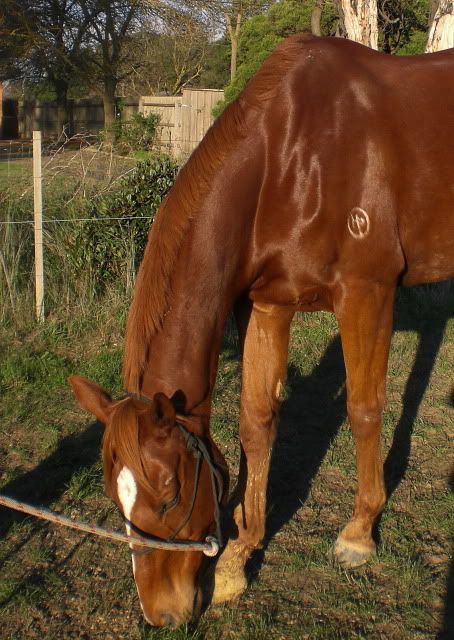 I know its not a very good photo, but it gives you an idea of how little coat he does have. He NEEDS a rug.
Wild_spot also made an excellent point.
I don't normally blanket my horses. However I do keep an eye on my older mare T. These last few winters I have found her shivering in the am, after about 5 mins of eating hay, she's fine. If I see that the evening temps are going to be 10 below, she will be blanketed until the temps change again or she indicates that it isn't needed anymore. I believe in keeping it simple, and will give extra hay if temps drop, but as an older mare, sometimes a little extra is needed.
With that said, this past winter, while quite cold, and much snow, T never showed any signs of shivering. All I could figure is the quality of hay was supreme, not sure what my hay guy sprinkled on it but it was awesome, and that was the little edge to help her keep warm.
I don't rug in the summer and the only reason I would rug in winter is to keep my horse clean, my youngster this winter will probably be going without a rug and both live out 24/7.
Hmm. Well my horse spends all day, every day, outside. When it starts getting cold, she comes in at night, and then eventually I kick her back outside for the night as it starts to warm up. She wears a blanket mostly for the rain. She isn't in a thick turnout blanket or anything, it's pretty lightweight, waterproof, and the "warmth" is a thin layer of fleece. If her blanket gets really wet, I will take it off for the night to dry. I clipped her for the winter once, just a trace clip, and she had a blanket on all the time then, since I took away most of what nature gave her to keep warm. =]
---
"Great spirits have always encountered violent opposition from mediocre minds."

I recently body clipped my main riding horse, and at the moment he has a waterproof doona combo. When it REALLY gets bitterly cold in winter, i'll add a woollen under rug. He wears a waterproof canvas combo in the in-between seasons, and a cotton rug to stop bleaching and insects in summer. The white cotton actually helps COOl them in summer, it keeps the direct sun off them.
---
I rug. My gelding grows no winter coat, so he has a waterproof combo rug, but my mare grows a reasonable coat so she only has a lined canvas rug. Both have summer rugs, but they get taken off every second or third day. I like to keep them warm and looking good.
-shrugs- Just my opinion.
---
It is not enough for a man to know how to ride; he must know how to fall.
Quote:
Anglesgrace, see how she is sweaty all through her coat? It makes it really hard for them to dry, and in turn means that they are very susceptable to chill winds and can quite easily get things like pneumonia.

It may be there but I just don't know how you can see sweat in that pic. Our horses are not blanketed. Horses will not get a winter coat with a blanket. If they don't wear a blanket they will. If an unblanketed horse doesn't get a wooly coat I'd have the vet look at it because you could just about bet there's something going on.
It gets very cold here. Our horses did very well this winter. It got well below zero, somewhere around 30 below F. We had ice storms, etc. The silly buggers don't even come inside most of the time!
---
Are you absolutely sure you wanna mess with my carrots?
Really? If I had a horse who looked like that when they weren't sweaty I'd be thinking cushings and all sorts of things. I can see sweat n the neck, girth, flank/stifle, and even a bit on the loins. Sweat on the loins and girth are bad news in winter as they are close to vital organs, and a chill in these places like you get with sweat can cause pnuemonia.

If I had a horse that was simply a pasture pet or wasn't ridden hard enough to sweat, I wouldn't rug. Horses equip themselves very efficiently for winter without our help.

BUT, we have changed their use and environment and must adjust our care appropriately. Any of my horses who work hard enough in winter to bring up a sweat, are rugged. Simple as that. It is a health issue and I won't risk my horses getting pnuemonia or losing condition.
---