Is this saddle dressage or AP?
---
I'm looking into buying this used (and obviously older model) Wintec, but I am having a tough time figuring out if it's an AP saddle or more a dressage saddle.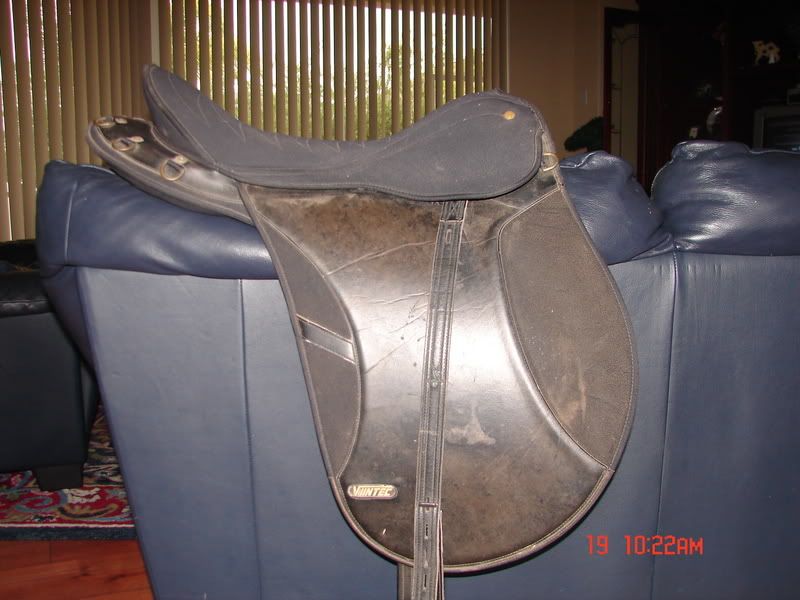 thoughts?
I'm going to say Dressage...based on the pictures I found. I know that these are newer, but i figure the shape would be similar.
Dressage
AP
Sweet! That's what I thought too; SCORE!
i think it's more along the lines of a trail/endurance saddle judging by all of the dee's behind the seat - also the way the seat is quilted.

BUT, the shape of the saddle does say "dressage" more than "AP"
---
kickshaw
Justin (qh/tb)
Boo (asb)
I think it is an all purpose, or like said a trail saddle.
The saddle will sit differently on a horse than in the pic, the pomel will sit higher and the flaps will sit further forward, I think. Also the stirrups will sit to far forward to be an effective dressage saddle. IMHO.
That saddle resembles the attempt of a dressage saddle. Are you looking at buying it?
Looks like a dressage saddle more than an AP. ;)
---
Ride more, worry less.
I don't think its a dressage saddle. It's not deep at all (which the majority of dressage saddles are) and most won't have those rings at the back.
I would guess trail or endurance.
[edit]Scratch that, its definitely endurance.[/edit]
it looks like a cross between a endurance and a dressage saddle. hm..