Saddle fit
---
I know what your thinking not another one.. but I just need a second opinion.
When I got this saddle end of last year sometime the lady I bought it from came out and we tried it on Buzz, it fitted perfect.
Now I'm not so sure...
Buzz has recently bucked me off and I am praying it's not the saddle but theres a high chance it is, which sucks but oh well, the joys of owning a difficult to fit TB.
I am also getting the dentist out and chiro out. Just to rule those out.
But the saddle has wither clearnance, fits level on his back.
If you think something doesn't seem right I will try and get a saddle fitter out.
Anyway here are the pics I took this morning.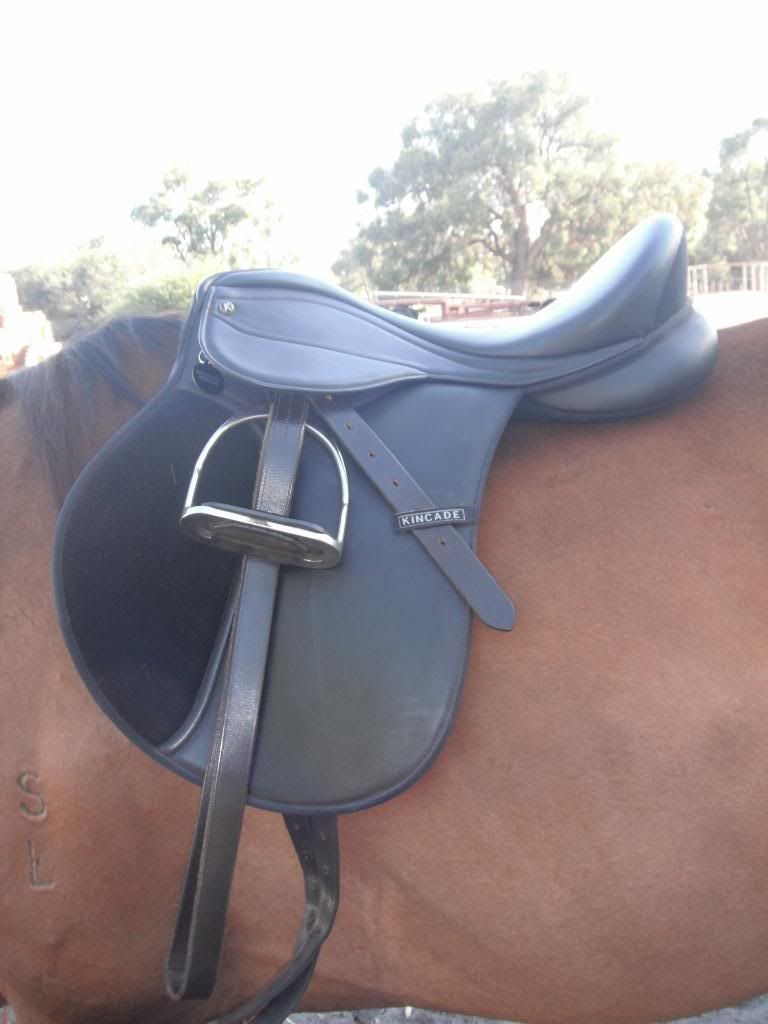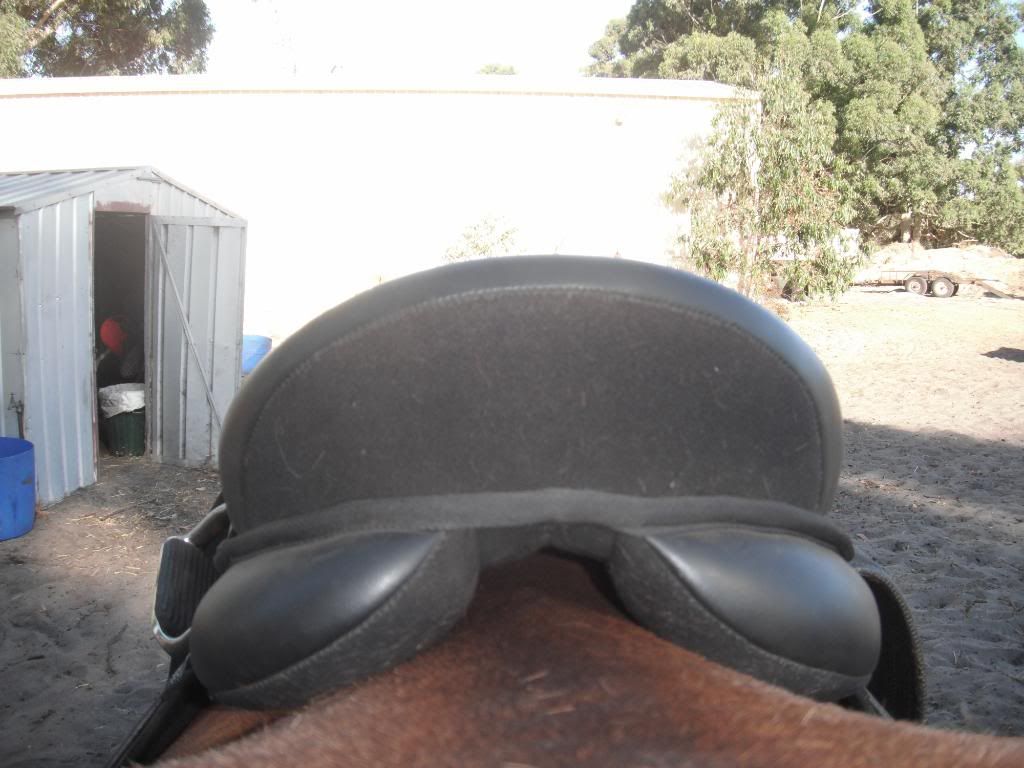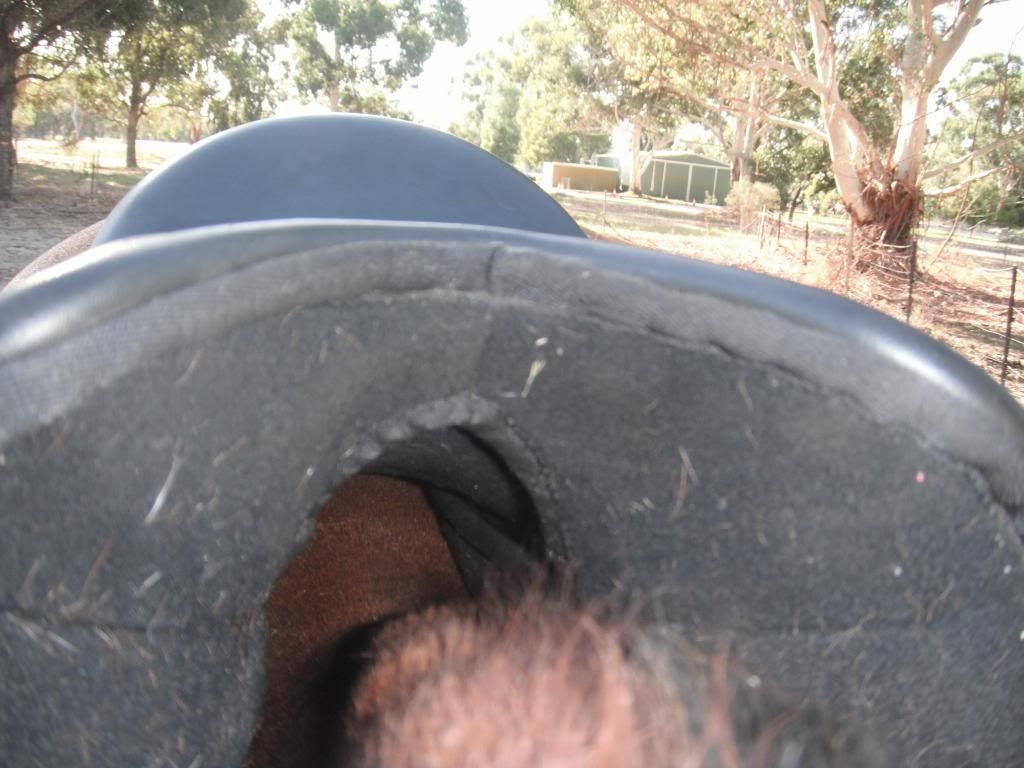 the pommel is a cut back one to help with it fitting to his incredible high withers.
ooh idk about saddle fitting but i do love that saddle!! *drool..*
---

Baby, Sparta, Carmen, Henry, Hooch, Mercedes, Butterscotch
haha thanks :)
Bought it second hand for $150 pretty pleased with that lol
Ask someone to stand at the back of you and your horse when you are sitting square in the saddle, then they will be able to see any pressure on the spine that you yourself cannot see.

Standing in the stirrups and leaning forward, and placing your fingers between the saddle and the top of the withers this will help to see of the saddle is clear of the
withers. If your fingers are pinched the saddle does not fit.


Has your horse changed shape recently? Our thoroughbred changed shape dramatically and we had to buy a new saddle for her, she was in a synthetic bur changed so much we had to buy a different leather one.

Do you have a saddler near you?
I don't think he has changed shape.
I'm not to sure aboout the local saddler I know there are a few people that go around, but usually hard to get in to contact with and can get costly
If it is the saddle that's bothering him? Could be the back itself. We usually have the chiro out to ours to check her over, see what the chiro says and then possibly try to contact a saddler. I know sometimes they're hard to get hold of, believe me I do!
Posted via Mobile Device
Yer, I'm not to sure what it is, I gave him a massage today and he didn't seem sore anywhere, was rathering enjoying it he was lol his bottom lip was dropping
I am also getting the dentist out as well lol
Took me a week to get into contact with him lol, but he is ment to be the best :)
Good luck with it, I hope one of them solves the problem. We did all three with our TB, had to change saddle, had her wolf teeth removed and she had the chiro out!
Posted via Mobile Device
It's kinda hard to tell... I'd like to see the first picture with his head up, at a natural level to see how it sits on his withers. I'd also like to see a picture taken from the front of his shoulder to see how the tree points sit. I'd also like to see a picture of his back, with feet square, to get an idea of his shape without the saddle on. From these pictures, I'm wondering if the saddle is just a hair to wide in the front (the pommel looks like it might be ever so slightly too low, especially if these pictures are taken without being girthed up). The third picture makes me think the saddle's panels might be too flat for his back shape, but its hard to tell without a picture of his back without the saddle on. When you're sitting in the saddle, how many fingers can fit between the pommel and his withers? It doesn't look as though it would be pinching his spine through the gullet, but the back of the saddle panels may be putting too much pressure on his loins. I would try to get a saddle fitter out, or talk to Rick's Heritage Saddlery in PA, or Trumbull Mountain. They can help you take the right pictures and wither tracings, and give you a better assessment over email or the phone.
---
Kelly
I've spent most of my life riding horses. The rest I've just wasted.
Your front picture is too close up. You need to stand back and get the whole front of the saddle, including the flaps, so we can see how it lays against his shoulder. Girth it up so it's just snug.

The side looks okay, but it looks a bit out of balance. A full side picture showing the whole horse would help. Make sure the horse is tied so his head is up, or at least in a nuetral position. Head down changes the saddle fit.