Saddle fit critique, slightly urgent **EXTREME picture heavy!!**
---
Hi all,
I have a couple saddles that I tried on(one of them being with me on a trial). I'm thinking that they aren't fitting my gelding to well, but I just wanted to know everyone else's opinion, and if you can even tell, which brand would work best with his back shape?
He is a 4 year old Canadian Gelding, so does have some(well...a LOT) of growing left to do aswell, so I'm thinking about getting a saddle with the easy change gullet system(as long as people think it would work with his back shape)
Here are the pictures of his back:
side view:
shoulder: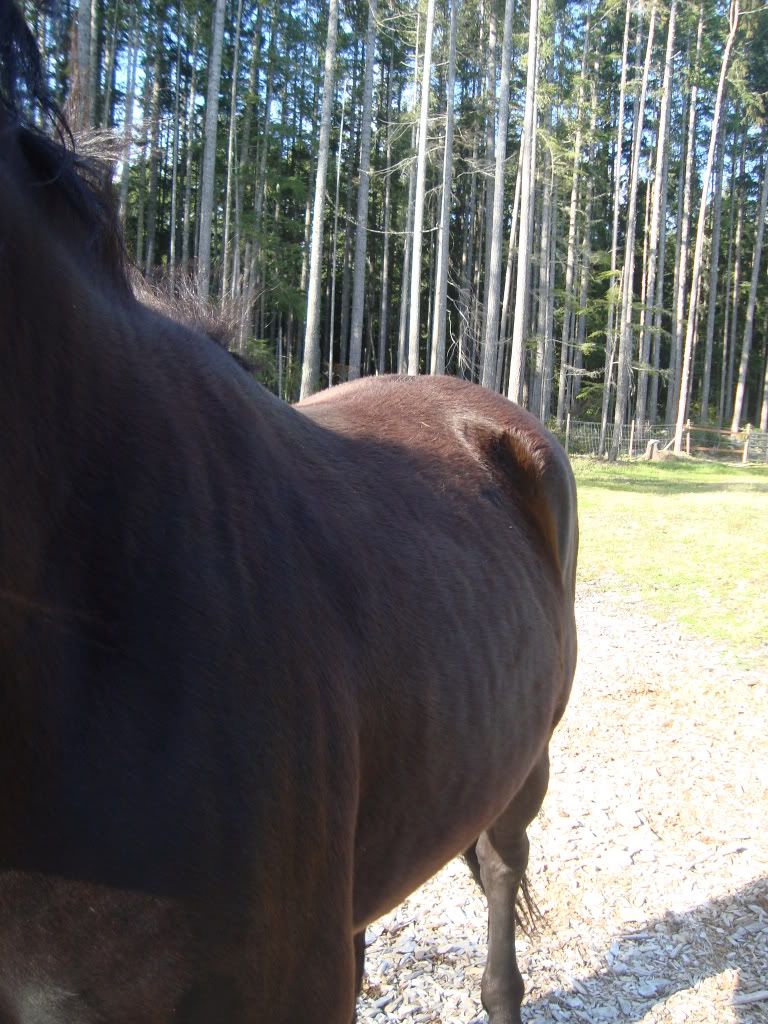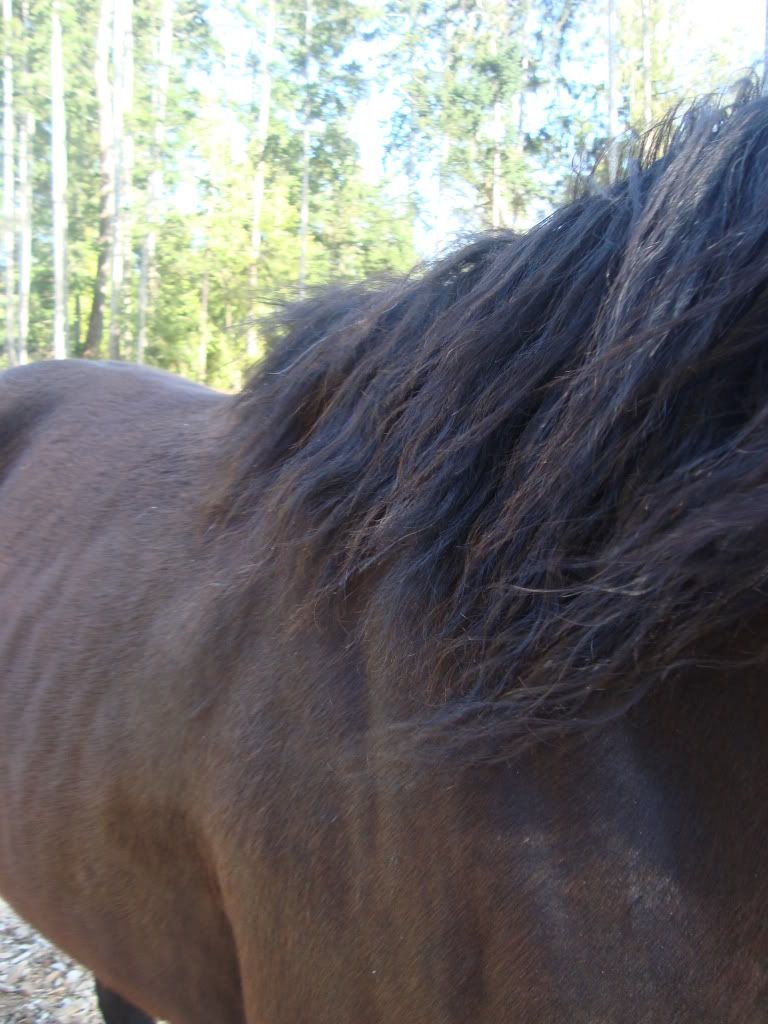 back: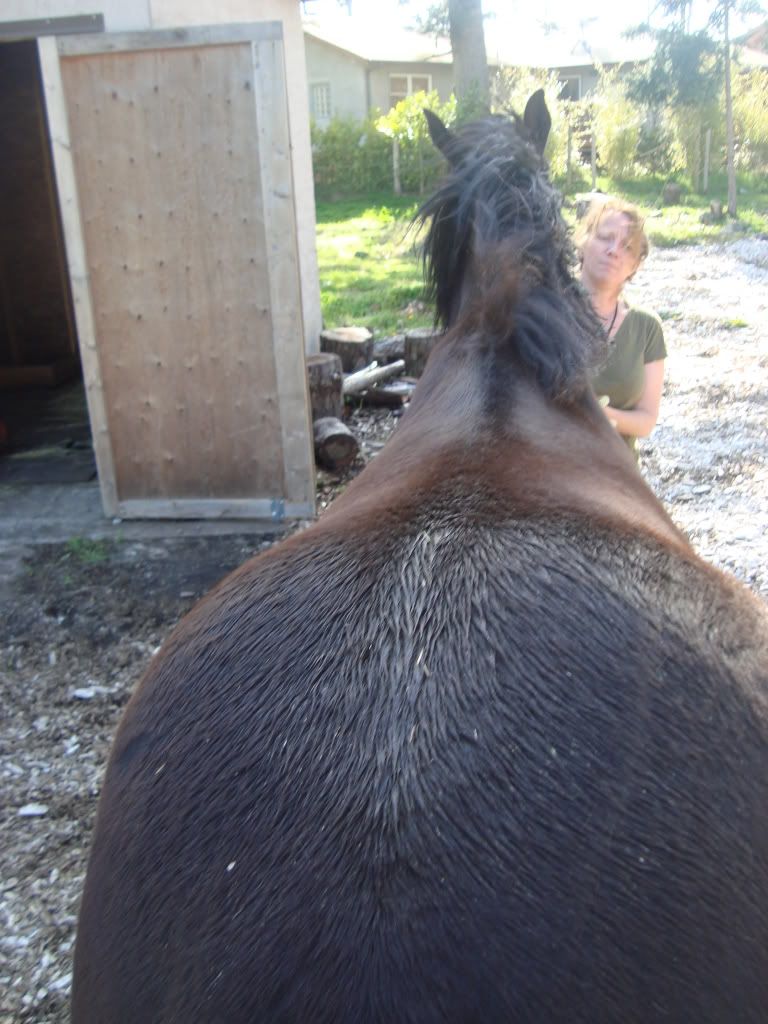 Close Contact Collegiate saddle, no pad:
side: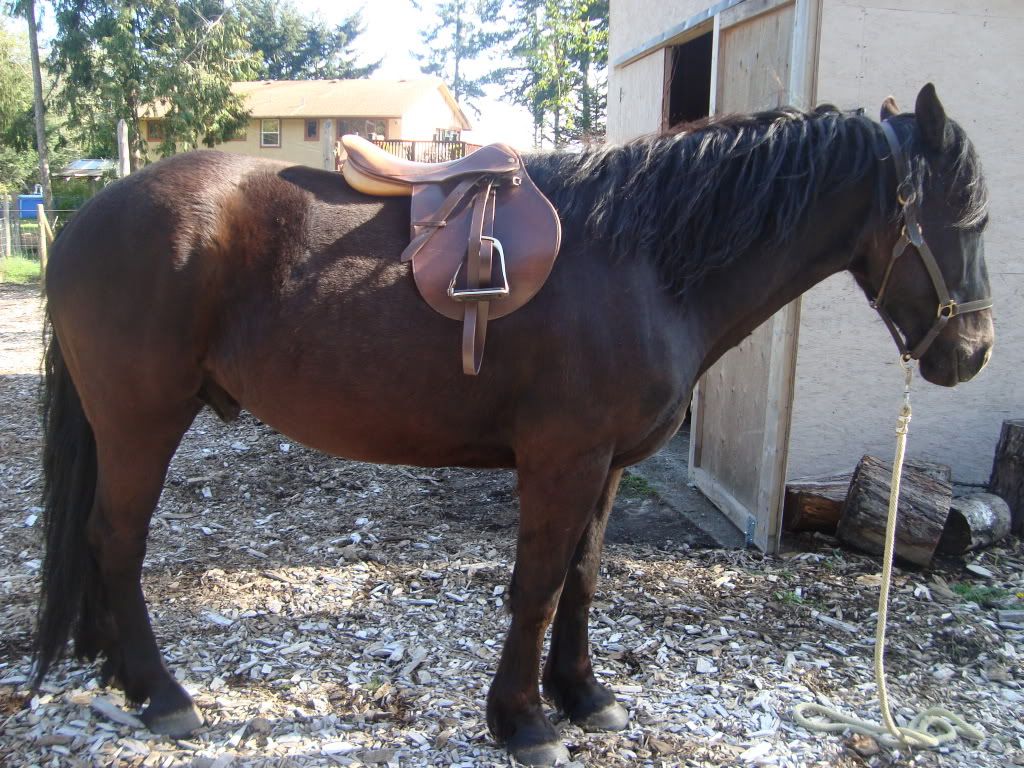 shoulders: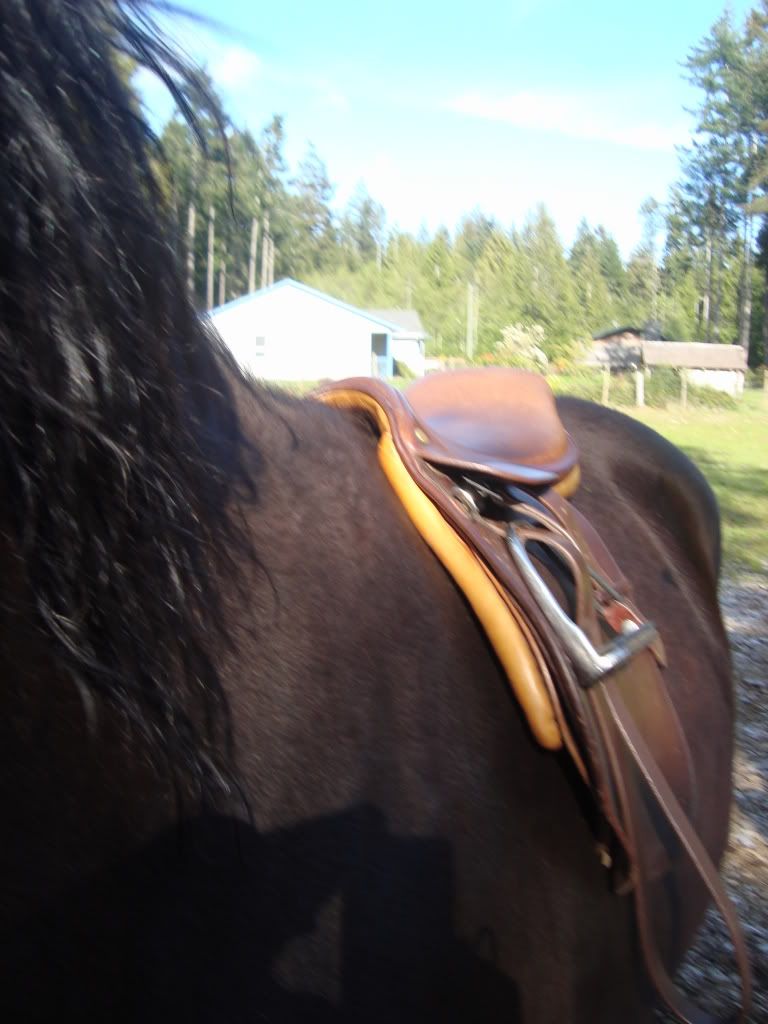 back: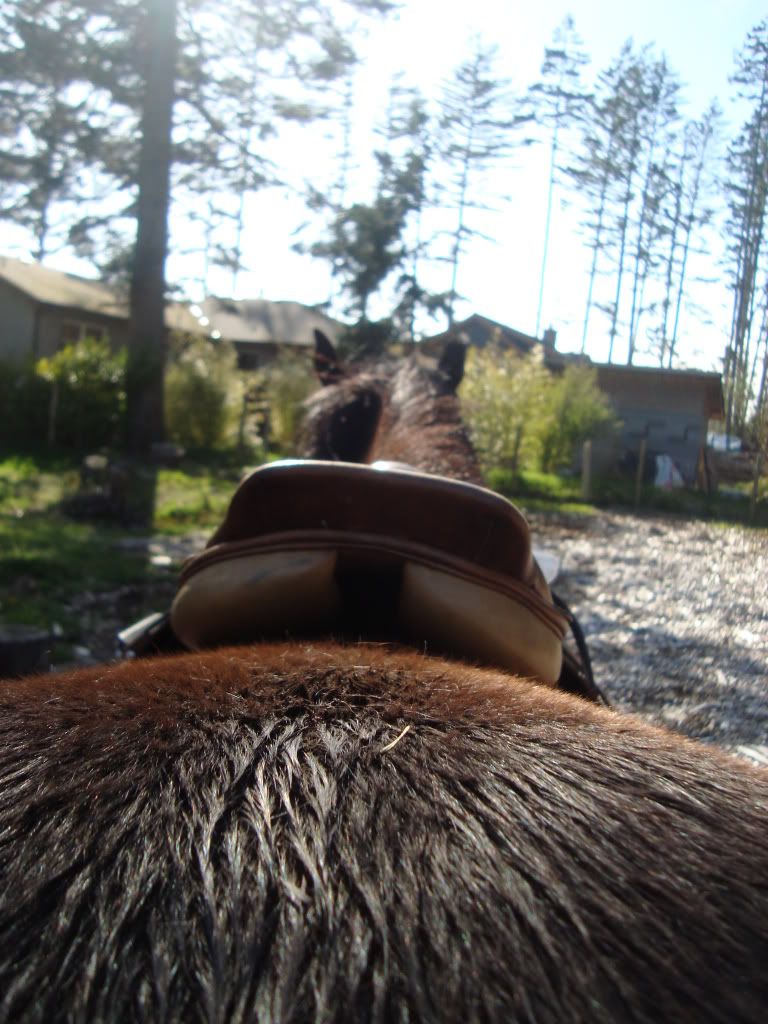 gullet: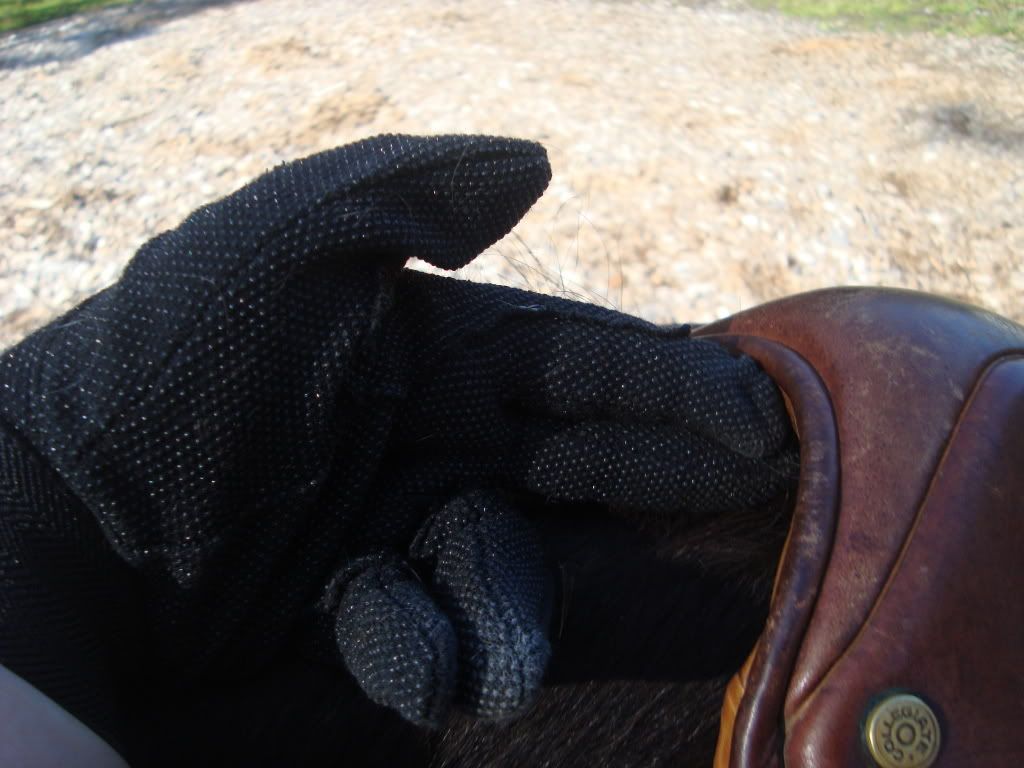 p.s. WAY more pictures to come...
With Saddle one saddle pad:
side: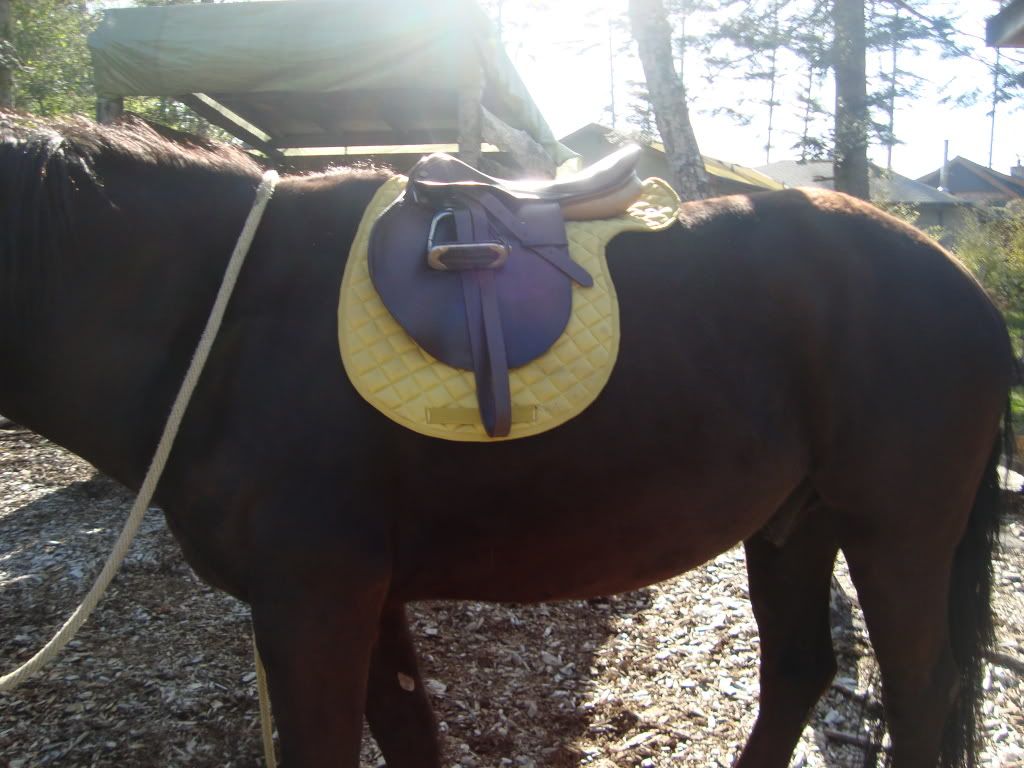 shoulder: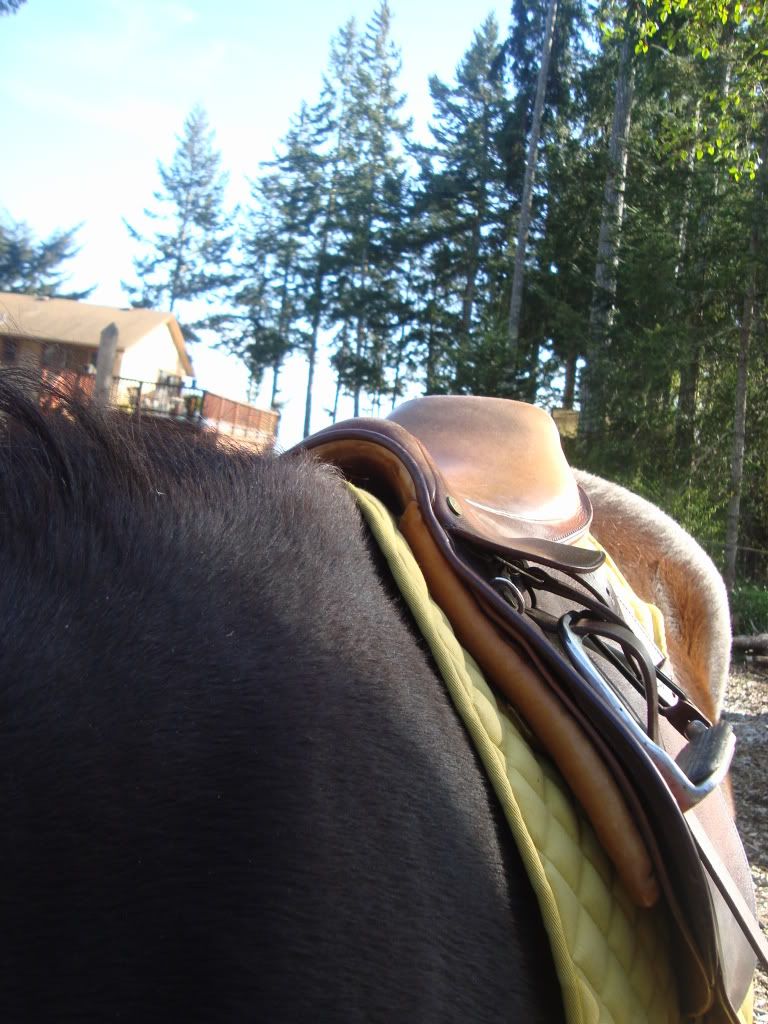 back: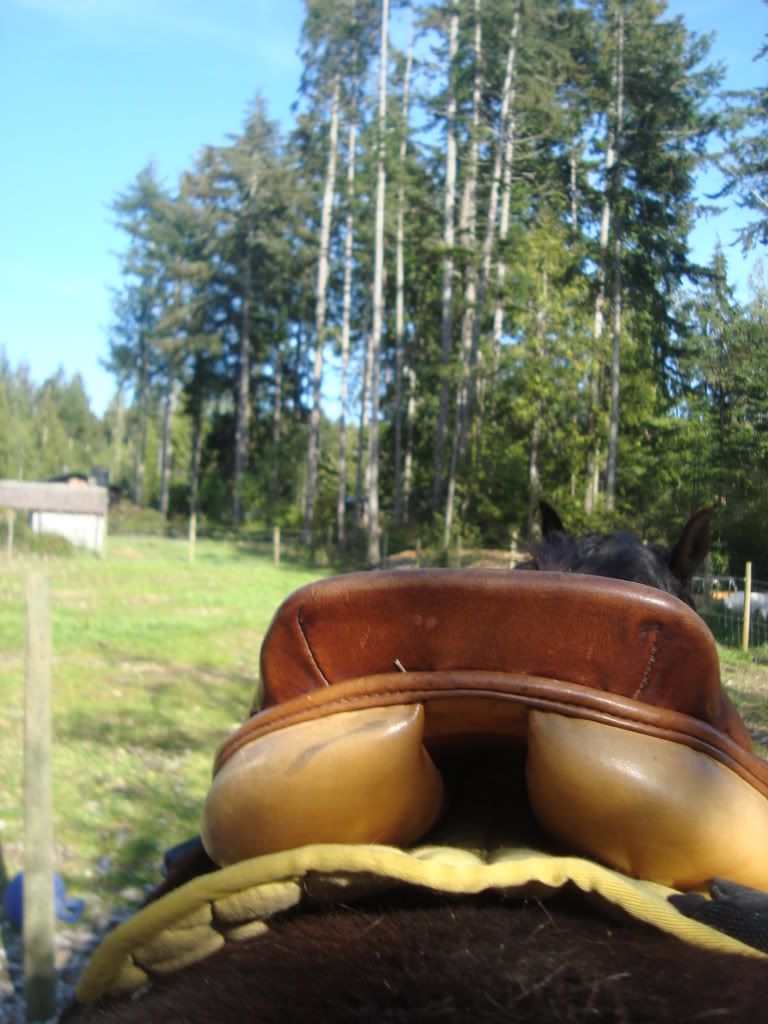 gullet:
Saddle pad & Half Pad(what I normally ride in)
side:
shoulder: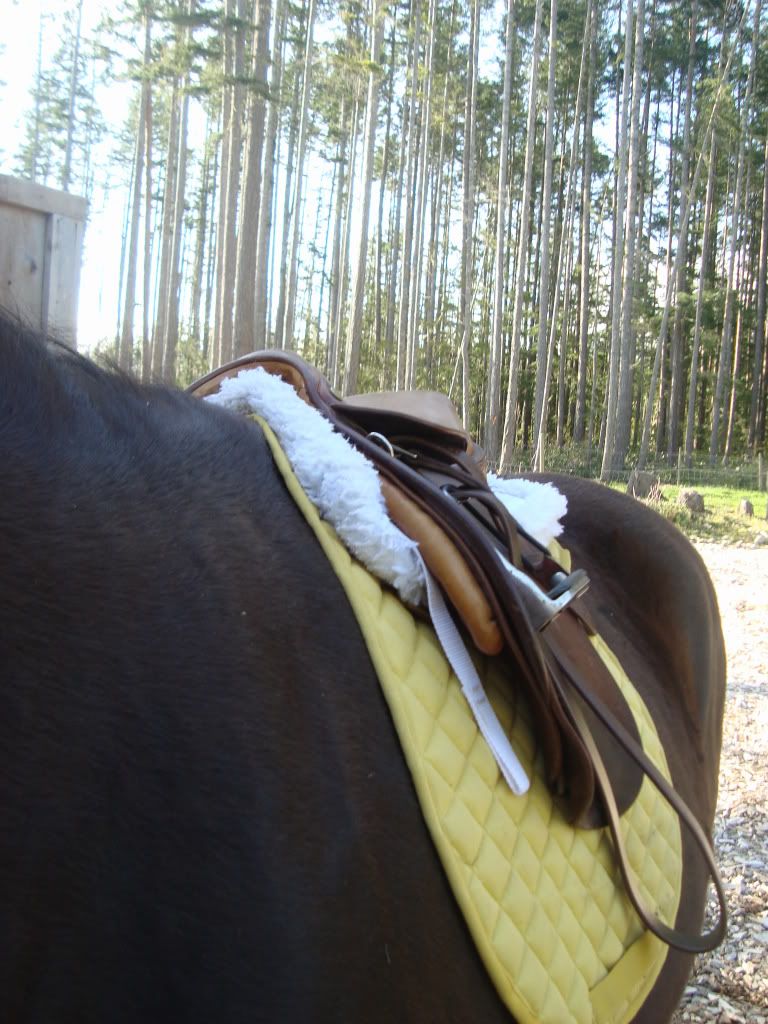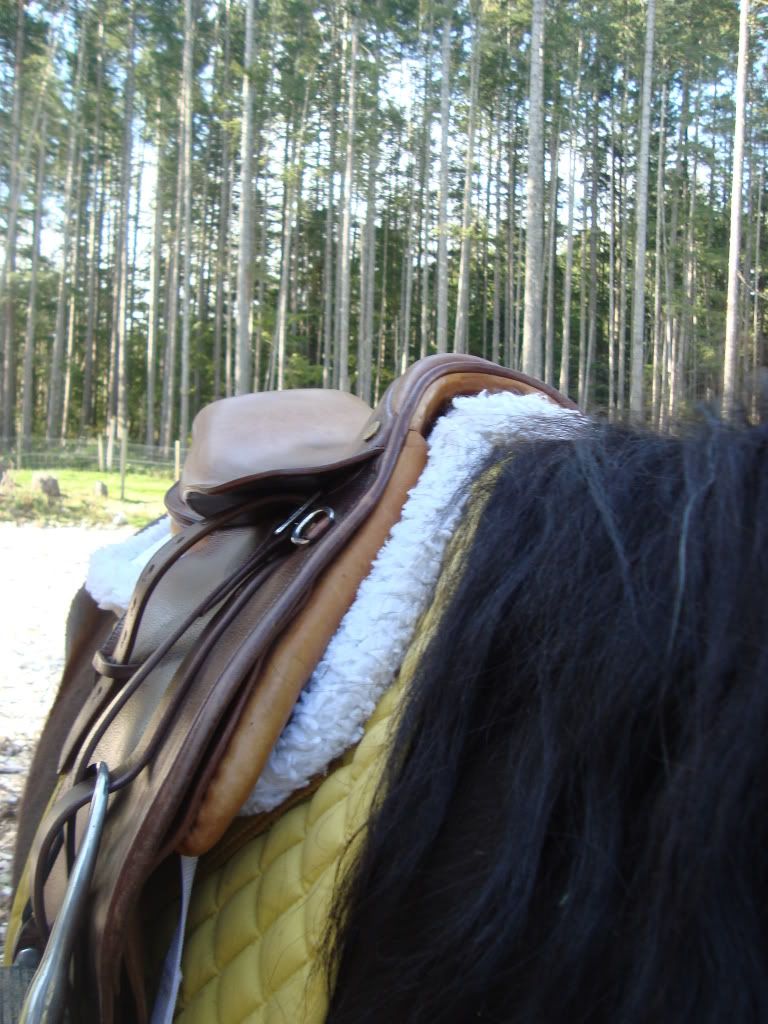 back: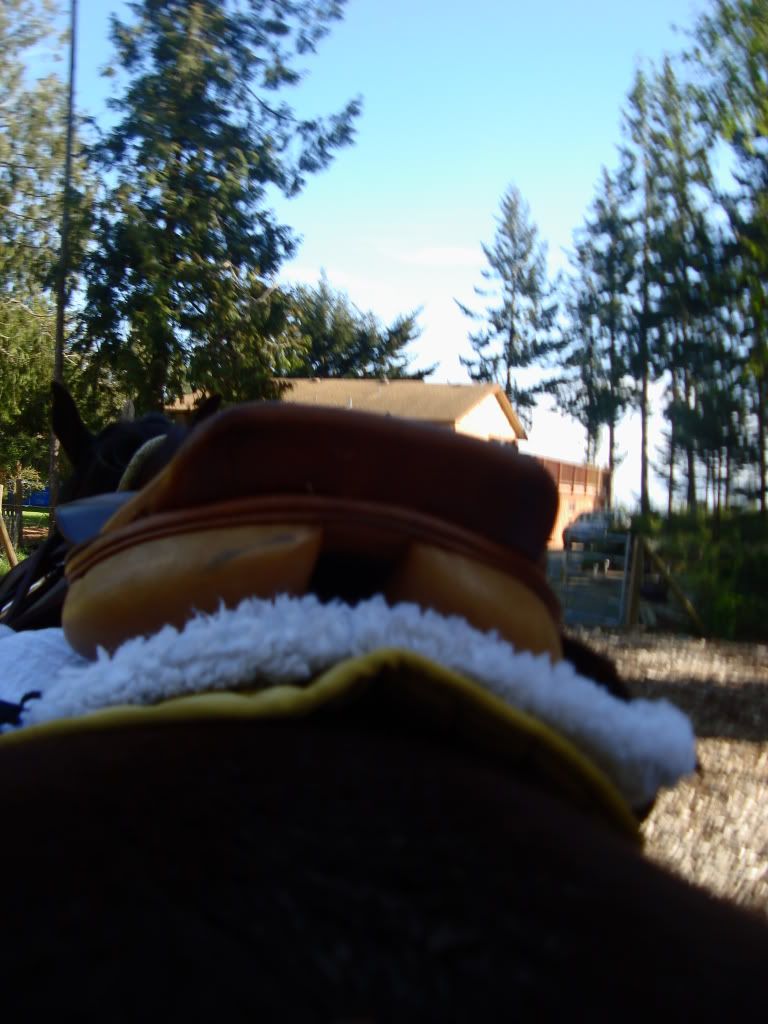 gullet:
still more...
Blackburn A/P no pad:
side: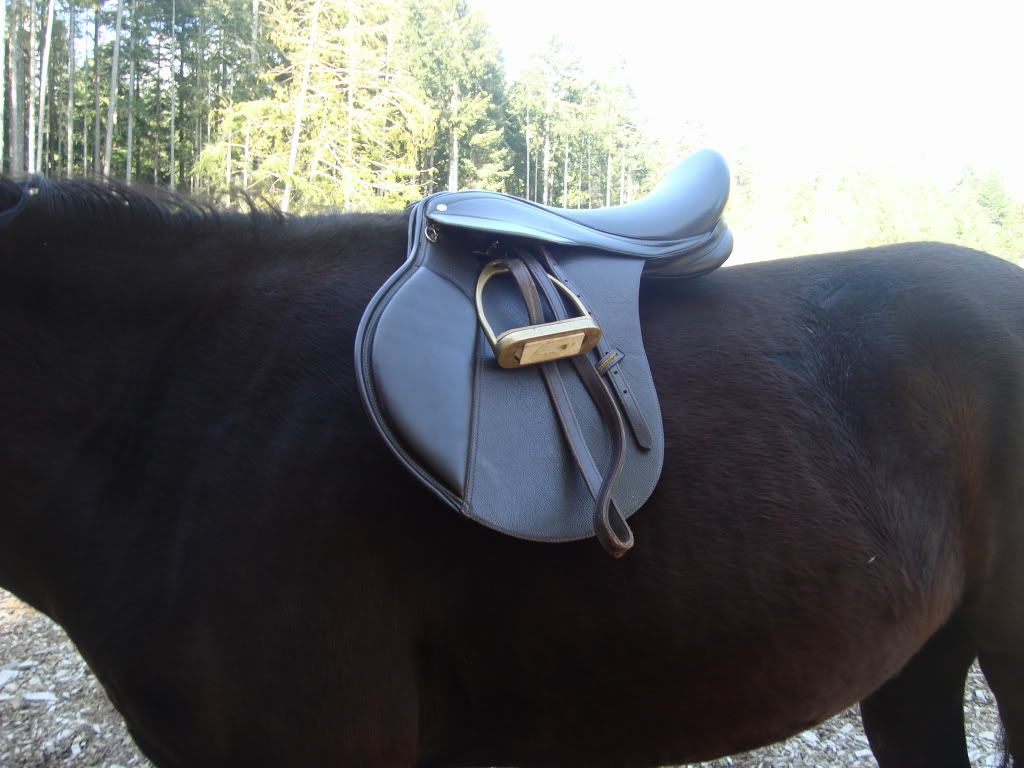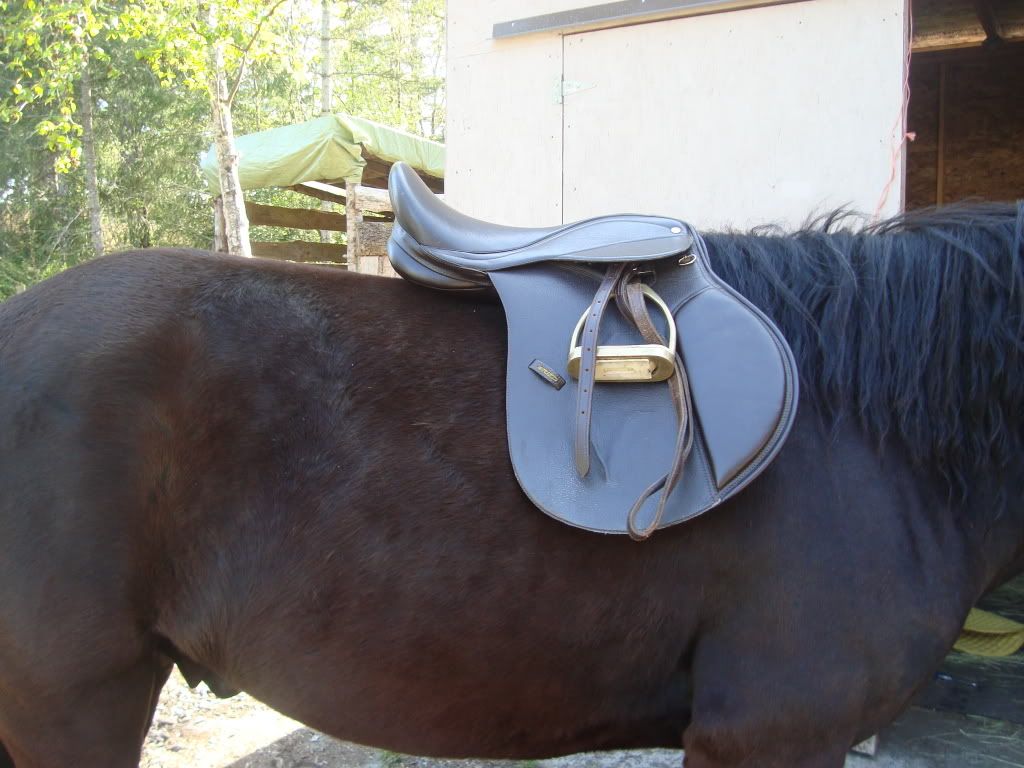 shoulder: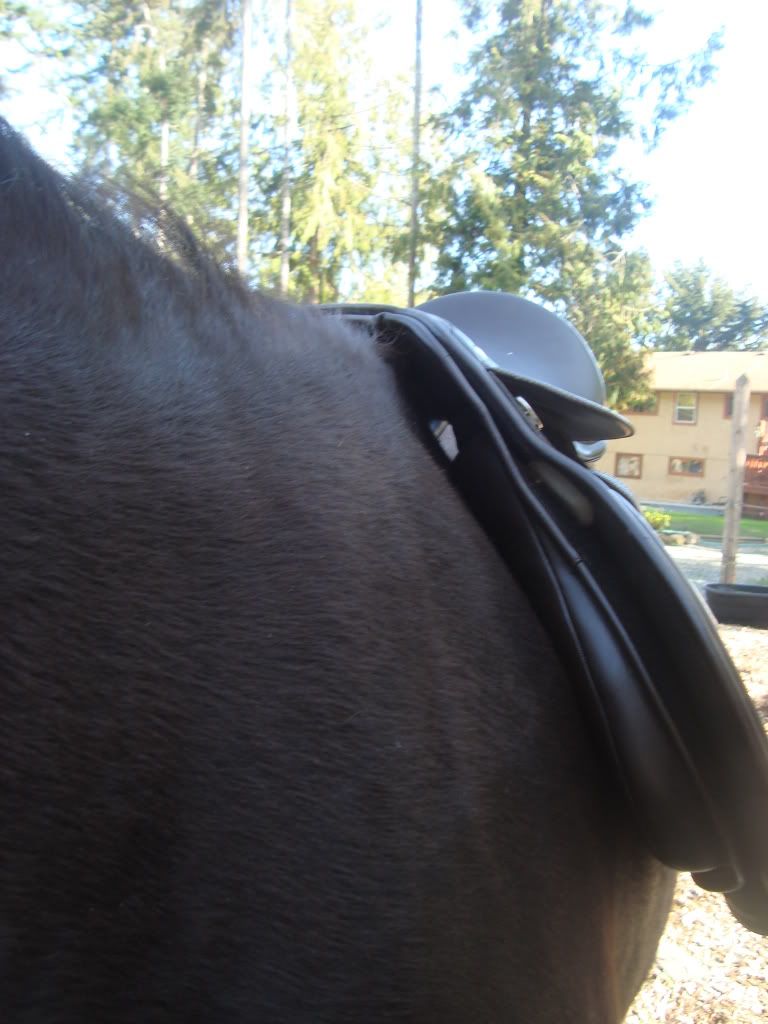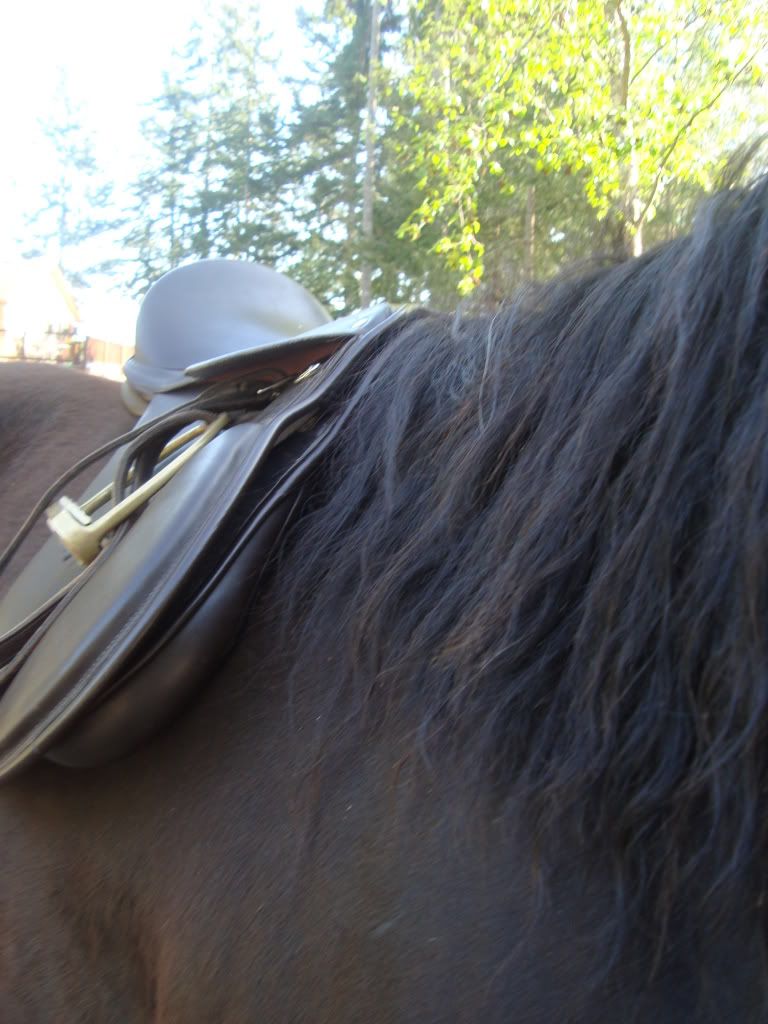 back:
gullet:
Saddle, one saddle pad:
side: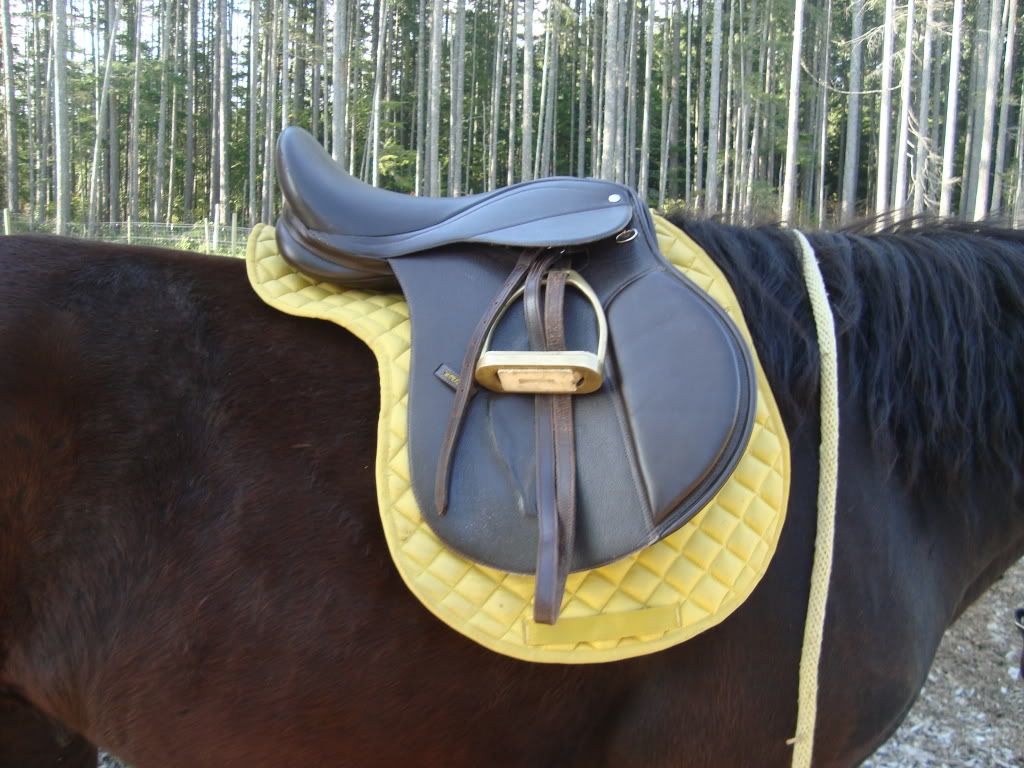 shoulder: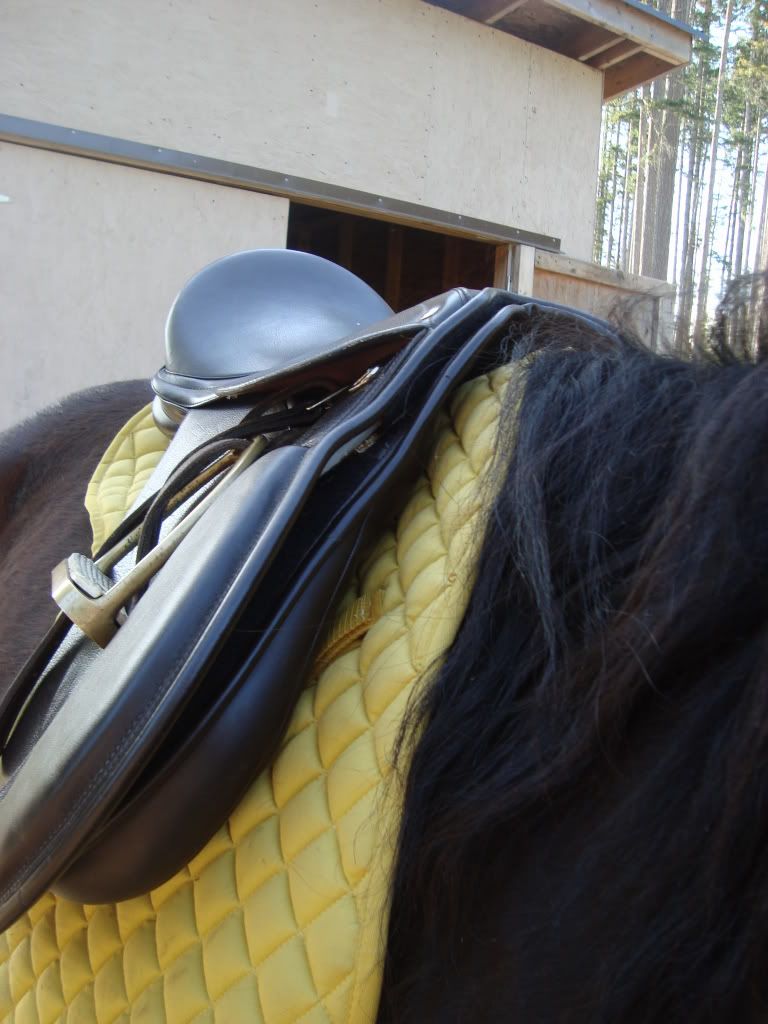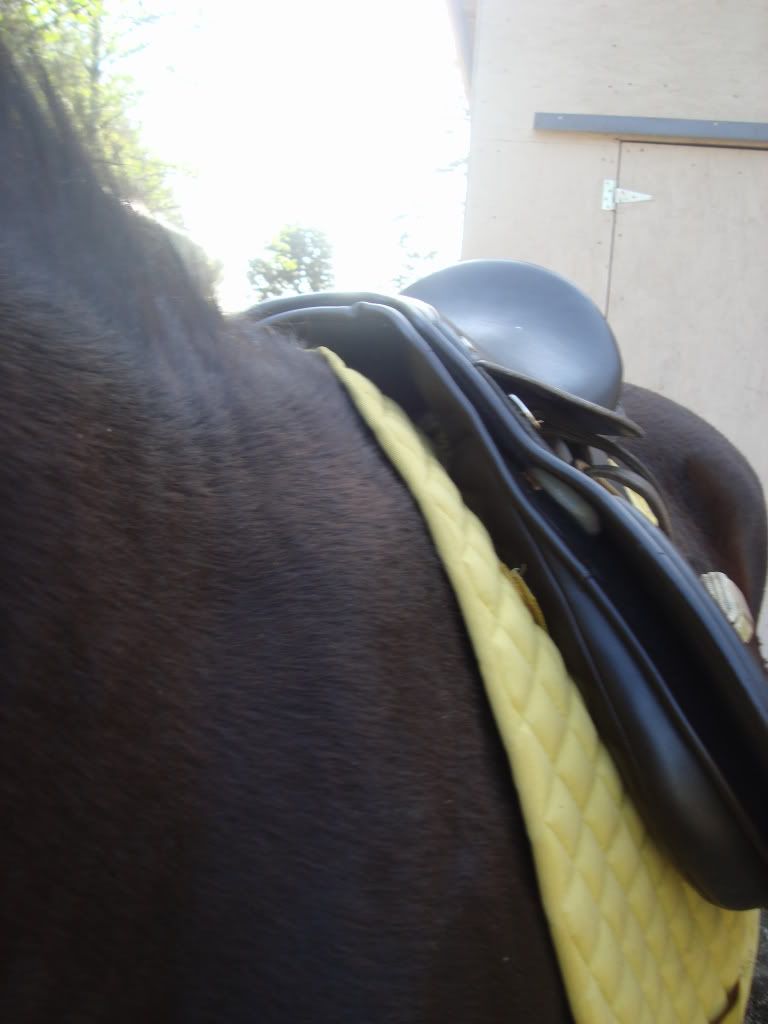 back:
gullet: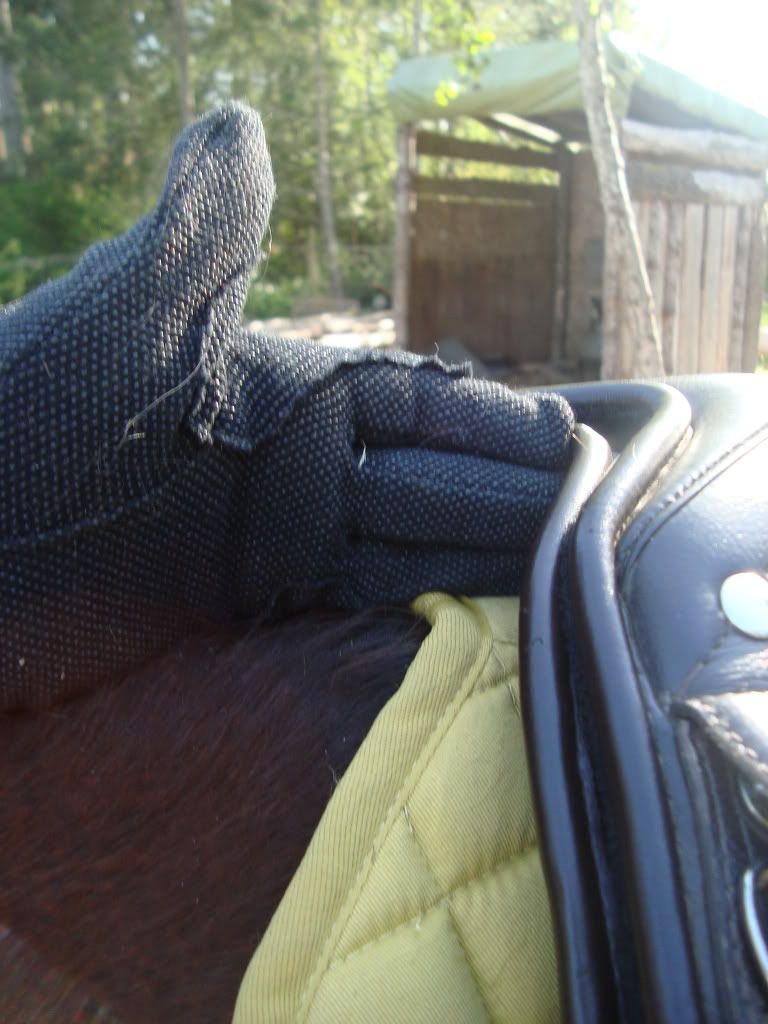 one more after this....
Saddle pad & Half pad(what I normally ride in)
side: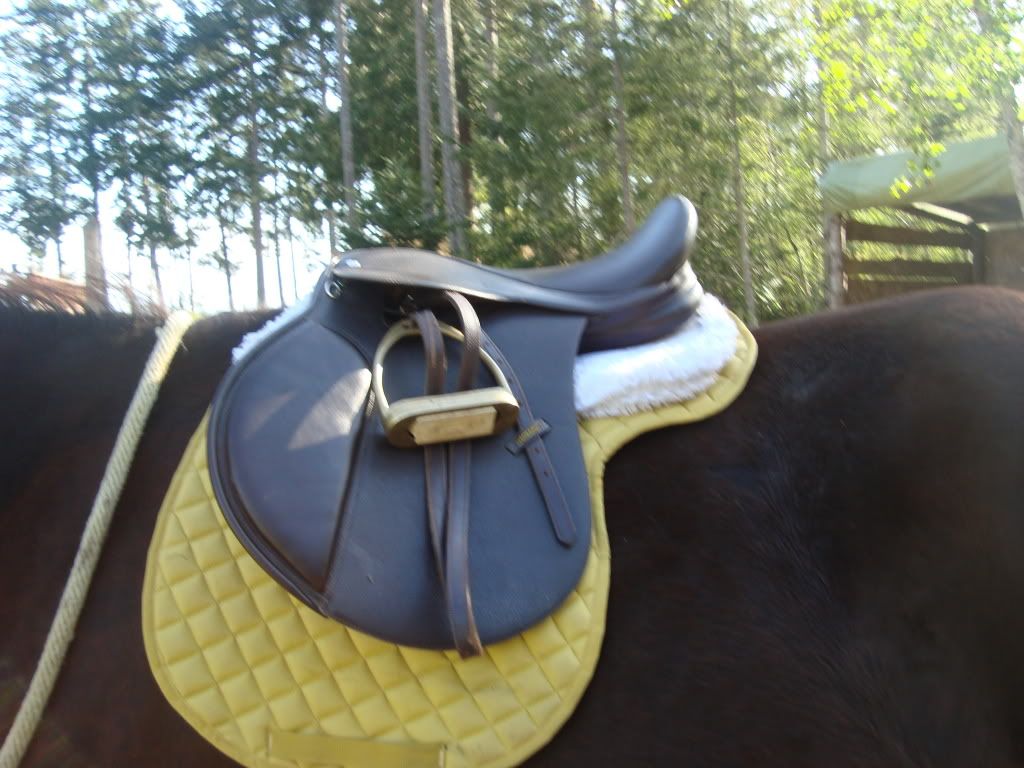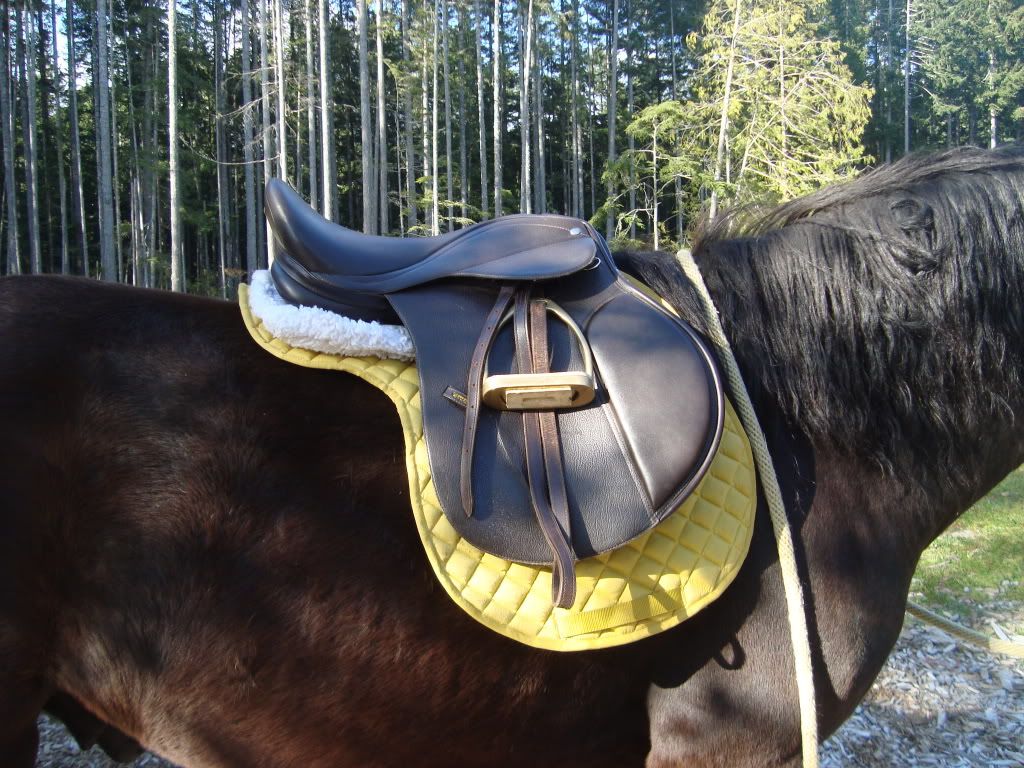 shoulder:
back: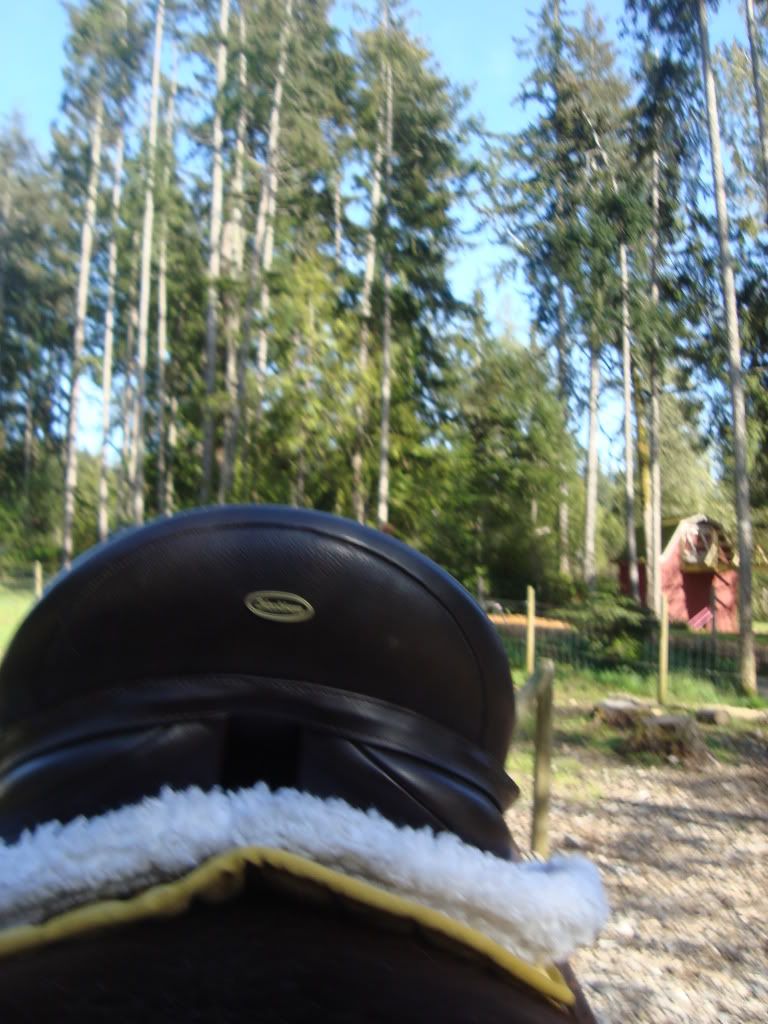 gullet:
For reference, the Collegiate CC is a Medium tree, 17" seat, and the Blackburn A/P has the white gullet plate in(not sure if they're the same plates as the wintec etc), and is also a 17" seat.
The Blackburn has to go back on either Friday or Sunday, unless I decide to keep it(which I'm really leaning towards not keeping it).
Anyways, what are your guys thoughts? Which brand(and model) should I maybe try out next? And if anyone has any good online consignment stores, send 'em my way!! :)
First of all I'm no expert.
But here is what I see:
Collegiate seems to be fine to sit on shoulders and back, but it looks too low to me. Especially without the pad. BTW, Collegiates seem to be running wider indeed. I have one, which is medium and good fit while my MT is wide.
2nd saddle (whatever the brand is). I didn't like it much. May be just bad pics, but the back of saddle doesn't seem to sit on horse' back (looks like there is a big gap there).
---
"Life isn't about waiting for the storm to pass: it's about learning to dance in the rain..."

"When we are no longer able to change a situation - we are challenged to change ourselves."

"How people treat you is their karma; how you react is yours."

The CC's tree is a tad narrow and too curvy for his back. The back of the saddle curves up away from the horse, which is not good. The half pad isn't doing you any favors.

The AP is better front to back (less curve), but it's too wide for him. It would likely fit well with a front riser pad.
first saddle looks like a better fit. Is there shoulder clearance? You don't want it too tight or it will cause sores but you don't want it too wide. Also it doesn't look quite balanced on him so you might want to try a different brand. Do you like wintecs at all? I like them and they have an easy change gullet that really do help.

The second one is a no go. It doesn't fit him well at all. I don't like it. It just sits there like it would be on a table or something.

Also sometimes those half pads arent the best. It adds bulk and can make the saddle fit tighter and viola...pressure sores...I read up on a lot of saddle fitting.I'm not the best but I'm learning.
Thanks for all the help so far everybody. I did find that the Collegiate(first one) did indeed fit him better, as to the A/P, but the A/P was the only one that I could get wide enough to fit him so far(with that being said, it's only the second saddle I've tried so far).

But anyways, I am DEFINITELY taking the A/P back on Friday. I didn't like how it fit him at all, but I wanted to know what others thought of the fit, because maybe I was going crazy? I'm really new to the whole saddle fit thing(although, I really shouldn't be. I've been owning for over 9 years now... But I've only ever had one horse before him, and all my tack fit her from day one, so I never had a problem). Also, I did not like at all how the back pannels didn't even rest on his back. He is proving to be harder to fit then I originally thought he would be...

With that being said, no, I haven't ever really tried a wintec before, so I couldn't really say so or not. There was one(an A/P) at the tack shop, that I'm thinking about bringing home to give a trial on that one now.

Now brand wise, I bought a Collegiate for him first of all because when he was in training, that was the saddle my trainer used on him(My saddle was lost in their barn fire, so I just used hers). It was a Collegiate RD A/P or something, and at that time, he WAS fitting in a Medium tree. So when I found this older Collegiate, I thought "Oh, why not? Same brand and tree size, it HAS to fit". But heck, after going to another new trainer, he comes home and is twice the size as when I first sent him. Go figure?!
What about a Bates Caprilli CC? I found one in my price range, but have never put one on my gelding before. I rode in one when I first started riding(when I was like...9-10?) so it has been awhile... Or forget about treed saddles, should I maybe just go treeless instead? Haha, oh my...I don't even know what to do anymore.

Oh, and with the half pad, the only reason why I was using one on him was because that's what my first trainer used when she was riding/training, so I just figured that is what he needed, you know?(p.s. the only reason I changed trainers was because the training started to get expensive due to my hours at work being cut. Nothing to do with the trainer not being very good)

Again, I'd like to say thanks to everyones input so far. I'm thinking that I should probably start reading up/learning about saddle fitting now. Probably good knowledge to know as a horse owner :P

Haha, anyways, if anyone has any ideas of which brands may work for him, or if anyone else has any critique for me, let me know! I'm open to everything! It's all a good learning process for me, and my horse(teaching him major patience now, LOL)
I personally don't like Bates but it's just a personal preference. Collegiates are nice. I'd suggest to look into Marcel Toulouse. Those are nice saddles for the price.
---
"Life isn't about waiting for the storm to pass: it's about learning to dance in the rain..."

"When we are no longer able to change a situation - we are challenged to change ourselves."

"How people treat you is their karma; how you react is yours."

I don't know your price range but I find wintecs to be a good fit and my new vet recommended them too. They are reasonably priced and they have the gullet system.

My horse lost weight..I needed the medium wide tree and as she gained weight and more muscle I had to go up to the widest gullet! Now it fits her well.Maybe not perfect but she doesn't throw a fit about it. My horse doesn't like neoprene so I bought a fleece cover for her english saddle.

Also if your horse proves to be a hard to fit boy you might want to consider a treeless saddle.You can get them used at a decent price as I will let you know they are expensive brand new.I got mine used for only $425 and my hard to fit horse LOVES IT! Her ears are always perked up and no stomping hooves(now that I got her a fleece girth for that saddle) and no trying to bite me when I girth her up.She stretches out more and always seems happy. You do have to get a special pad for it(got mine used for $150 with shipping)..they are amazing and I use to be against them b ut I researched them and tried it and it was one of the best decisions I made!


Do you have pictures of your horses back? Does he have a fairly straight back or a natural curve? Also there are saddle fitters online that if you get conformation shots they can recommend some saddles...thats how I got my barefoot cheyenne saddle...They can also tell by his girth line which would be a good fit.