Saddle Fit Photos -- Please Help
---
Before anything else, I'd like to let you all know that I am seeking the help of a professional saddle fitter. The saddle fitter is out of town right now though and her soonest available appointment isn't until the end of May, so until then I have to make do with what I have.
Soo, I got my mustang mare back from saddle training this month, and we don't have a saddle just for her yet. To my somewhat novice eye, the dressage saddle that we have for our warmblood mare appears to fit her relatively well. The only problem is, when I'm riding her with this saddle I feel as though my lateral stability is pretty iffy. I'm tightening the girth as much as I dare, but while riding I still feel as though the saddle is constantly trying to slip to one side or the other.
I've attached photos of our mare with and without the saddle. What do you think from what you can see? Is the fit passable enough to last until the professional saddle fitter can come out? Is there anything you can see about the saddle fit that would make it more likely to slip and slide laterally?
Without Saddle: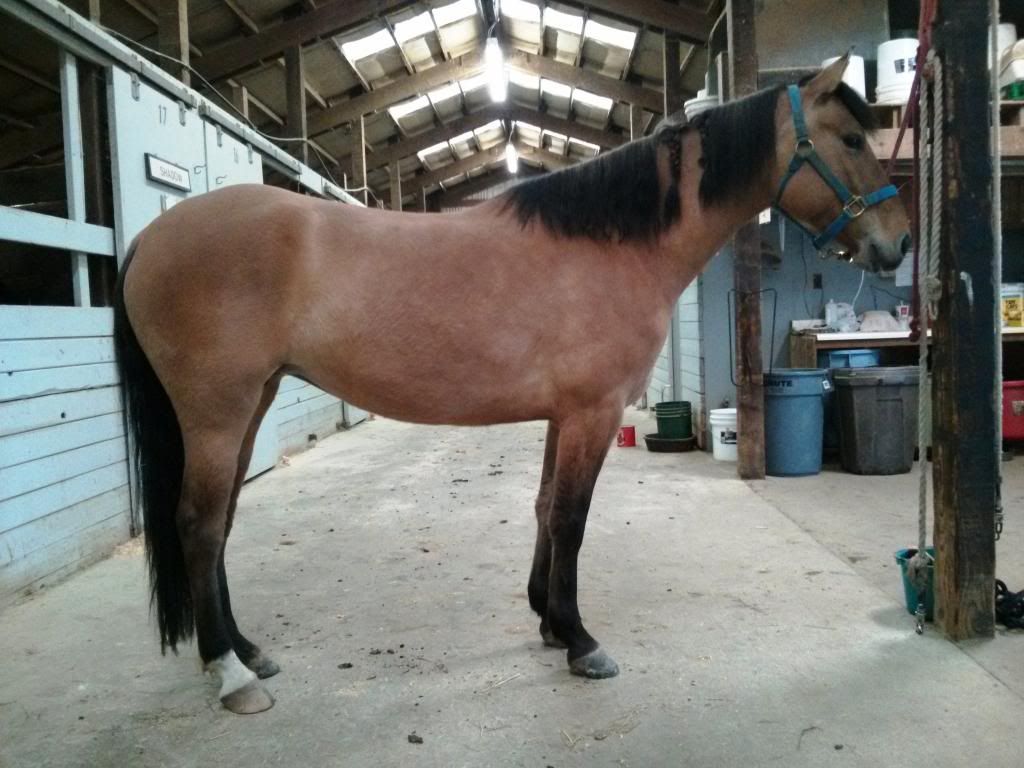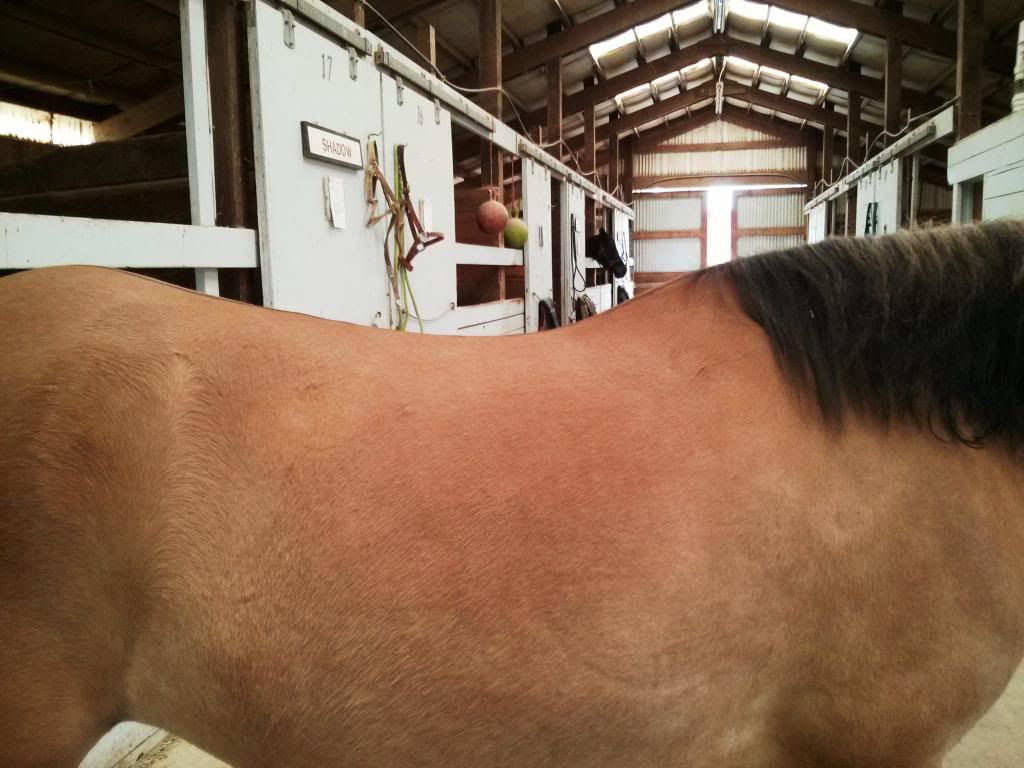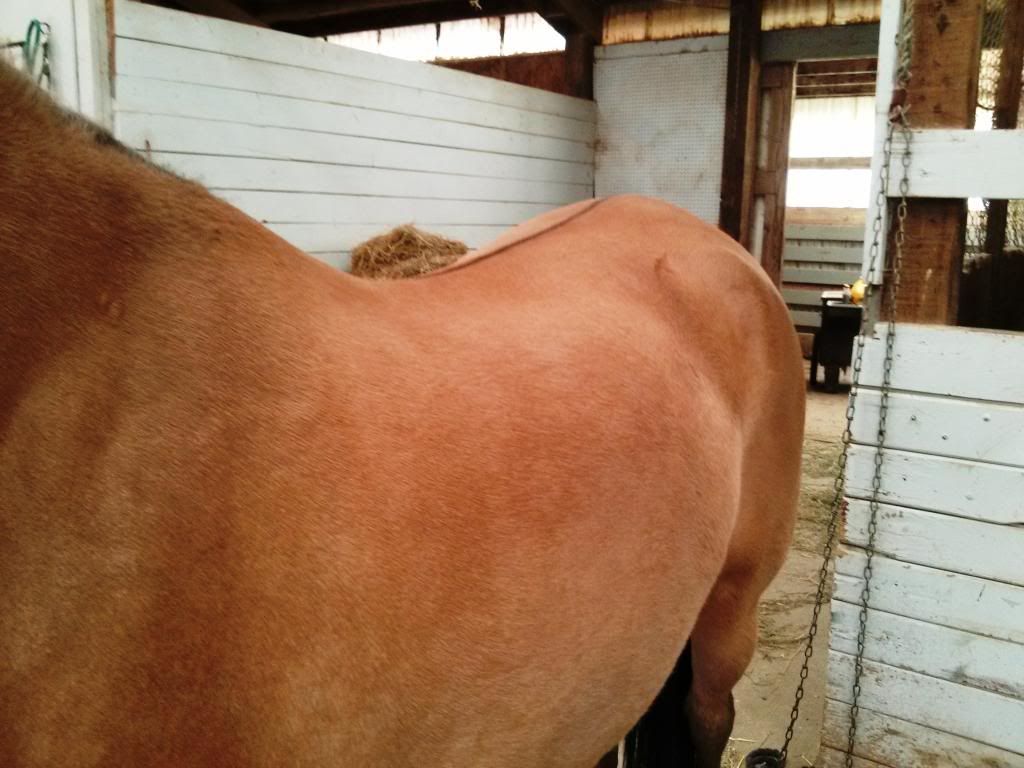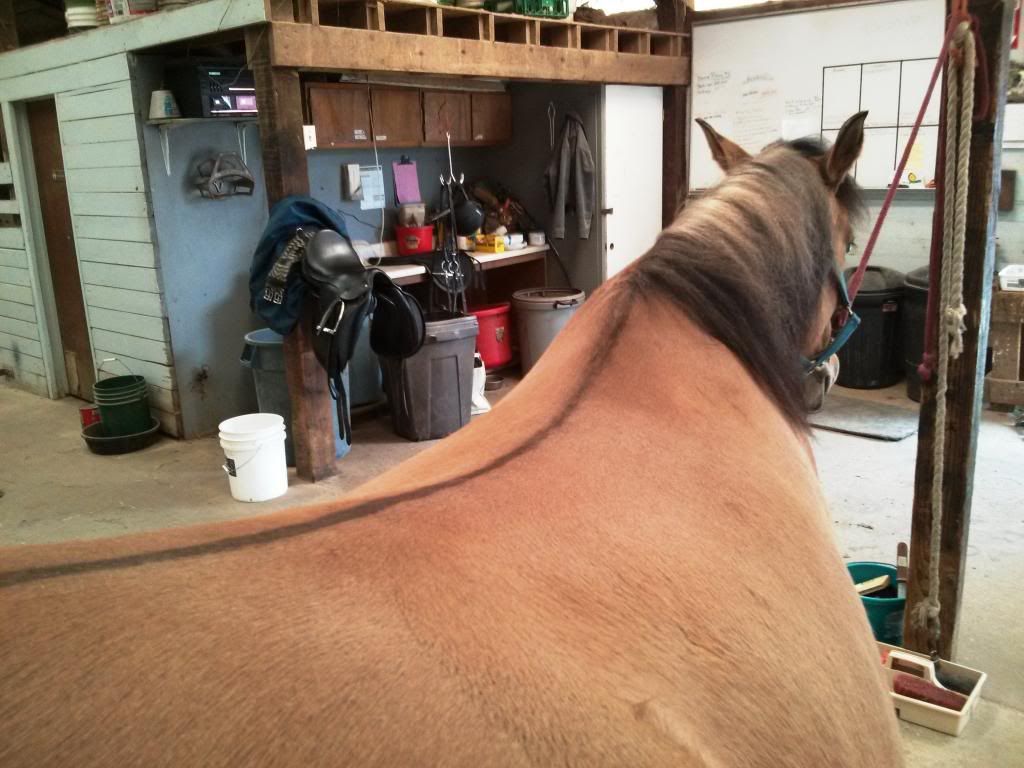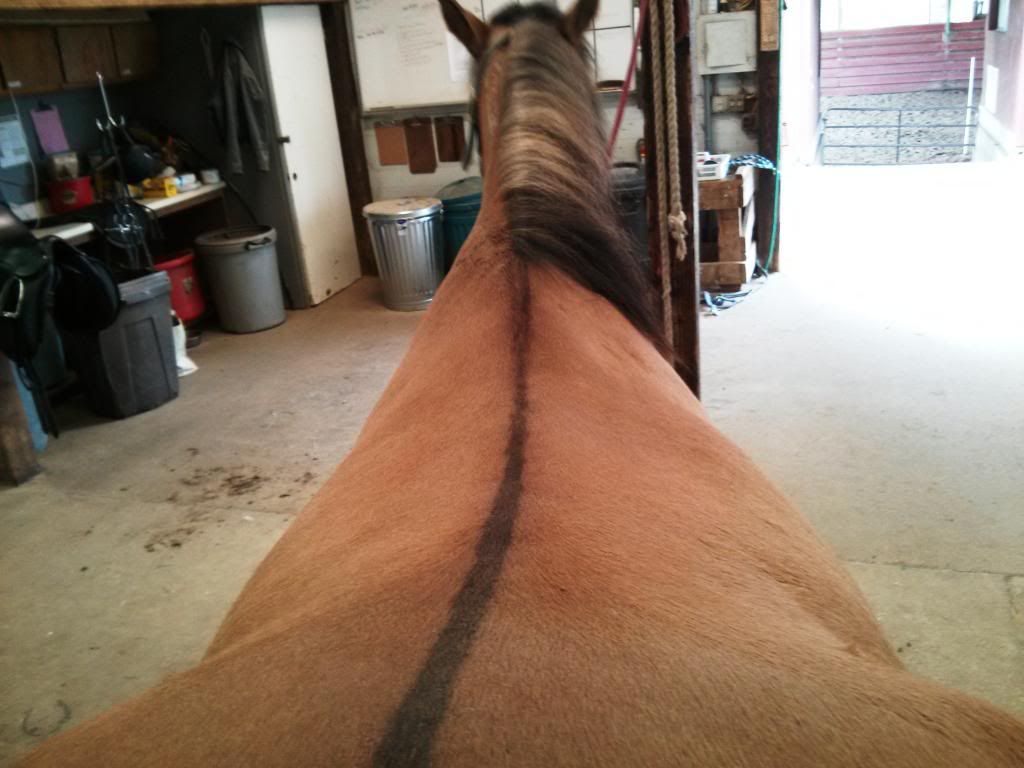 With Saddle: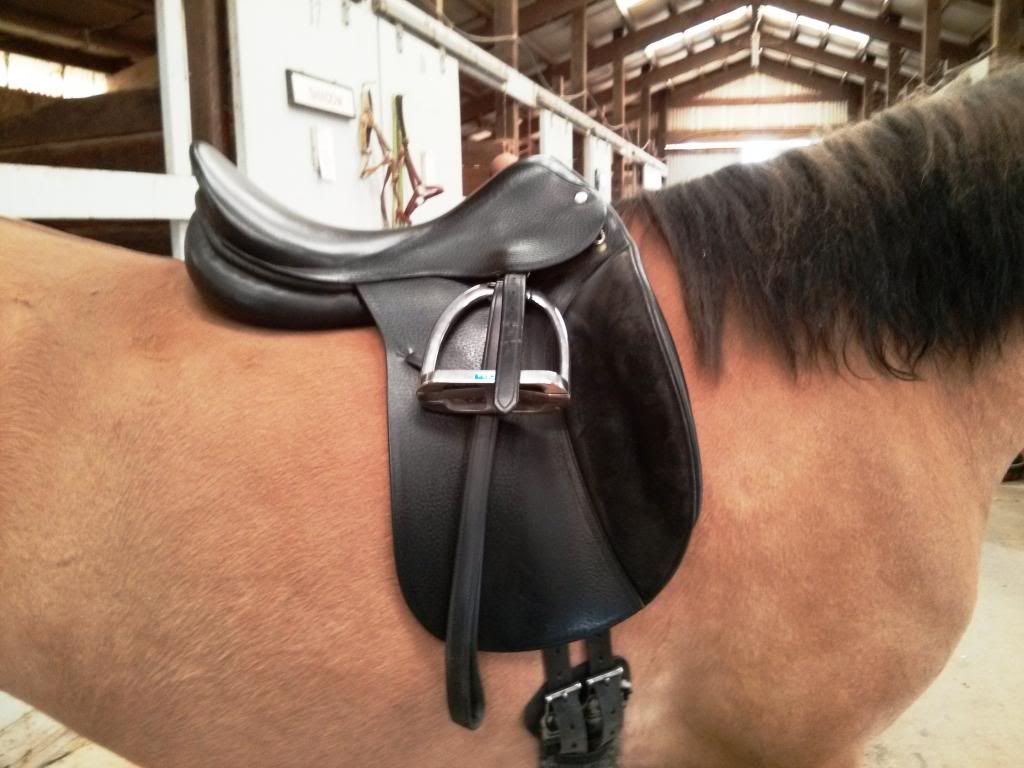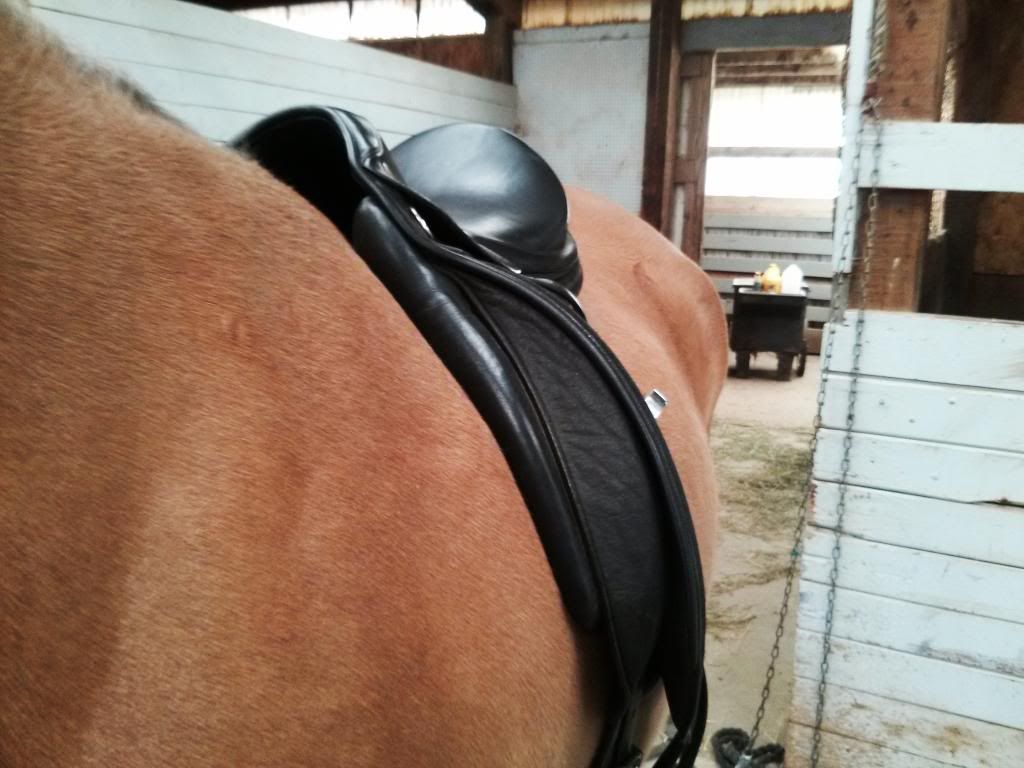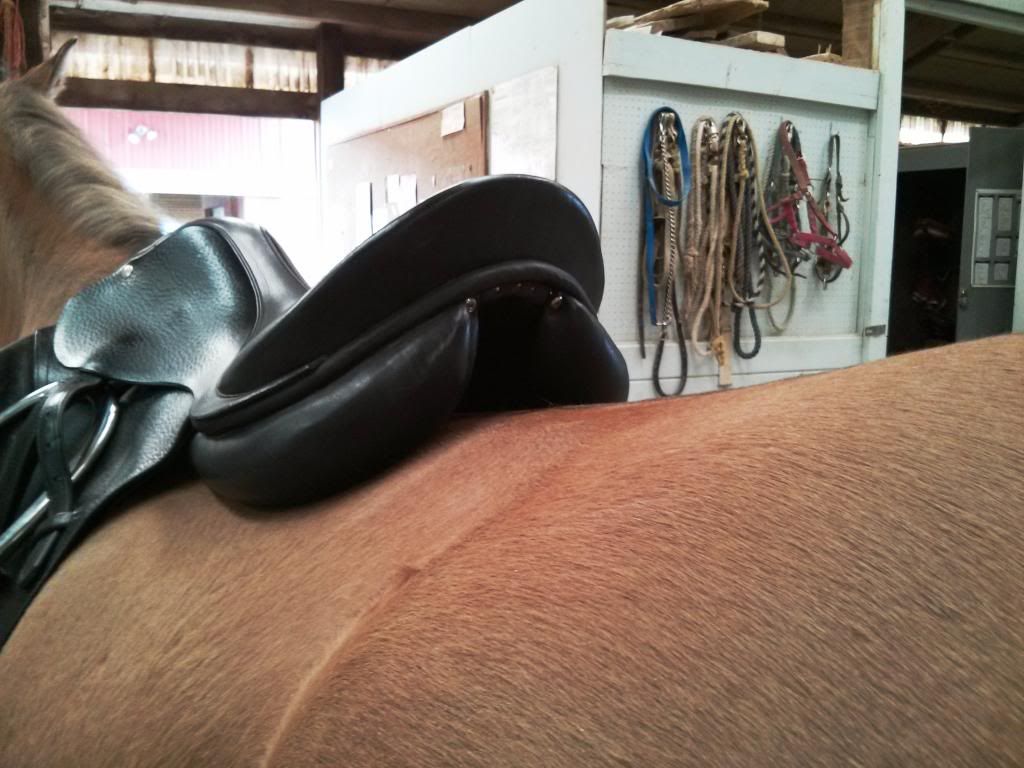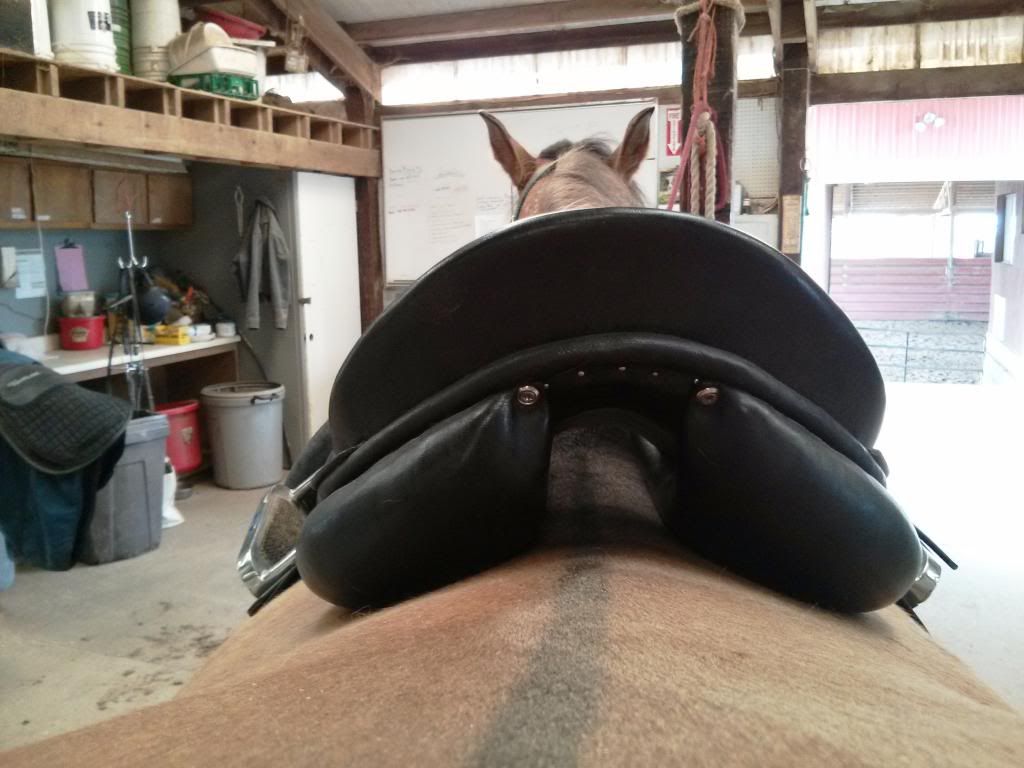 It looks downhill to me which may be why you feel iffy... Also that last photo it isn't straight on her back which causes me to think that she may need it reflocked to fit the shape of her shoulders so it doesn't push it to one side like that.
---
"Strength is the ability to use a muscle without tension"

I can sort of see what you mean about the mildly downhill appearance.

I forgot to mention that this saddle was professionally reflocked (for our warmblood mare) about 3-4 months ago, so the saddle itself should be even from one side to the other. I think the off center effect in the last photo may have been a weird camera angle thing, or she wasn't standing perfectly square... or I just didn't have the saddle perfectly straight on her. >_<
I beg to differ regards the 'downhill' thing (pics 6, 7). The lowest point of the seat looks roughly level with the back of the flap an given the pommel is slightly lower than the cantle it looks about right to me.

Side-to-side slippage is often due to the saddle being too narrow and it doesn't take much to cause a problem, especially as you seem to have one larger shoulder (5) which will bias the saddle left if it was evenly flocked. That won't show in a static shot because the saddle isn't sunk into the fat over the muscle behind the horse's shoulder.

I could be wrong but I'd say you have a M-MW saddle on a MW-W horse :(

And I'd say the offcentre cantle is the way the horse is standing :)
Yep, it looks perched to me.
Thanks for giving me some things to think on. Perhaps I'll take a wither tracing and compare it to the saddle just to see if that can tell me anything more. It definitely seems to be one of those cases where it almost-fits-but-not-really.

So... this saddle may not really work in the mean time? I have an old wintec AP saddle that I'm not very fond of, but maybe it would work better for the short term until we can actually get the saddle fitter out to lend us a hand. I'll have to take some photos with the wintec on her maybe.
when was the last time the saddle was reflocked? it does look a smidgen compressed in the flocking itself on one side.
---
life has no remote control hitch them up and drive them your self
As I said earlier, the saddle was reflocked VERY recently. Literally about 3 or 4 months ago. It was done off site by a professional and I have closely examined the panels. They are even and nice and squishy, not hard or compacted. The professional fitter also examined the tree and other components of the saddle while she was reflocking and verified that it is all in tip top condition. The saddle itself should have absolutely nothing wrong with it. It may not be perfectly suited to this horse, but it is a really really good saddle.

((I'm not trying to sound snippy or anything, I just want to be really clear and thorough))
Posted via Mobile Device
The pommel is generally lower than the cantle on any dressage saddle. The seat does not look level to me. it looks like it's slightly more up in the front so the seat is tipping slightly towards the hind quarters.
To me this looks more level than your saddle on that horse.
---
"Strength is the ability to use a muscle without tension"

It appears her entire right side is more developed than the left. In every pic the entire body is forming an arc. This will affect how the saddle rides. Is the saddle fitter/flocker a member of the Master Saddle Fitters Association? That is your only guarantee that the person knows what he/she is doing when reflocking the saddle.