View Poll Results

: Which saddle fits best

A fits well
0
0%
A is the best of a bad bunch
2
20.00%
B fits well
2
20.00%
B is the best of a bad bunch
3
30.00%
C fits well
1
10.00%
C is the best of a bad bunch
0
0%
D fits well
0
0%
D is the best of a bad bunch
0
0%
I wouldn't use any of these saddles
2
20.00%
Voters: 10. You may not vote on this poll
Saddle fit poll
---
Here we go, I dragged all my saddles out and tried them on Ace this morning, I thought I'd set up a poll to vote on what you think works bst. As ever explaining why you voted as you did is even more helpful than just voting
Just a reminder, Ace is 18 years old, and she has been a brood mare for the last 12 years. She is now 5 weeks into a fittening program, and is putting on weight and her top line is improving, but as you see she has a way to go.
This is what I have available, and I would rather use one of these for now, once she is fitter then would be the time to set out and find a perfect saddle for her.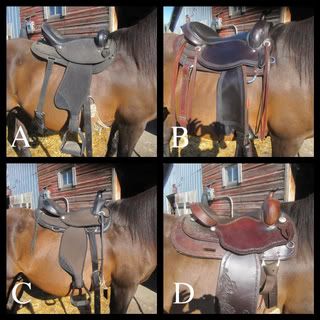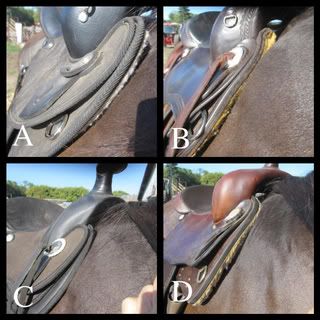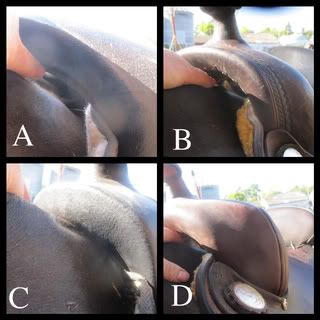 Actually all of them look pretty low, but # C is just sitting right on top of the withers.
Id say b or d. But its really hard to tell without it tightened or with out a pad. But the other 2 sit way to low in the front. B and D have a little bit of clearance atleast.
---
Many people have sighed for the 'good old days' and regretted the 'passing of the horse,' but today, when only those who like horses own them, it is a far better time for horses. ~C.W. Anderson
D is too long for the horse's back.
I personally would like the fit of A best if putting a pad on her got it up off her withers a little farther.
---
Always remember that feeling of looking at a big, open country over the ears of a good horse, seeing a new trail unwind ahead of you, and that ever-spectacular view from the top of the ridge!!! Follow my training blog:
http://robertsontraining.blogspot.com/
You need to put on a blanket and sit in it. They can look good until you get weight in them.
My opinion with withers like that would be a Steele saddle
I would pick B, because it looks balanced and isnt kicked up on the horses withers either... and the back of A is lifting off a bit...
---
If there are no horses in heaven... im not going.
I think B looks best...definitely not C...will kill her withers. Hard to tell just looking at pictures...but that seems the best choice out of what you already have.
---
A horse is the projection of peoples' views about themselves--strong, powerful, beautiful--and it has the capability of giving us escape from our mundane existance.

Similar Threads
Thread
Thread Starter
Forum
Replies
Last Post
Shoe poll

1dog3cats17rodents

Horse Health

11

09-19-2009

07:10 PM

Name Poll!

Salty_alydaR

Other Pets

9

02-14-2009

06:15 AM

Poll!

3days3ways

Horse Shows

6

03-25-2007

07:00 PM

Poll

oklahoma_cowgirl

Horse Breeds

14

02-05-2007

01:19 PM