Saddle fit re-critique? *picture heavy*
---
Lacey has suddenly become very cinchy over the last few weeks (she's literally gotten within an inch of biting me and she DOES NOT bite, ever) and I'm worried that her saddle may not fit so well anymore. She doesn't flinch or get testy when I run my fingers down her back in the way you do to check for soreness, but she's an amazingly stoic mare so I'm not sure she'd flinch even if she was in severe pain. Her saddle pad is also showing a lot more pressure at the back of the saddle, which according to my saddle fitting book, can be caused by the saddle having too much rocker to it or the rider riding in a chair seat consistently. I know that I don't have a chair seat with this saddle, this is actually the only saddle ever that has literally made me unable to be in a chair seat (I'm a chair seat addict). I'm also pretty sure that the saddle, if anything, has too little rocker for Lacey...so I don't know what's going on there.
The last time we critiqued it, it was determined that it may be on the narrower side of perfect and that it might be too straight for Lacey's back, but that it was a pretty good fit overall. I'd just like to check that that is still true since her back has gone through some muscle changes (good ones, I think) over this last year.
NdAppy also pointed out, on another thread where I posted a picture of this saddle + Lacey, that she feels like the saddle is sitting really really high on Lacey's back... I'm totally not sure.
Picture time!
First, back pictures:
In motion-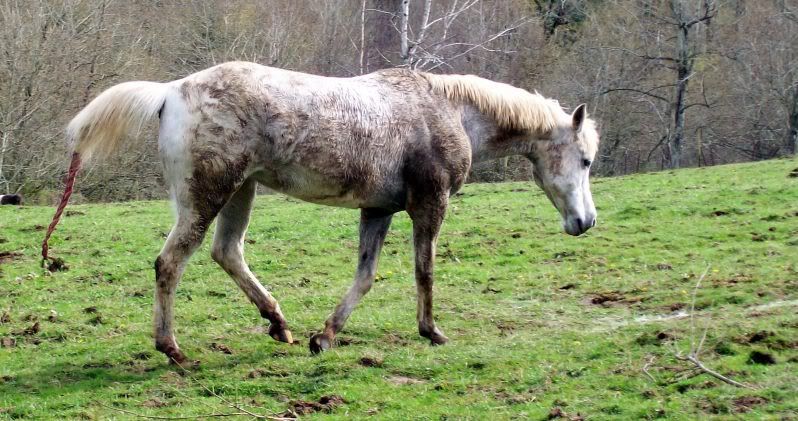 Still, with head up (from a few weeks ago, she's lost some weight and LOTS of hair since then, haha)-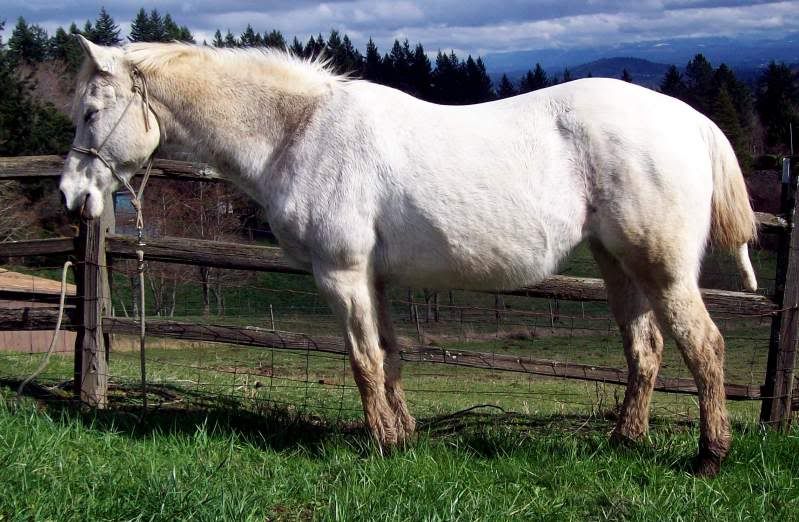 From above-
Saddle pad marks (the hair isn't really heavier on the right side, it's really pretty even from side to side, my camera was having a hard time because the light was coming form that direction so it overexposed the picture right there), the top of the picture is the front (withers area) of the pad-
No saddle pad-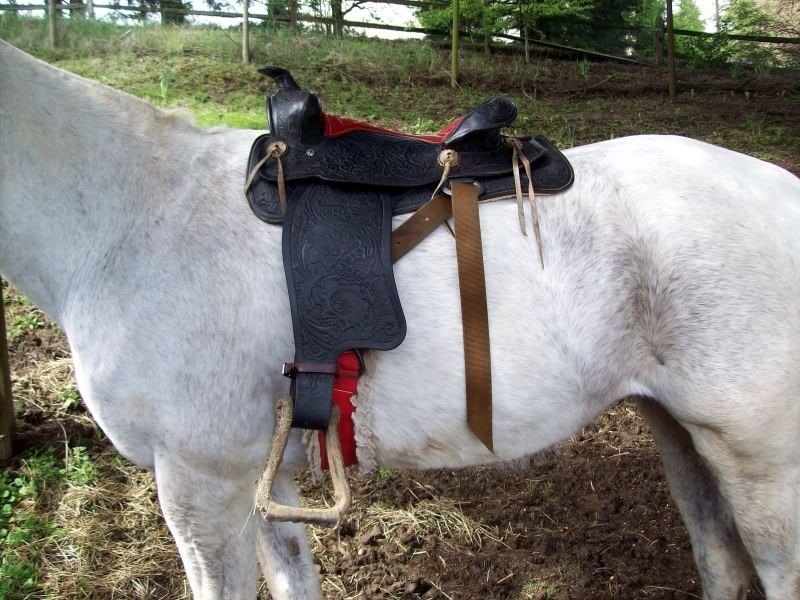 Other side-
Down the gullet (sorry about that hair, haha)-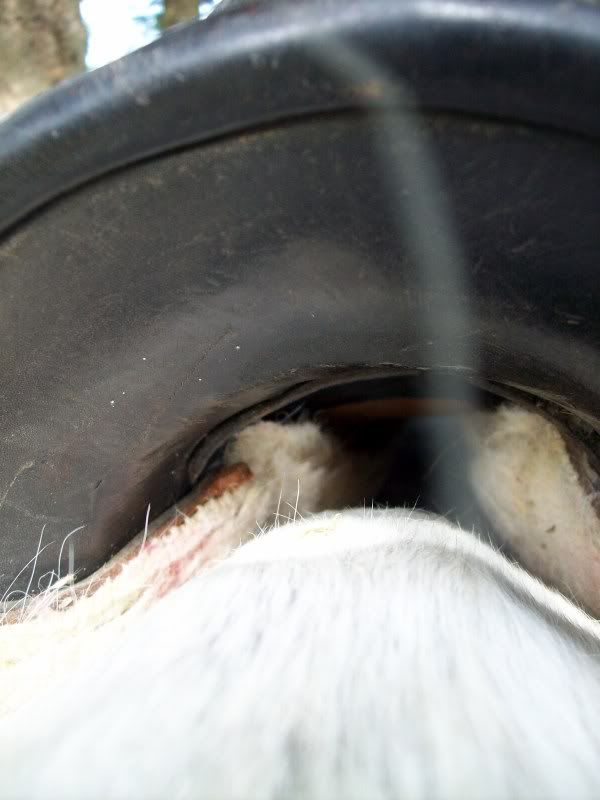 2 fingers between gullet+Lacey-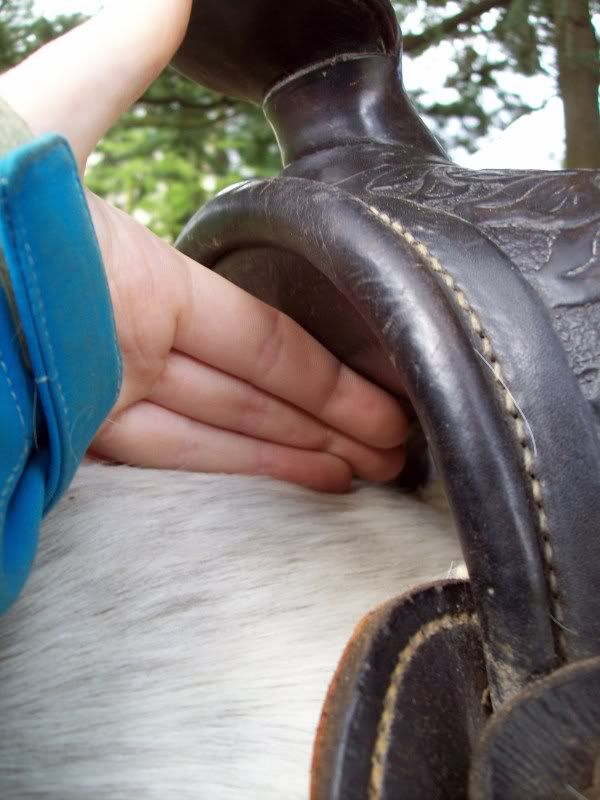 From the back, no bridging here!-
Plus saddle pad-
Other side-
Three finger widths now?? O.o
Down the gullet (I could still see light, the camera couldn't apparently)-
From the back (see! light!)-
And I forgot to take shoulder pictures so this one from the fall will have to suffice for now...
Thanks you for taking the time! I really appreciate it! :)
---
Fabio - 13 year old Arabian/Lipizzan gelding

~
Rest peacefully, Lacey.

---
Last edited by Wallaby; 04-28-2011 at

10:47 PM

.
I am not sure about the front of the saddle, but the back doesnt' seem to fit the shape of her back well. It seems more peaked, while her back is more flat . The tree doesnt look like it's bearing weight evenly there.
The pad is so long that as she walks her hips may be rubbing up against the rear edge of the pad (great pad, by the way). Put the saddle on, watch her walk and see if it shimmies side to side.

Wish I could be there to feel it. Sorry I can't be more definitive.
The front angle of the tree is just a touch steep, but it's also a tad forward. I would scoot the saddle back about 1-1.5" and take more pictures.

The pommel is a bit low, but as long as there is room under it with you seated in the saddle (with saddle pad), then you're fine.
Saddle is a poor fit. She's too wide in the rib cage for this saddle. Since it is already floating, your thick pad makes the fit worse. If you shoe is a little tight you don't add another insole.
Quote:
Saddle is a poor fit. She's too wide in the rib cage for this saddle. Since it is already floating, your thick pad makes the fit worse. If you shoe is a little tight you don't add another insole.
Could you explain more in detail please? :)
I agree that if it is too narrow I sure don't want to pad it up to "make" it "fit" and that's not what I'm doing with my pad. And it's actually not a "thick" pad, it's only 1 inch.
luv2ride- You think it's forward? I will definitely scooch it back a little and return with better pictures. That's another worry I have, I worry that it's too long for her back. With the style of saddle it is, it wants me to sit more in the cantle area and I worry that if I scoot it back more, I'll be sitting directly over the middle of her back, and since she already has a weak loin, I don't want to compromise her... But maybe I won't be sitting in a bad place...
tinyliny- I never noticed that it and her back were two different shapes! O.o It must be your artist eyes (my mom's an artist and she sees ALL these details that i would have never picked up on). Thanks for pointing that out! :) I wonder what it means...
---
Fabio - 13 year old Arabian/Lipizzan gelding

~
Rest peacefully, Lacey.

The problem that comes with older saddles, is that horses back then were shaped differantly. They tended more toward the narrow and so most older saddles are made in an A-frame angle. What you should look for is a saddle with a more roundness to it. My suggestion would be to look at saddles (and, if you can, try one on Lacey) that are more geared toward the modern quarter horse.

I know your frustration. I searched high and low for a saddle that fit Deja, because Deja's saddle is very....round? angled, while Thelma is an A-frame horse which is an easier angle to find. Deja and Lacey are built similarly through the barrel, so I can relate. (Though, this makes her super comfy to ride bareback.) Deja has a 7 in gullet as well, if you are wondering. Super wide front and a flat back. Stinkin' arabs, being difficult!

So, unless you have the cash for an arab tree saddle (aka arm and leg...) which I have found tend toward the "round" frame, then try saddles that are marketed toward QH. And, of course, bring wither tracings and all that. Blah blah, all that saddle fitting stuff that you already know that I don't need to repeat. :) Good luck and happy saddle shopping!
---
Proud owner of ~Mana: 6yo Arabian gelding~Pearl 13yo Arabian~Danzer 14yo Arabian mare~ Tiny mini filly