Green Broke
Join Date: Aug 2009
Location: New South Wales, Australia
Posts: 4,847
• Horses:
1
Saddle fitting help!
---
So, I've been looking for a safer saddle to use with my new horse and found a nice halfbreed in the tack shop, secondhand. I know the brand and they are somewhat popular and generally get good reviews, and its a good price.
They let me borrow it to try it on but I am not sure if it fits. I could fit an English saddle fine but I am a bit out of my depths with this one. I read the saddle fitting thread on here, and watched the videos, and my primary concerns are how the saddle is cut forward on the shoulder, and how far back it goes. I drew the chalk lines where her ribcage is and the saddle goes over it, but the seat but doesn't. And most halfbreeds seem to be cut forward at the shoulder, but I don't know if that, and the part behind the ribcage, really bears any weight.
For those who don't know, a halfbreed has the flat panels and fenders of a Western saddle, combined with the knee rolls and seat of the Australian stock saddle. They're quite popular down here.
Here are some pictures, I'd love some advice about fit. Besides the issues mentioned, it seems very stable, doesn't rock, and clears the withers, and I can also see down the back channel. Maybe some western saddle people can help, because it's more like a western fit I think, rather than English.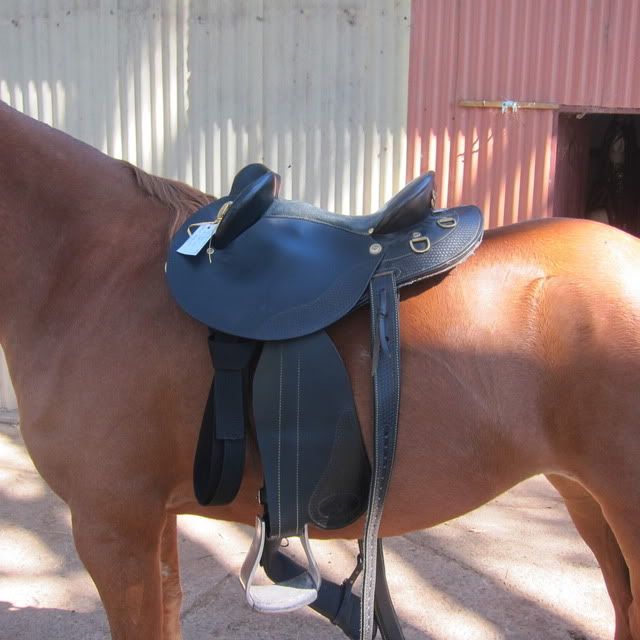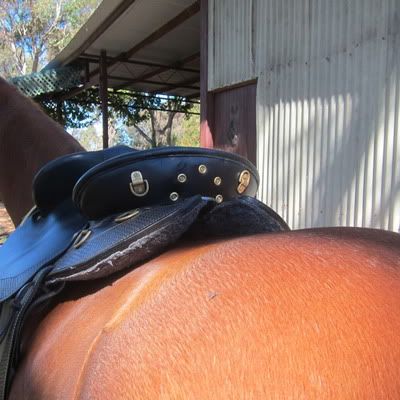 Green Broke
Join Date: Aug 2009
Location: New South Wales, Australia
Posts: 4,847
• Horses:
1
Decided not to get saddle.

So nobody worry about replying :)
Similar Threads
Thread
Thread Starter
Forum
Replies
Last Post
saddle fitting help

lacey met

Horse Tack and Equipment

15

02-04-2012

02:10 AM

Saddle Fitting

BrindalBelle

Horse Tack and Equipment

16

11-07-2010

10:30 PM

Saddle fitting help

horseluver250

Western Riding

10

02-28-2010

07:07 PM

Saddle fitting?

cherriebark

Horse Tack and Equipment

2

04-09-2008

10:06 PM

Saddle fitting

my2geldings

Horse Tack and Equipment

5

03-13-2008

09:22 PM