Saddle Fitting My Arabian
---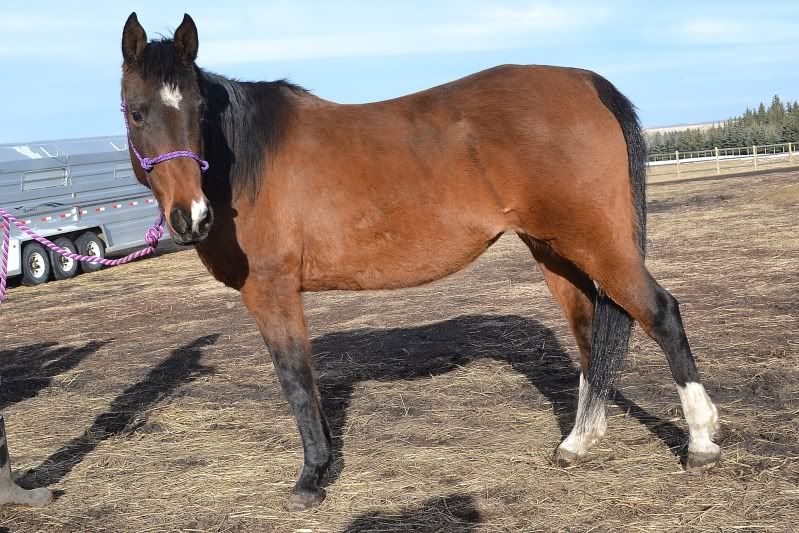 This picture is terrible, but all I have at the moment(not downhill, looks much nicer now). She is a 14 year old registered arab, built fairly narrow. She has a short back almost verging on a slight sway, which I think will deminish with conditioning. She was owned by a guy who used her a couple times a year in the mountains, no conditioning, just pull her out of the pasture and strap a giant stock saddle on, which bridged between her shoulders and hips. I mountain ride in my aussie saddles.
I have tried my wider aussie=too wide
wintec western=skirts too big, digs into hips
10 other western saddles of various brands=too wide/too long for back size, pinches shoulders, etc
2 different endurance saddles= want to slide back 2-3 inches, plus the "western" style skirt digs in
new aussie=slides back 2-3 inches
The new aussie seems the best fit, but I don't know what to do with the sliding back? It doesnt seem to pinch at all, good wither clearance, no big skirt to dig in. Fits me well. I know the slight hollow in her back will likely fill out as she gains muscle and gets in better shape, is that the problem? She seems happy and very willing to do what I ask.
Its really hard to tell by her attitude if it fits, she's been subjected to so many years of ill fitting tack I think she just expects it. The vet has said her back is in good shape.
At this point I'm wondering if she just needs a special pad for a few weeks, untill she gains some muscle?
Welcome to my world! You probably need a round skirted saddle to accomodate her short back - which is why the Aussie works so well. Her back doesn't look to be in too bad a shape to me - definitely needs muscle, but I don't think a special pad is really needed. I would just get a really good pad that gives her spine some relief. You might also need a breast collar to keep the saddle from slipping backward.
---
Plain Old Dee, horses Dancer and Rain
I believe in dragons, unicorns, good men and other mythical creatures!
I'd use a breast collar and some good padding to keep her from getting sore and use the saddle that fits her best right now. Once you've ridden her for 6 months or more and she's gotten some muscling and back in decent shape you might find a different saddle (that's too wide right now) fits better. I wouldn't even think of buying another saddle until 18 months, 2 years of solid, steady riding have passed.

Since she's not real well developed, once you start riding her uphill and down, you might find you need a crupper too for a while. Short backed Arabians do best with round skirted western, english or aussie saddles for trail. I like the old Circle Y Arab saddles better than just about anything for fit.
---
Have you tried a saddle with bars designed for an arab? Her back is good, not swayed at all. Too straight a back and there's no flexibility.
Similar Threads
Thread
Thread Starter
Forum
Replies
Last Post
saddle fitting help

lacey met

Horse Tack and Equipment

15

02-04-2012

02:10 AM

saddle fitting

speedy da fish

Horse Tack and Equipment

4

06-18-2010

09:57 AM

Saddle fitting help

horseluver250

Western Riding

10

02-28-2010

07:07 PM

Fitting A Saddle!

Tennessee

English Riding

1

12-17-2008

10:04 PM

Saddle fitting

my2geldings

Horse Tack and Equipment

5

03-13-2008

09:22 PM