Saddle Shopping! - What kind of western saddles could fit this horse?
---
I'm looking for a decent saddle for me and my horse.
It would be nice if I could get one for about $2200 or under if it's possible.
I have a dressage saddle, 16,5", that fits great and it looks like this from the front;
She's like a ball,
so I guess that a wide saddle is a must.
This is the horse I'm talking about. She don't look like a ball from the side, but she sure is one.
(Lacking a bit of muscles in this picture though.)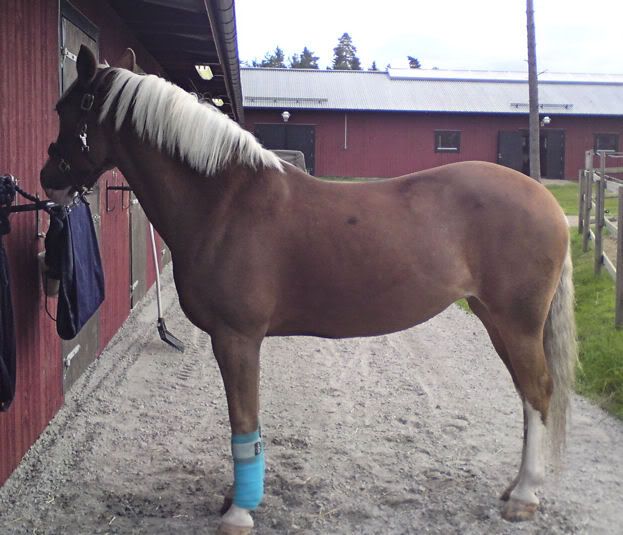 (In better condition in this picture.)
(She change the side of her mane all the time.
)
What kind of saddles should I bee looking for?
what kind of western riding do you plan on doing?
Try an Arab tree by a reputable saddle maker. Crates make a nice saddle. But in all honesty, measure her first. What ever saddle maker you choose make sure the tree has proper bar flare, not all do.
http://www.cratesleather.com/
---
Last edited by goneriding; 02-16-2012 at

06:44 AM

.
I don't think an Arab would fit this horse.
Maybe not maybe a fqh tree would fit. Measure the horse.
.

Might need an X-Wide QH or Draft Tree



.
---
May all your Trails be happy and safe ones
Kevin
How easy is it to find western saddles and people who understand how to fit them in Sweden?
---
Last edited by goneriding; 02-16-2012 at

08:17 AM

.
The Printable Templates on that site work very well, the key is to assemble the Templates and place on your Horse, then take pics of the Template on your Horse and send to the Saddle Maker to see how they fit.
.
---
May all your Trails be happy and safe ones
Kevin
Thanks for the tips everyone!

Sierrams1123; I'm most interested of Trail, Western Riding and Western Horsemanship.

mildot; Around where I live, I would have to load my horse up and drive for at least 3 hours to get to the only professional I
know about, who have western saddles for sale and could fit a western saddle for my horse. And that will not be possible
for a while, she's going to have a foal in May, and I would not like to load her and the baby up to drive 3 hours for a saddle
fitting. But I have a few good western riders around here, that probably could help me with the fitting. I am perfectly capable
of fitting a English saddle, but has little experience with western saddles. So I will get help with the fitting of the saddle.