Saddle Slipping FORWARD?!
---
This has become a huge problem latelyn with my saddle.
I use a wintec 500 AP and a medium wide gullet.
Things I've tried:
-White wintec foam lift pad [extends to back but less lift then the front]
-1/2 and 1 in 'shims' in just the front, they stopped right after the shoulders.
- Medium, narrow, and wide gullet. None seem to want to fit.
Medium wide seems to fit the best but the slippage is just ridiculous cause it makes it harder for her to get off her forehand or jump. I usually will get off and re adjust if it gets too bad. But Lately I've been over tightening the girth to attemp to keep it in place, its worked some what but its still slipping.
I have a few pictures where it shows how far teh saddle slips.
It slipped a good 2-3 inches or possibly more forward over her shoulders.
Its also effecting her back as u can see this is what her back normally looks like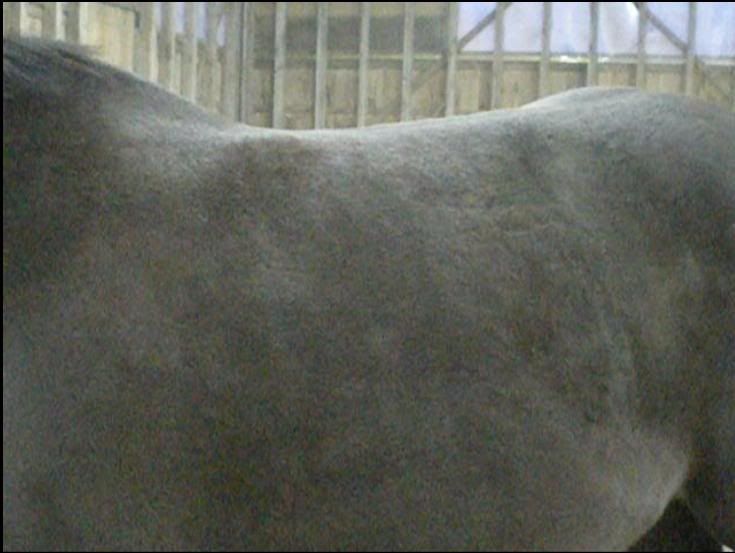 ---
<3<3 It's just us together as one <3<3
Ill take a look at those thanks!

And I think what you are talking about are called cruppers. THe only this is the ones that I can find only connect to a D ring on the back of the saddle... and my wintec doesnt have that.
Thank you!!! Thats awesome!
Anyone have experience with these to tell me how there horse delt with the loop under the tail? lol
I love this forum! extremely helpful
Also Chance is a 14.3-15H[depends on the day] smaller built horse. Im thinking I should get full size but how big do they normall run?
---
Last edited by HorsesAreForever; 01-19-2010 at

05:30 PM

.
Hey, I knew it started with a c!! haha go with a full.. he looks like he has a longer back to..so full should work...

You shoulden't have a problem getting him used to it just make sure when you do use it for the first time you lunge him... just incase he does a couple of bucks, but from what I know..its really not that bothersom for the horse.. let him get used to it before doing harder work.. Because Im guessing the harder the work the more the saddle slips. Maybe just start off with some walking and go from there!
---
<3<3 It's just us together as one <3<3
Sounds fair enough :)
Thanks.

I guess if its 2 long I can punch some holes into it if needed. :)
Ill also probably hold off on riding till it comes in, or ride bareback because I feel bad having to over tighten the girth just to try and keep it all in place.