Short backs, long saddles, and different disciplines
---
How do the mechanics of saddle seat saddles figure then?
Genuine question, in fact worth starting another thread so we can discuss maybe. These are often 20" saddles, and there are Arab saddleseat classes
Green Broke
Join Date: Oct 2010
Location: Some times Llanelian - North wales, sometimes Hull in East Yorkshire (UK)
Posts: 3,679
• Horses:
5
the poor horses are hollow in the back, got thier heads hoiked so high i'm suprised they can breathe and i'm willing to bet will have sore backs very quickly.
---
RIDE your horse FORWARDS and keep him STRAIGHT


But do you have any experience with the discipline Faye, or are you just guessing, the same as you seem to do with most of the different things in the USA/Canada.
Short backs, long saddles, and different disciplines
---
I'd like a nice sensible discussion on this, prompted by this thread
I love this saddle, it fits me, will it work for Willow?
I have never really thought about this issue, and certainly don't want to hurt my horse, so lets discuss.
I shared some pics of me riding in a 17" saddle on Willow, and was told in no uncertain terms to get a bigger saddle on her or I would hurt her back by sitting on the cantle to much, fair enough good point.
So I try a larger saddle, fits my butt, but is to wide for her, fair enough, but now there is discussion that it maybe to long for her
Ok, length of saddle, discuss....
compared to a Western saddle on an Arab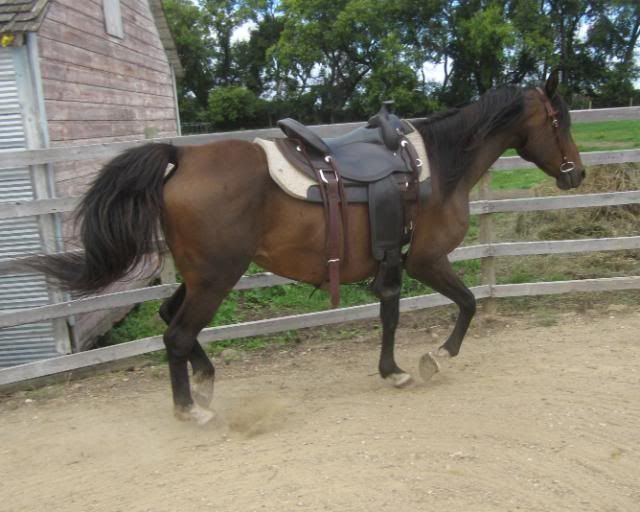 or a saddle seat saddle
I've seen a lot of larger people riding Saddleseat, do they ruin their horses backs?
I really don't want this to be flaming any discipline, but a discussion about saddle length and the affect that this has on the horse
.

The length of the Saddle is abstract (especially in western), the correct determination should be the bar length of a Saddle, this is where the weight is distributed from the rider,

The "bar" should never put weigh on the last rib, whether that rib is the 18th or 17th, some breeds have one less rib.

Of course with a Western Saddle, the Skirt Length if too long can be an irritant to the Horses point of hip

PS... some people say no pressure on last two ribs, I have not asked a vet about the two ribs part :)



.
---
May all your Trails be happy and safe ones
Kevin
---
Last edited by SouthernTrails; 08-03-2012 at

10:26 AM

.
I know nothing about saddleseat. I do know western trees are longer than English, typically extending well beyond the cantle.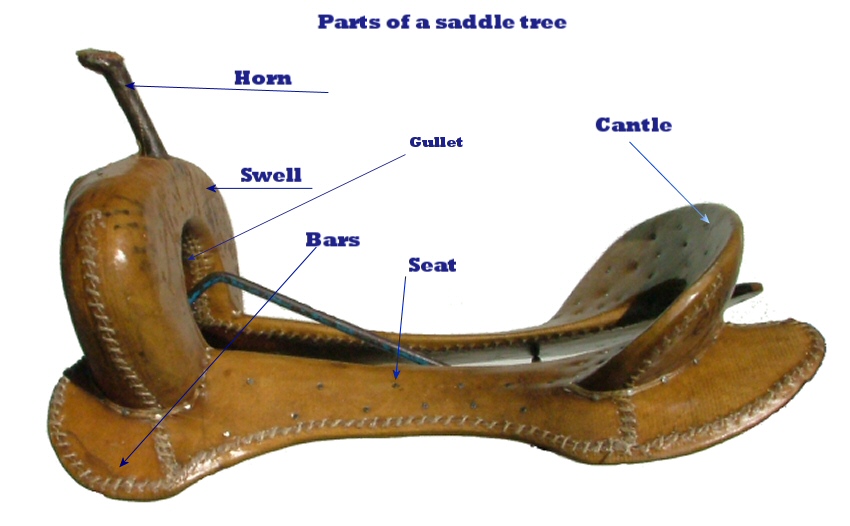 Someone sitting with their rump against the cantle in the above tree is barely behind the midpoint of the tree. If they are using an "Old West" approach with their legs to the front:
then the rider's center of gravity is probably in the middle of the saddle tree. The extra length and width reduce the pressure per square inch, so there isn't much pressure on the loins of the horse.
With an English (or Australian) saddle, the tree ends at the cantle - almost in front of the cantle. It also isn't nearly as wide.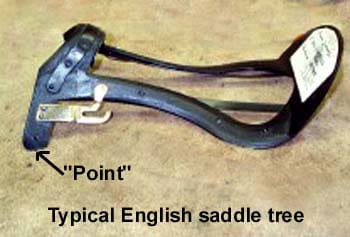 That can keep it off the loins, but it also means that riding 'on your pockets' would put most of the rider's weight on the far back end of the tree.
My technique for deciding if a given saddle is too long is to have my horse pick up a faster trot and then bounce along in the saddle. I don't approve of that as a riding technique, but it gives a worst case for the horse. If the saddle is too long, or if the tree is too flat front to back and bridges, then my horses let me know - ears back at the cue for a trot, or ears twisted back in a "what the hell is going on" expression while they slow to a light jog to ease their back.
The first western saddle I bought was OK for length, but the bars were too flat for the curve of my horses backs and they did NOT like trotting. We gave it to a friend who had a long, flat backed QH.
The Circle Y Arabian saddle we have now (Mojave?) is 26.5". It works well for my tallest horse (Mia) & OK for Trooper. It is way too long for little 13 hand Cowboy, who has a short back even for his height! My Aussie-style saddles (with an English tree) are 22 inches long IIRC. They fit my Arabian & Arabian-Appy, but I also need to ride them with a more forward seat. We don't have a saddle short enough for Cowboy. We take a Wintec white foam pad and place it where the saddle ought to be. He has slender shoulders, so we then put the Aussie saddle too far forward on the pad. Because they were bought for wider horses, it allows his shoulders to slide under the front of the saddle while the rear is 3 inches in front of the rear of the Wintec pad. In minutes he went from 'cinchy' and irritable to relaxed.
Just eyeballing the saddle in your top picture, there is no way it looks too long to me. How does she ride with it?
---
"Make the right thing easy and the wrong thing...well, ignore it mostly."
Trooper (and my youngest) and Mia.
The western saddle on Trooper goes a bit further back than I want, but his riders normally weigh in at around 110 and the western tree is pretty wide, so he arguably has a much more comfortable set-up than Mia. The saddle isn't too long for her, but if I tried to ride it with my 175 lbs 'on my pockets', she'd start pinning her ears at a request to trot.
At a trot with my Aussie-style saddle, Mia likes me to ride pretty forward. It looks to me like
bsms
is too forward, but Mia trots longest with her ears forward and her back moving well when I do it this way. It is harder on MY back, but seems easiest on hers based on her behavior. And looking at the tree of an English saddle, it seems plausible...
---
"Make the right thing easy and the wrong thing...well, ignore it mostly."
The way I see it is this.

If you're tall/big enough to need an 18" (English) saddle you need a decent sized horse. Just because 19th century light dragoons on the march rode at 21 stone on 15 hand (and smaller) horses, that doesn't mean it's okay. So if you must fit an oversized saddle on a pony bear in mind your mount will likely be proportionally less comfortable carrying you than a bigger animal, which potentially means a higher risk of wear and tear on skeleton, lungs, heart etc over time.

Tree length is not necessarily the be-all and end-all. Many cob/arab/native breed saddles have short panels compared to their tree length to compensate for shorter ribcages and allow for the fact these animals often 'pull above their weight'. BUT a shorter panel = more pounds per square inch on the horse's back, so it's a trade-off.

As a Brit, to my knowledge saddleseat developed from the desire of (at the beginning) Southern gentlemen to show off their horses AND themselves to young ladies. The exaggerated seat - long stirrups and bum over the horse's loins - needed a saddle to match, and of course manufacturers can always fill a gap in the market! The very wide flaps simply stop trousers getting covered with horse grease, so everything about the saddles is geared towards the rider, not the horse.

This method of riding is simply for show and seems to have become more and more extreme as time has gone on, a bit like in-hand Arab showing. I'm afraid anyone who believes it has anything to do with real horsemanship (ie. a mutually respectful partnership) is seriously deluded.
Well, I use an 18" English and/or Aussie-style saddle on my short backed Arabians, and they don't have a problem as long as I don't mix a western style of equitation with a saddle not designed for it.
Trooper has a very short back (3/4 Arabian, 1/4 Appy), Here is an 18" Aussie-style on his back:
He moves fine in it as long as I don't try to ride 'on my pockets'. But then, the saddle wasn't designed for that style of riding.
This is a western Arabian saddle.
At 26.5", it is too long for him - although it doesn't much matter with 100 lbs of girl. When I ride him with this saddle, I need to ride it more forward that a western saddle is normally ridden. But with my daughter, it works fine...just wish she'd put her feet into the stirrup sometimes!
BTW - the saddle is also too big for my daughter, but she insists on riding it and no other...
---
"Make the right thing easy and the wrong thing...well, ignore it mostly."
---
Last edited by bsms; 08-03-2012 at

12:23 PM

.
Quote:
If you're tall/big enough to need an 18" (English) saddle you need a decent sized horse.
UA, I'm going to disagree with you here. As I said I'm tall with very long legs, so anything under 17.5 simply doesn't accommodate my legs (not butt). However my horses are 14'3 & 15'1 (with 15'1 in fact being a shorter in a back horse). We neither look unproportional nor either of them have problems carrying me around (whether I do ring work or go on longer trail ride), and (per my saddle fitter, who is really good and used in lots of barns in MD/VA) both 18" saddles I have are not too big for either.
---
"Life isn't about waiting for the storm to pass: it's about learning to dance in the rain..."

"When we are no longer able to change a situation - we are challenged to change ourselves."

"How people treat you is their karma; how you react is yours."