Thanks JDI, I would go to the Happymouth but he just didn't seem to ride well in it for some reason. My trainer got it for me for Christmas and I was told to check it after every ride to make sure there were no sharp or ridged parts( this was told to me by my mom because she loves this bit) But my mom and I ride together 2-3 times a week and she even could see the fits he was throwing. When I switched he was immediatly beter. lol
The rubber bit is much thicker then the Happymouth bit and I thought I was doing a nice thing for him being that I am not perfect, and he used to be a lesson horse but the lesson people didn't like to ride him because if you didn't ride him with almost perfect hands he would LET YOU KNOW!! (if you know what I mean) So I guess I will just keep him in this since I am Just now training with a pro trainer (start tomorrow) and I am sure she will let me know what she thinks, but I definatly won't let anybody get me in to any thing more harsh.
Thanks again!!
---
I am owned by the Sandman
Cool! Best of luck!!
Some horses just don't like certain types of bits, so good on you for realizing that and finding a bit he does like instead of sticking with something that just doens't work.
---
The lovely images above provided by CVLC Photography cvlphotography.com
Had Fella in a full cheek snaffle with a single joint....he did not seem to like it much, chewing and pushing on it. At the advice of my riding instructor/horse trainer I switched to this Kimberwicke....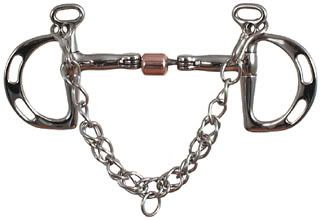 He seems a lot happier in it!
I ride Pogo in the martha Josey Million dollar bit
---
Don't be afraid to go after what you want to do, and what you want to be. But don't be afraid to be willing to pay the price.