Show your horses colors!
---
I just got a ton of new tack for Christmas, and and obsessed with him matching and looking good. c: Does anybody else have matching tack for the horses? Feel free to show off.
The boots dont match :c Im hoping to return them.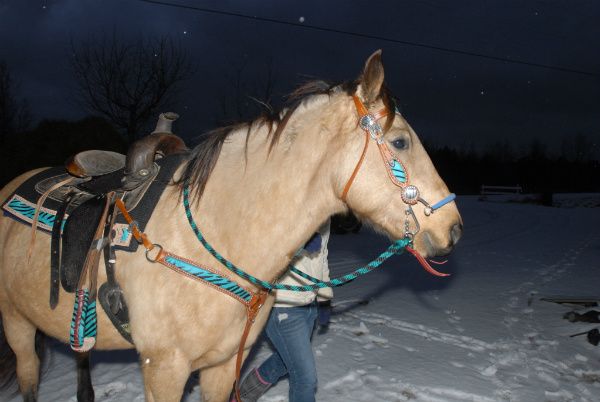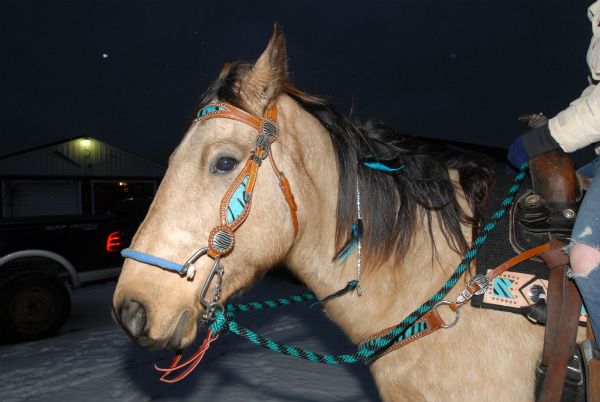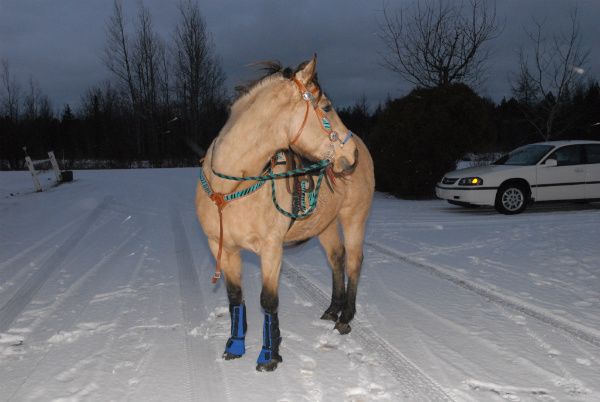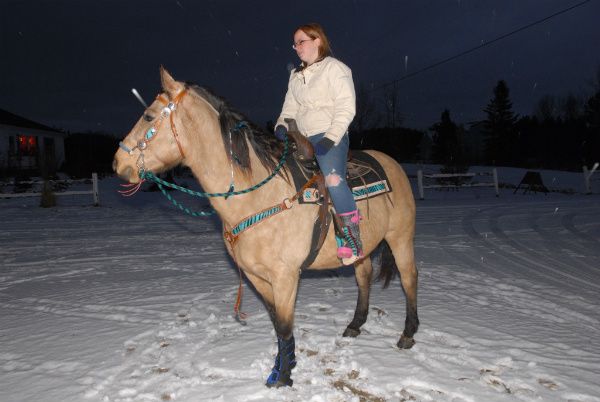 Wow that is some serious matching!
I match white saddle pad with crystals on the brow band and black saddle with black brushing boots and the black bridle AND my black breeches. Aren't I fun. :P
And my horse's sorrel and my hair kind of match so.. woo?
But then I ruined it with my grey sweater! Unless I was meaning to match the grey around his face or his dirty tail.. hmm...
Lacey and I have a turquoise/purple/white/teal color scheme going on.
I like to do multiple colors, that way I'm not locked down to one specific color (which I'd easily get tired of), it's easier to find things that fit in, and I like the "rainbow"-ness of it.
---
Fabio - 13 year old Arabian/Lipizzan gelding

~
Rest peacefully, Lacey.

The more and more I seem to advance and get into bigger shows, the less and less I seem to care about matching.
I used to go all out, I have always used royal blue and from time to time I would mix it up with other colors, but now I just stick with black pad and black boots with a black nylon headstall with black reins with whatever leather blingy breast collar I feel like sporting. I also have a thing with random bell boots, I find new ones I like almost every week so with basic colors and seeing as the only color rhinestones I get on my breast collar I can get away with almost any color bell boots.

p.s. I am pretty sure you have your pad backwards. The end with the diamond and dangle thing should be at the end where his but is. I love the turquoise on your horse though it looks very nice...its one of my favorite colors.
---
Last edited by sierrams1123; 12-26-2011 at

11:38 AM

.
yes, i do indeed love matching (:
I'm not sure if what I do counts as matching, but my saddle, bridle and girth all match xD
But I ride english/hunters so not much use for awesomely colored tack as me and my trainer would really only be the ones seeing it. I use white fitted pads for show.
My girl in her barrel racing tack:
pink things are so cute! I don't have many things to match.I have black saddle and bridle.only the pad I got recently its coloured but I don't have any pictures yet. When I rode on a blue western pad I tried to have blue clothes too:)
Posted via Mobile Device
Started
Join Date: Nov 2010
Location: Lethbridge, Alberta, Canada
Posts: 1,634
• Horses:
2
I just got a new saddle and now I need to save up for a new bridle because mine is too dark now. >:( Oh well, plenty of time to save before show season starts.
My dark bay mare wears dark Havana (chocolate) tack and a black saddle pad. I'm currently drooling over a black pad with white and turquoise piping. Her halter is black leather with turquoise padding. Her saddle looks especially nice -- really dark brown with cream-colored suede knee rolls. It's absolutely striking against the darkness of the rest of her tack and coat.

If I had to choose a color for her, I'd pick turquoise. It just looks so nice against her coat. But I'm pretty boring and I like everything in understated colors. Too many bright colors drive me nuts. :p