Showing
Join Date: Jun 2011
Location: Cariboo, British Columbia
Posts: 11,770
• Horses:
3
Her pad is on correctly. However it's for an english saddle, so the bottom loop is where the girth goes through & the top keepers go through the billets. Stops the pad from sliding back or forward.
waresbear-I think she was talking about jacksons pad which is backwards :] The dangly hair piece should be towards his butt
---
just a small town girl with a big town dream :]
I'm trying to get Cinny's stuff matching, but not quite there yet. We are doing the Lime Green and Baby Blu THANG.
Showing
Join Date: Jun 2011
Location: Cariboo, British Columbia
Posts: 11,770
• Horses:
3
Yes, Jackson's is backwards, oops.
His pad isn't backwards. I thought it was too when I first put it on. I went to flip it around, and realized that on one side the tassle is in front, and on back on the other side c:
Posted via Mobile Device
Jackson, I think they must have done something backwards. The tassles are supposed to be on the back. Maybe the company sewed them on backwards if you are saying when you have the pad on your horse that one is on the front and the other on the back. You could call and ask, if it's wrong send it back and have them fix it.
I'm VERY match controlling with my tack. It drives me insane if it doesn't fit and match just right.
Nikki is giraffe, pink, and brown
Lark is black and burgundy
Hickory is pink and brown
---
I am Sparkly Meanie Doodie Head and I approve this message!
Well I hate to point it out to you but it shows that that the tassel is clearly on the front of the saddle pad in the pictures you have posted. The pad is backwards in the pictures.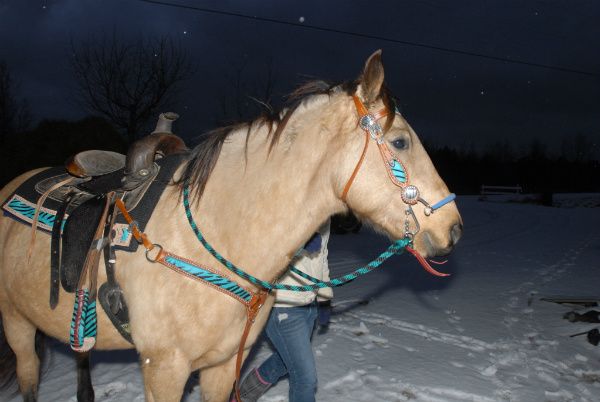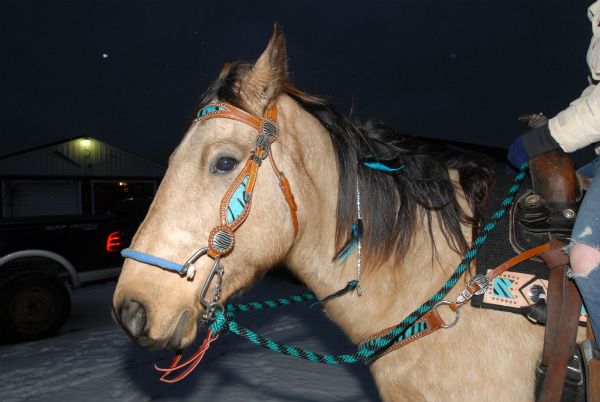 ---
I am Sparkly Meanie Doodie Head and I approve this message!
All of my tack matches and it even matches my horse!
Ok, kiddo in the picture doesn't match but considering she rides a white pony with lime green
boots.... matching just isn't her thing I suppose.
I wish I had a picture of Abby in all purple, but I rarely use her SMBs and bell boots and I just got rid of my purple seated saddle.

Sidenote: Jackson, that is only a blanket you're using. You need some kind of felt liner pad underneath or it'll get uncomfortable for your horse.
Ok guys. First, the tassles are in fact on different sides on the pad. And I have a pad underneath of it. You can see the edge in one of the photos I believe. Its royal blue.