Sigh, the saddle search begins...
---
I'm looking for suggestions on a new dressage saddle. Now, I don't have a LOT of money, not much more than what I can sell my old Kieffer for, but it is clear the Kieffer no longer works for me or Cinny according to a professional saddle fitter AND, no amount of adjusting will make it fit.
I will show you the pictures I sent to the fitter as well as what the fitter said about it. Maybe once you see where we are coming from, with any experience of any style/brand that you may have, maybe you might be able to suggest something that fixes the problems the fitter discusses.
Mind you, I am not BLAMING my saddle for my own inadequacies, I am just showing how it doesn't help, as well as showing the Saddle Fitters view of what is happening so that I can get the best new saddle suggestions I can get for what is going on.
One last note.... I KNOW I need to loose weight. I am working on that. I have started going to the gym, eating better and working on strengthening my core. I have lost 15 pounds this past month and I think I'm well on my way to being a fitter partner and team member for Cinny. So please don't just give up on me and tell me I'm just too fat for what I want to do ... I already know I am and It's already KILLING me to the point that I am doing my best about it.
Cinny's current general conformation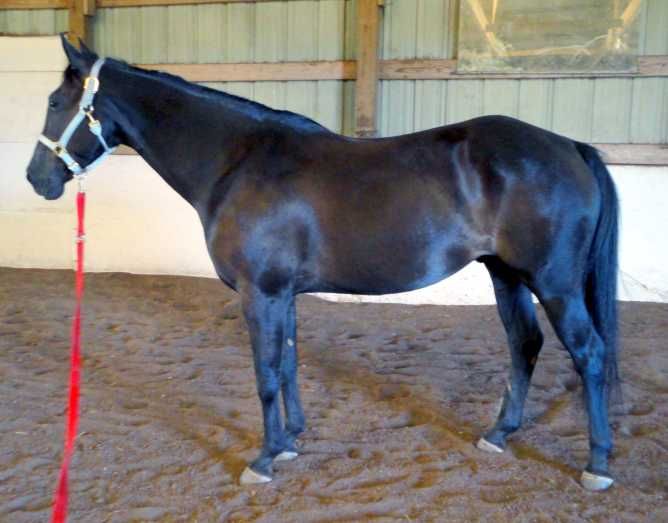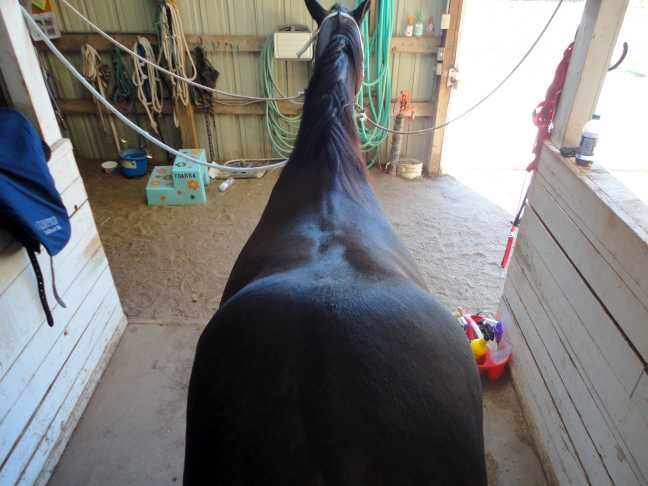 This is my Kieffer Wien as it sits on Cinny with nothing under it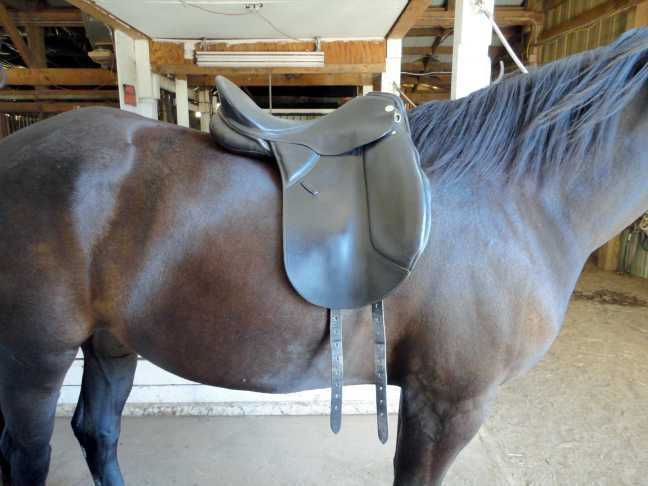 Here it is again with a marker on it the way the Schleese videos describe to find where it is balanced.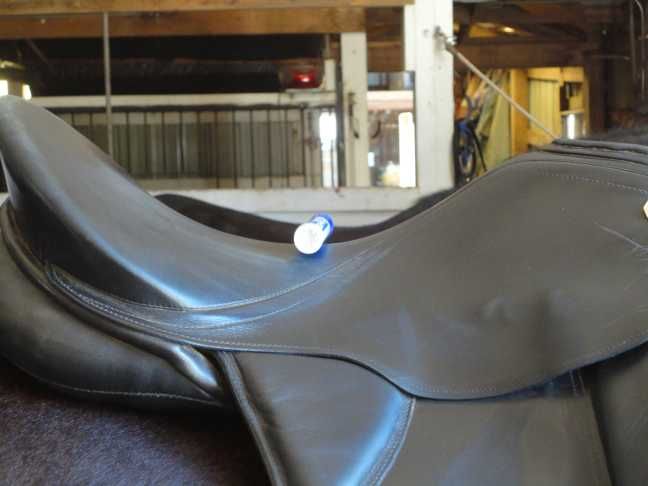 Looking up the twist from behind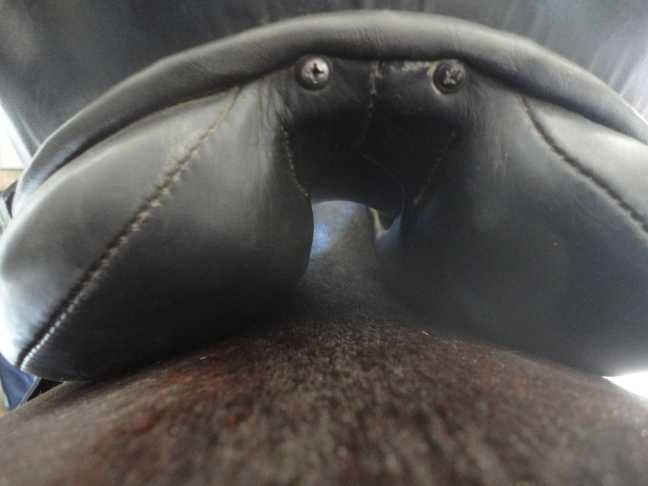 Wither Clearance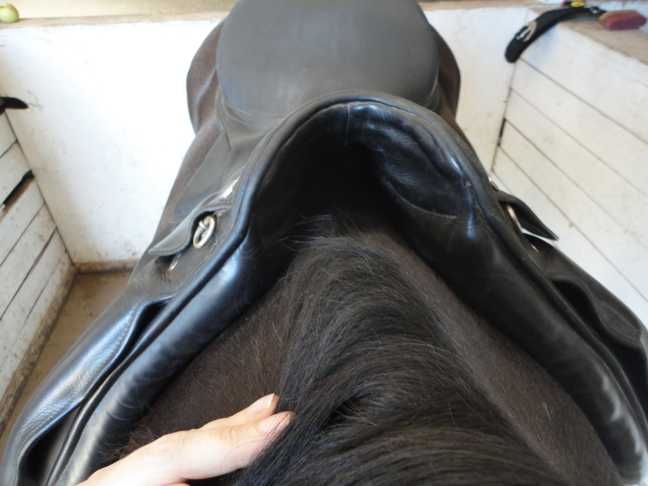 General view of fit from the front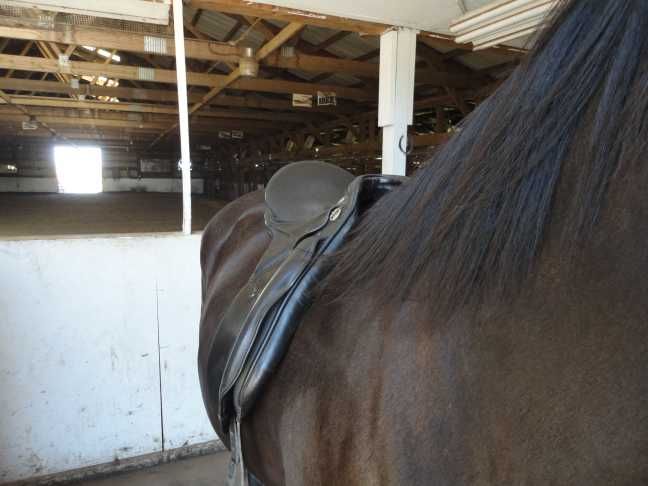 The following is to show what happens with my position when I ride. When I ride my trainer's OTTB in my Trainers saddle this doesn't happen. I am uncomfortable as heck in her saddle but it doesn't throw me forward either. I also have been told that I have far better equitation and positioning bareback on Cinny than with any saddle.
We usually are kind of okay when we stay in the sitting trot. He will offer to put his head into the bridle, I can feel his legs power up and then BAM he throws his head straight into the air like a bee just stung him and then is angry until we go back to a walk.
We have gone about 5 strides and he is hesitantly thinking of rounding but as you can tell by his expression he isn't very confident in doing so. I am struggling to not get thrown forward in the seat. I feel like it is actually pushing upward and forward on my tailbone.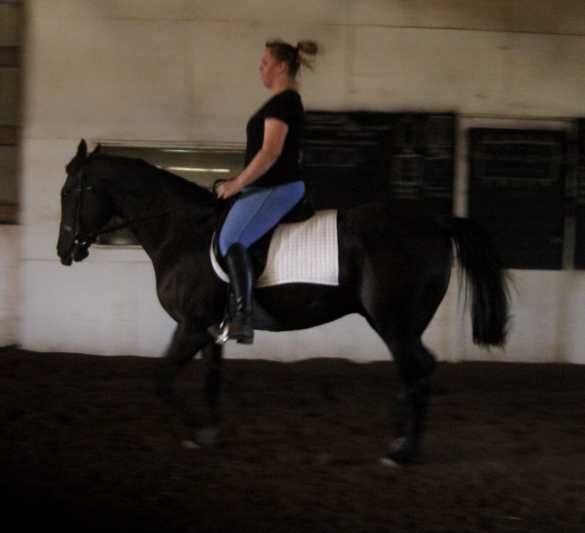 Shortly after an attempt to "round" he is now angry and obviously something has hurt him. My position is very greatly compromised....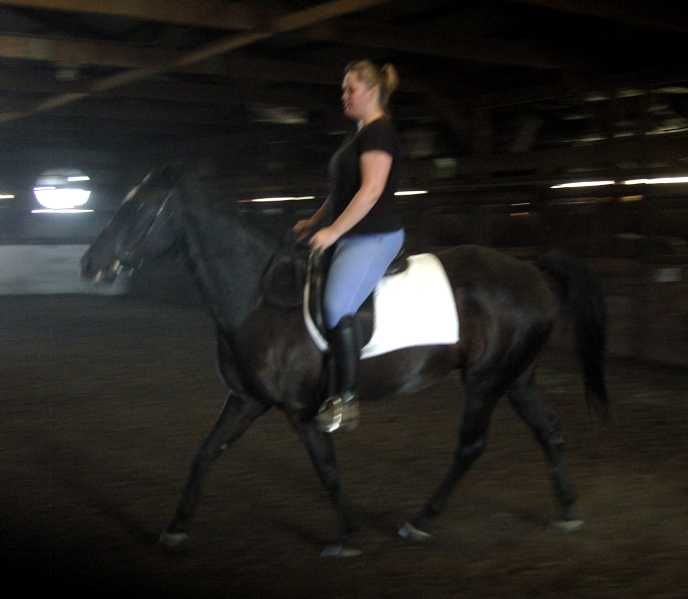 This is at the Rising Trot
Again, He is thinking about it and I am now very much struggling to keep from tilting forward. In my struggle my knees also start to raise the more I fight being thrown forward.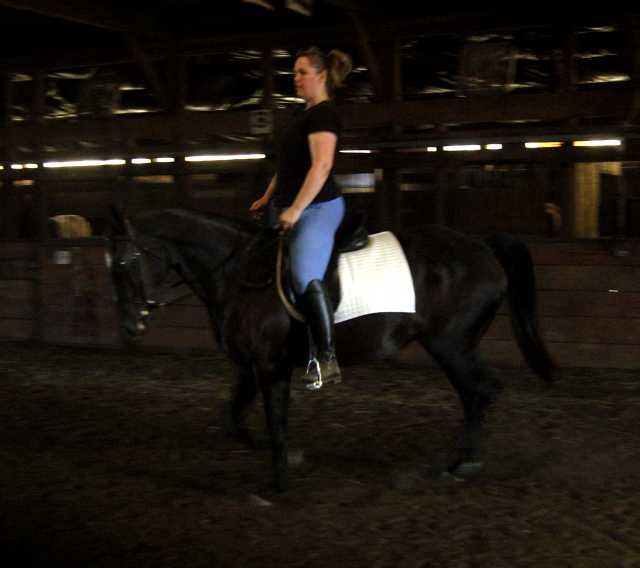 And BAM something "gets him" again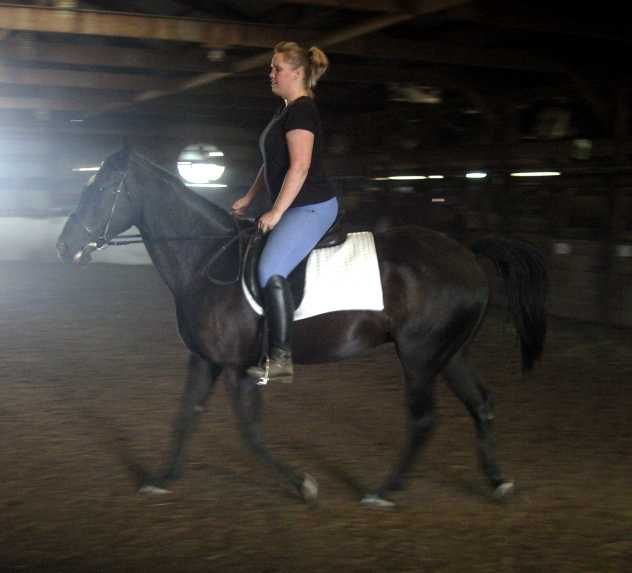 After our little 20-30 minute ride to warm up and take pictures, this is what his back looks like. I have circled in red actual indentations...there are no white hairs or broken hairs but the muscles have been affected.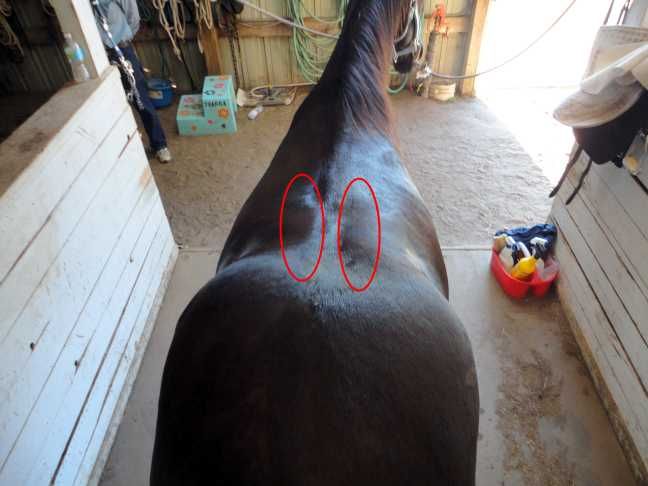 And last, here is what I was told by the Kieffer licensed professional saddle fitter in IL
Quote:
First of all, he is very cute and obviously tries very hard for you. He just can't do it with this saddle. Kieffer saddles have one spot for you to sit in. If you are a larger person there is generally not enough room to sit in the "sweet spot". What I see in your photos is that you sit on the belly of the seat and that puts pressure on the cantle. This kicks you out the front and causes the saddle to move forward by thew as it is being driven there. When I look at the photos of the panels on the horse from the rear, I feel that the panels are overflocked, or stuffed. This narrows the bearing surface and causes more pressure on his back. This, in addition to the weight on the cantle, is causing the muscle development problems you are seeing on his back.

In my opinion, this saddle is not working for you or for him. Your feeling that you are fighting the saddle is correct. Then your horse has to try to accommodate you and the saddle that is not quite right for him either. The saddle does basically fit him. The overflocked panels are a problem, but mainly it is the way the saddle fits you and what it does to your position that is affecting him negatively. Adjusting it, and/or changing the flocking, will not help. He is a very good boy with a lot of heart! A new saddle that fits you both properly, and some therapy on his back, whether from a massage therapist or chiropractor, will make all the difference in your partnership. He looks to have a very short thoracic area, so any saddle needs to not extend over his last rib.
I'm sorry this was so long, but I really wanted to give a good explanation so that hopefully you have what you need to suggest something that would work better. I have been thinking of an older Wintec Isabelle that is already broken in, yet in good condition that has also been used on a paint of similar conformation as Cinny. But I am open to ANY saddle suggestions. I will have to buy used because I can't really go much over 500.
Thank you for all of your help. I PROMISE I will gratefully accept any help or suggestions you give and won't behave like child this time. I am an adult..I want to prove it.
I don't ride dressage so can't suggest anything along saddle lines to you. But while you're waiting for a new saddle, I would second the saddle fitters suggestion for a good chiropractor and/or massage therapist. That will speed his recovery so that you aren't just putting a new saddle over bad saddle fit problems.
---
Chiropractic and massage are always a fantastic idea :) I have an older County dressage saddle that I just love. It gives a lot of clearance to my OTTB's high withers, and while it's a bit wide on him I believe it will be a better fit once his topline fills out.
Cinny, is he wide? (hard to tell from pics) If so I'd look into trying Thornhill Vienna on him. I use it for several years already, as well as there are several people on forum who are happy with it (it puts you in correct position). AND it's med-range saddle too (on budget).

Seriously though, I can throw other mid-range brands (say, MT and Collegiate), but I doubt anyone can judge what would be a good fit for him until you put a saddle on.
---
"Life isn't about waiting for the storm to pass: it's about learning to dance in the rain..."

"When we are no longer able to change a situation - we are challenged to change ourselves."

"How people treat you is their karma; how you react is yours."

Quote:
Originally Posted by
Dreamcatcher Arabians
View Post
I don't ride dressage so can't suggest anything along saddle lines to you. But while you're waiting for a new saddle, I would second the saddle fitters suggestion for a good chiropractor and/or massage therapist. That will speed his recovery so that you aren't just putting a new saddle over bad saddle fit problems.
I agree and I am also happy with my decision to give him a big rest break after our show in august. Chiro and other therapy is going to lined up and he is having fun working in our Best Friend ultra comfort bareback pad with just a halter and no real rules or trying to go into the bridle etc. My 14 year old is the one riding with me maybe once a week.
I've out saddles with region trees on him and they pinch his withers. I am not sure if the Kiedfer I have been using is wide or med wide. I DO no it fits NONE of the 10 OTTB lesson horses where I board,they're withers literrally get sucked right up until the hit the top of the twist.

Im not so much asking about size ortreefor now, just some good saddles that have more "sweet spot" to them and then I can fine tune size and fit from there with help from a fitter. I just want something I don't fight with anymore.
Y'know, Thornhills might just be up your alley. I have a huntseat jumper by them and it's AWESOME. Fits the widest QH I've ever had, and fits my Arabs who need a wider tree too. I'm not small by any stretch of the imagination and the saddle doesn't fight me a bit. So, applying the logic that if I loved my jumper, you might love their Dressage version, I would try that out for sure. They also have good support staff and if the saddle doesn't fit the first time, they'll trade out saddles with you. They even shipped my 2nd one to the show in Scottsdale for me to pick up and try one year.
---
I think what might actually help both of you is for you to go up a seat size if possible. My old lease horse was owned by a woman much larger then you and she rode in a bates jumping saddle. I dont know about their dressage but she was very comfortable and said that she felt very secure.

On another note, great job working to lose the weight. I think that you look great now even, not unbalanced or awkwardly perched at all and your horse looks comfortable even with the saddle problems. Good luck! Rooting for you =)
I can certainly second your experience that saddles really make a difference. I just bought a dressage saddle off the internet, based on my two friends having this type and raving about it. So, when I saw a used one priced really low, I snatched it.
I was so excited and it looked beautiful. But, it fit the horse only So-So, and when I rode in it, ARGH! I felt fine at the walk, but could not for the life of me find my balance in it at the trot. Part of that has been corrected a little by a recent lesson, where my teacher had me post less off my feet (like a hunt seat rider) and more off my whole thigh using my core. But this new saddle, I dont know WHY, but I cannot ride in it nearly as well as I can in my old Klimke.

That Klimke is a nice saddle and fits a ton of horses . I ride in an 18 and MUCH heavier than you . I would not think you really that large. I dont' think you can even apply for admittance to the Plus Sized Forum. You aren't big enough !

(just kidding)

My all time favorite saddle in the whole world is the Passier dressage saddles, any one fo them.