Size of my close contact seat?
---
I just bought a 16.5" collegiate diploma CC off ebay and the tags on it said 16.5, the stirrup bar sticker says 16.5, it's stamped as "42" under the flap (42cm = 16.5") So i thought all was good. Once I rode around in it, it felt a *tad* roomy, so i measured it out of curiosity and this is what i got...16.5 when i measured from rivet and 17 when i measured including rivet......
I always thought saddle seat was measured including the rivet? If sooo then it's mis-stamped as a 16.5 when its a 17 seat...i'm confused :(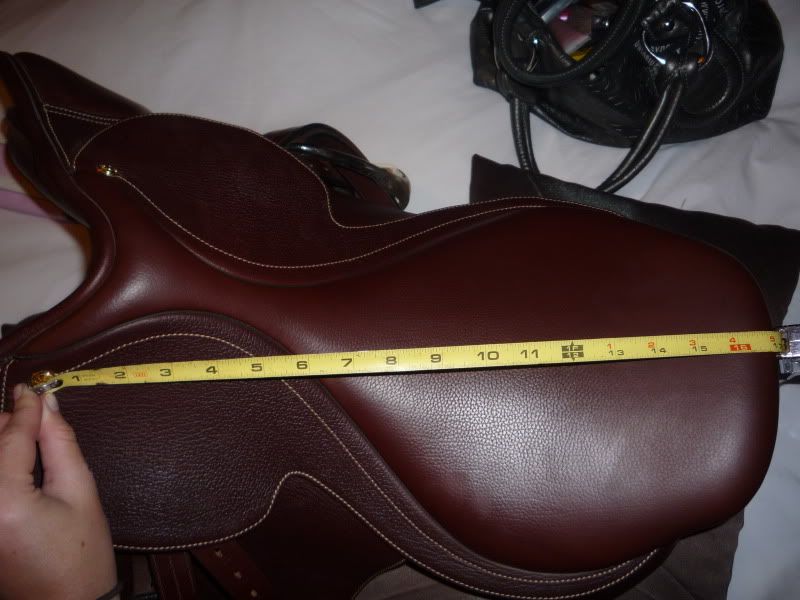 Hmmm, that's my understanding too. Maybe it's different with a close contact. I just got one too. It's supposed to be a 17, but I'll measure it and see what I get.
---
You just have to see your distance...you don't have to like it.
Yeah I don't know maybe it's just the way Collegiate size their saddles... I'm going to measure some of the other collegiate saddles at the barn and see if it matches the stamp on the flap.

I really don't want to have to send it back to the seller for a smaller size... I guess I'll just deal with it. I mean I'm not swimming in it ,but it's a little roomier than I like.
Wow, that looks like a beautiful saddle.
---
A good horse is worth more than riches. ~ Spanish Proverb
I measure from the middle of the rivet and pull the tape so it's straight. I'd say it's a 16.5.
usually i feel perfect in a 16.5 : ( must be the flatter seat making it feel so much roomier..danggg the one bad thing about order off internet. oh welllll.