Sticky Seat?
---
I have an older saddle that I am using. The seat seems to be more slick than the newer saddles. Does anyone know of anything besides the sticky pants to use on the seat itself to make it a little more sticky. I don't want anything that could ruin it since I think it is such a pretty saddle. Once I get a new one I plan to keep it in my house since it is so pretty. :) I will attach a picture an tell me what you think!
Here it is I got pretty lucky to get such a pretty hand me down and it fits me like a dream!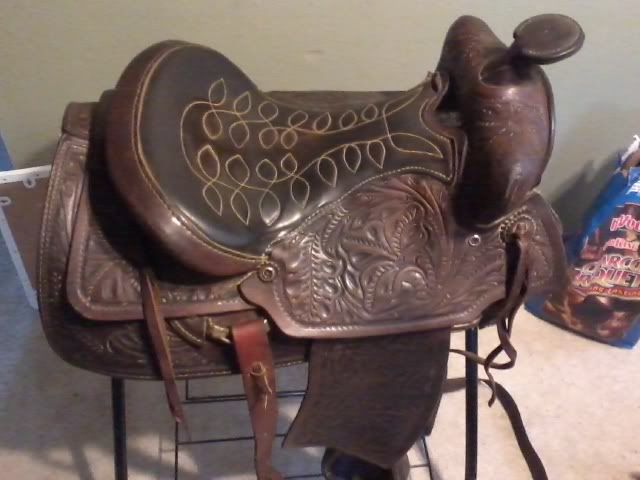 hopefully these pics work this is my first time posting them
---
Life's a Ride so Saddle Up!!!
You can see just how shiny the seat is lol I do alright on it but I feel I could be a little more secure and then more confident on the seat if it were a little stickier. I am not opposed to seat cusions either just haven't found one I really like.
---
Life's a Ride so Saddle Up!!!
I don't know about Western Saddles, but there are quite a few companies that sell products called "Stick Em' (or something similar depending on brand) for Hunter/Jumper type saddles.
Here's one type:
Leather CPR : Leather CPR - 4oz. Saddle Stick'em - $9.95
But check out your local tack shop to see what they have. I'm not sure if it's great to use on western saddles however, as I would be worried the product would harm all the beautiful stitching. But you never know until you look into it...
---
"No hour of life is wasted that is spent in the saddle ~ Winston Churchill"
How about a fleece or sheepskin seat saver? That would give you a better grip than just your slick seat.

Either that, or buy some suede chaps or chinks. They'll help keep you in the saddle.
Glue would work lol but them I would have to walk around with a saddle on my butt the rest of the day I will check into these good Ideas!!
---
Life's a Ride so Saddle Up!!!
The suede has gotten slicked down from a lot of use.

I wonder if taking a damp washcloth and rubbing it around in a circular motion on the suede would roughen it up again?
Hello All!
If your saddle has a suede seat that has been slicked down,you can rough the nap back up using a bronze parts brush.Thay look like a over sized tooth brush with a bronze brush head. Auto parts stores,TSC and places like that should have them. Take your time and be careful around stitching.You want to lightly rough it up.