Stirrup preference
---
Well I just got a new to me saddle for my boy and it has Oxbow stirrups which I have never ridden in. I was thinking of switching them out but was wondering what others preference's/experiences were? I mainly trail ride and do some sorting. What do you prefer and why? :) Thanks.
I prefer the wide padded trail stirrups mainly because I have back problems and they help with alignment, as well as being super comfy. I've never ridden with oxbows. They just don't look that comfy to me lol!
Oxbows are meant to be used up against the heel of the boot, with the foot all the way in.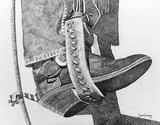 Although that scares me, they are supposed to release the foot better due to the rounded shape. If you are a person who puts a lot of weight in your feet/stirrups, you will find the round shape uncomfortable. My old vasalia saddle had them, but I swapped them for bent wood.
Weanling
Join Date: Oct 2011
Location: Illinois www.saddleonline.com
Posts: 509
• Horses:
1
I've never been a fan of them because they change your leg position slightly. If you aren't sure about whether or not to replace them, why don't you ride in them for a little while and see how it feels? If you like them, keep them. If you hate them, replace them. A couple of decent length trail rides and you'll probably have your feelings about them completely sorted out.
---
"Riding: the art of keeping the horse between you and the ground."
~Author Unknown
I will never use oxbows. My brother used to ride in them when he was younger and he got hung up in them several times. They are supposed to release your foot better, but they certainly do not. Something to do with the shape and where you keep your foot in them but when you get hung, you are
hung
and there's no way out.
I, personally, like 3" roping stirrups. They are easy to get out of if you somehow manage to get hung, they are comfortable and relatively easy to find.
3" Deluxe Rawhide Deep Roper Wood Stirrups | NRS - National Roper Supply - Western Wear, tack, team ropes, horse tack, team roping ropes, bits...
Yes I am thinking of going with roper stirrups also as those are what I have always had on prior saddles. I tried the Oxbows and was very uncomfortable with the foot placement and they seem that on a long trail ride they would become very uncomfortable. Does anyone have any input on the aluminum stirrups versus the regular leather or wood??
Oxbows seem to move your feet too far forward and aluminum are too light to hang nicely. Neither feel good (to me) to ride in.

I like the 3 inch roper stirrups for comfort, safety and weight. They are roomy to wear bigger boots in the winter and not to have to worry about getting hung up. Roper stirrups have always worked good for me, even on long trail rides. They hang nice when turn your stirrup leathers properly and have a good weight to them.

Probably comes down to personal preference, as some trainers swear by Oxbows ... whatever works for you is best for you!
I am pretty iffy about the aluminum stirrups as well. I'm sure they aren't the same poor quality as many I saw when I was younger but I do know of several instances where a horse fell with a person and crushed the metal stirrup around their foot, basically catching them in a bear-trap.
The one thing I don't like about the aluminum stirrups is the aluminum oxide will leave a mark your boot or spur strap and pants where it rubs.
Posted via Mobile Device
The only aluminum stirrups I like are the heavy ones used on some higher end Australian saddles and barrel saddles. The cheapy ones are way too flimsy IMHO.