straps on the saddle pad
---
Okay so my pics will not load but what are the very top straps for on english saddle pads??? it has been bugging me and i have been messing with my saddle and pads to figure it out.
---
12 days until Twiztid ( i get to see my Jamie) then two months until graduation.
You put the girth straps through them. The straps that are under the saddle flap. LOL, im really tired so the name escapes me. Its another way to hold the saddle pad in place if you cant get the girth through the strap on the bottom.
Hope that made sense....
i see but were do you "strap" them too?
---
12 days until Twiztid ( i get to see my Jamie) then two months until graduation.
Do you mean these straps?
The girth goes through the bottom one, and then the you put the billets through the other one (Usually you can either just stick them through or you can velcro around them and pull the buckle gaurd down. I realize that maybe makes no sense... Let me see if I can find any better pictures.
Okay...no pictures :(
---
Last edited by Spastic_Dove; 02-27-2009 at

02:24 PM

.
Those are the billet straps. Billets are the leather pieces your girth buckles on too. The straps go on the first billet before you put your girth on. Also, if you have a buckle guard, the billet straps should go above the buckle guard.

The are used to help keep the saddle pad in place. I use them because my saddle pads always seem to shift :P.
Oops! Thanks. Billet Straps above the buckle gaurd.

I use them when I ride just because I like how neat and tidy it is.

Actually...I like that about most everything in English. lol
Yeah, they are supposed to be an extra 'helper' to keep the saddlepad in its place. I use them sometimes, not all the time.
---
Ride more, worry less.
i zoomed in on one of my pictures; i hope this helps a bit. You can kind of see the two straps...You hook the velcro onto the first billet strap. (there are two in this picture, one for my saddle pad, one for my half pad)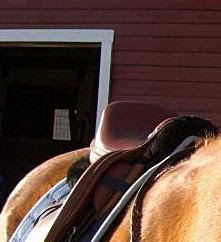 ---
Cisco
14 year old Quarter Horse gelding

"some horses come into our lives and quickly go, others stay awhile, make hoof prints in ours hearts and we are never, ever the same"
Nice pictures. I just wanted to point out (in case someone gets confused), that in the second picture there is an extra leather strap. The strap is either that of a breastcollar/martingale, or side reins. Please correct me if Im wrong.

:) I like the easily visible billet strap and buckle guard. They help my previous explanation make sense. haha