Stubben saddle fit?
---
Well I pretty much have bought this saddle, so hopefully everybody thinks that it fits!
I really like how it fits, however I think I am going to need a small rear riser pad. I don't think it tips back enough to say that it totally doesn't fit though, but I would like some honest opinions from the saddle gurus on here. I might be totally blinded by how pretty and comfy this saddle is, and how I am so ready to be done looking at saddles!
Before our ride:
Sorry, only one picture after the ride, my BF was being impatient for me to get home and make dinner. :roll:
---
RH Queen O Anywhere "Sydney"
2009 Sugarbush draft
I have a rather poor expertise on saddle fitting, but to me it's a very decent fit: good clearance and I don't see any gaps between the horse and the saddle.
I'm not a pro at fitting saddles but to me it screams NARROW. Maybe somebody with more experience can confirm or disconfirm my guess. I'm in the process of buying a new saddle for my horse so I know how frustrating it is, I spent the last two weeks sending emails, calling, taking photos, asking for photos (usually getting poor photos you can't judge much from in return), arranging meetings,... Unfortunatelly nobody lives close enough for me to try the saddle on so I really wonder how I'm gonna find the right one...

However Stübben are awesome saddles!

Edit to explain why narrow, the cantle should be always higher than the pommel, approximately the width of two fingers. In the photos you uploaded the pommel seems to be level with the cantle if not a tiny bit higher.
---
Last edited by mumiinek; 01-19-2011 at

01:00 PM

.
This is what I was talking about, hope it helps. It would definitely help if you had a "rear riser pad" (have no clue what they're called in english).
It is too low in the back but I liked the way it layed on her shoulder. The flocking on the rear does not look flat against her back but changing that would make the back lower yet. Is there a Stubben rep that can help you?
The thing about Stubbens is they are made for a specific back type and usually require increased padding in the back to balance the rider better in the saddle.
Although the tree width looks good (maybe a bit narrow), you will want to check to see if the back shape works. Take a wire, form it along your horse's spine and then compare it to the tree shape from back to front by laying the formed wire on the underside of the saddle tree. I think the tree will have too steep a slope in the tree for this horse and so it will not be stable from front to back.

Good luck!
---
They say money doesn't buy happiness -- well happiness doesn't buy horses!
We thought maybe it was too narrow as well, but it doesn't appear to be pinching him, its a 31 cm tree which measures almost the same as this saddle:
Sorry, I thought I had a better picture of this saddle on him. Anyway, this saddle fits him perfectly, and is also a stubben, but is too old to be stamped with the cm measurement.
I did notice that my pad was a little dirtier toward the front than towards the back, but I wasn't sure if that was there before I rode in the saddle, or was caused by some of the neats foot oil/conditioner coming off.
So do you guys think I need a 32 cm tree? The tree shape fits him nicely, wasn't rocking back and forth, and didn't appear to be bridging. Here is a picture of his back shape: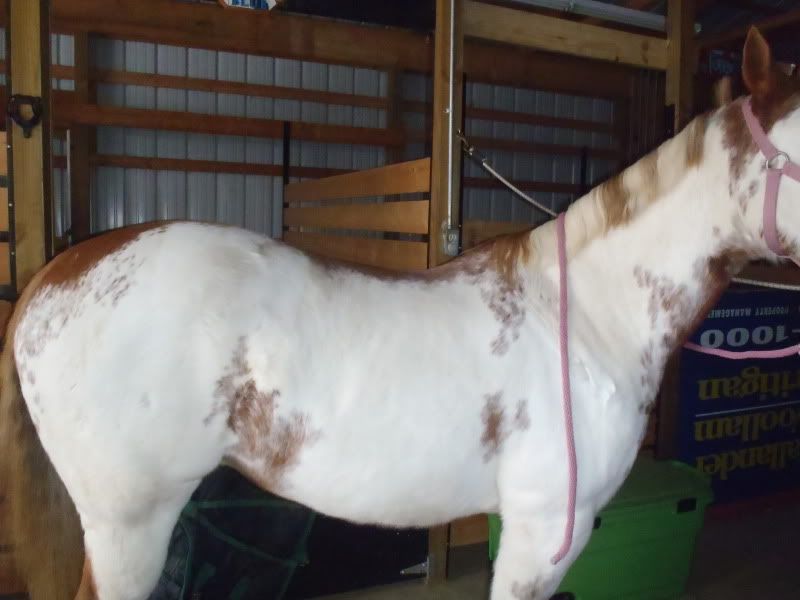 ---
RH Queen O Anywhere "Sydney"
2009 Sugarbush draft
I wanted to add that I contacted trumbull mountain, hopefully they can shed some light on this as well.
---
RH Queen O Anywhere "Sydney"
2009 Sugarbush draft
Quick update: took the saddle to a saddle fitter and she said that there was no flocking left in the middle of the saddle, so I went ahead and had it reflocked, she seems to think that it will improve the fit, so we shall see. Otherwise, I will have a newly reflocked saddle for sale!
---
RH Queen O Anywhere "Sydney"
2009 Sugarbush draft
The fit is good in front, but the back is sitting too low and the panels don't match the shape of your horse very well. The balance just isn't right for your horse. Did you show pictures of this to the people who reflocked your saddle? Or did the fitter do an inperson fitting on your horse?