Switching to hackamore?
---
I am currently riding my almost-6yo gelding with a rope halter and a lead rope, however, it seems to me, that the lead rope knot by his chin makes it harder for him to understand precise rein cues (he still needs some rein support in seperate situations, though can be steered nicely by seat and leg aids, too) - it just swings excessively. I've tried to use leather dressage reins in combination with the rope halter (strapping them under his chin, too), but, when using reins, it still feels as if he gets only a part of the signal I give him, not understands it clearly. So, I got the idea to try switching to an English hackamore, also to help him understand vertical flexion. Hoping to hear from those who have had any experience with English hackamores - is this a good idea? Maybe there are other options I could/shold try, or are there any circumstances I should be aware of when using this type of bitless bridle? Thanks in advance.
---
I have come a long way, to surrender my shadow to the shadow of my horse.
/James Wright/
What kind of English hackamore? The cousin to the mechanical hackamore, or a jumping hackamore?

None of these are exactly good tools for teaching vertical flexion if you want clarity of signal and such. Most bitless options, really, aren't all that great for teaching vertical flexion, though they can maintain it in a horse that already understands the basics. The exception might be a properly used bosal in educated hands.
The cousin one. Thank you for yor opinion, bubba. Since I made this thread, I've gone through a lot of information about this type of hackamores and come to a conclusion, that this type of bridle might be after all a bit too harsh for my horse. As for the "avoiding the knot under the chin" part, I'll try this type of bitless bridle -
http://equineink.files.wordpress.com.../lg-bridle.jpg
- and a sidepull, and see how it goes.
As for the vertical flexion when riding - as far as I understand, a bit is the best way for teaching it? I haven't used it with him, yet, because I want a good vet to look at his teeth - he knows what a bit is, but he resists it so much that I want to be sure it is not because of any problems with his jaw or teeth.
---
I have come a long way, to surrender my shadow to the shadow of my horse.
/James Wright/
I've never used that kind of bitless bridle, but it looks interesting and I'd be curious to hear your results.
This is what I did: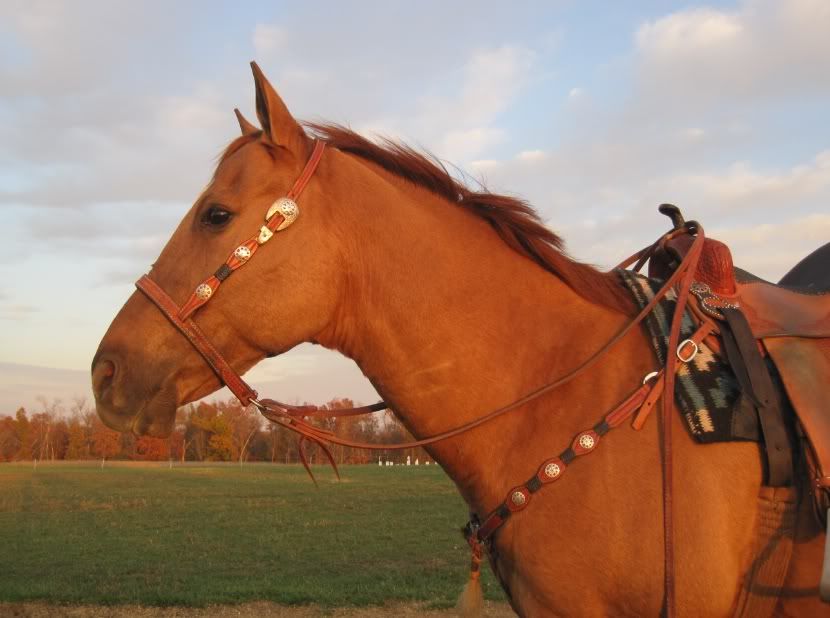 That's an old noseband from a tie-down and a regular headstall and set of reins. Works pretty well, but the same concept as riding in a halter overall.
In MY experience a bit is best for introducing vertical flexion, but others might disagree....
Thanks, bubba. :)

Just a quick update - I will be moving my guy to a boarding place in February, where I will be able to try out various hackamores and sidepulls, so I'll see how it goes with the LG bridle.
---
I have come a long way, to surrender my shadow to the shadow of my horse.
/James Wright/