TA-DA! Nelson's new saddle :)
---
I am soooo in love with this saddle LOVE IT!!
It is a Harry Dabbs Origional Event, in excellant condition. Padded Knee's with Knee blocks, padded seat and ooooober comfortable! I don't want to get out of it when I get into it.
My position is so easily achieved in this saddle as well! I can get into my functional two point with ease without having to struggle, unlike with my Wintec 500 A/P. There's so much positive about this saddle, I'm just in love
I have to get matching accessories for it though, right now I am using all my black stuff with the saddle. I have to use a thick 1/2 pad as well, Nelson's topline is very .... well, non existant right now since the injury in January. The saddle is a Medium/Wide so I've had to put shims in my corrective 1/2 pad to rise the pommel up. When Nelson fills out, the saddle will fit him wonderfully.
I just love everything about this saddle. The panels, the angle of the panels, the width of the gullet and the list goes on!
Here it is: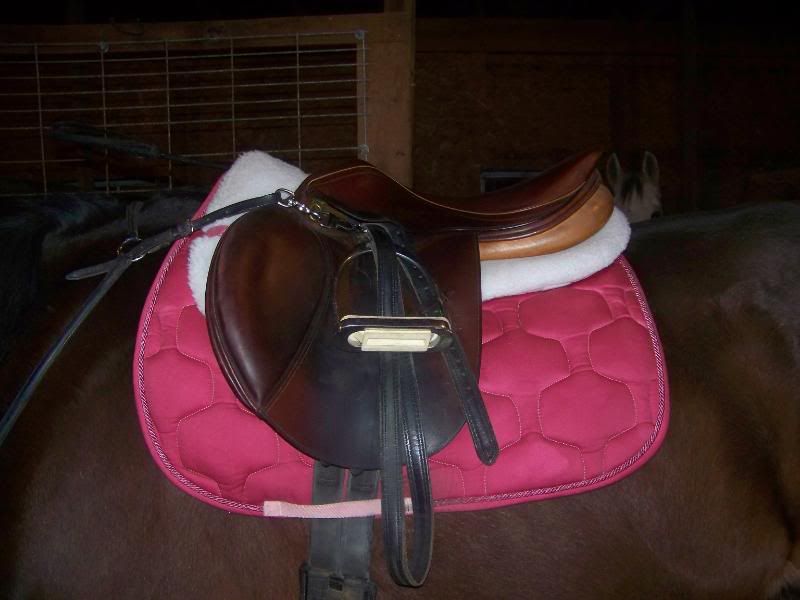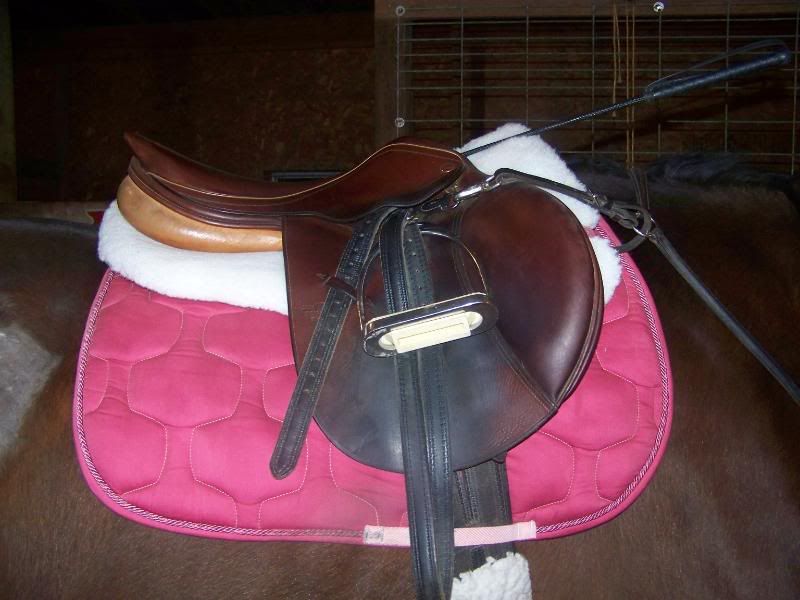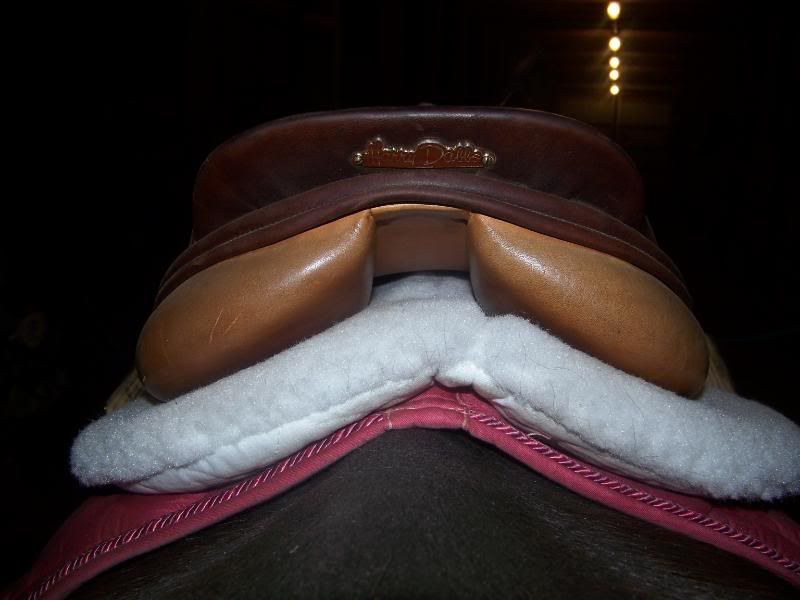 ---
pretty!
---
:: Karley ::
Tucker WB/TB- 11 yr
Speedy QH/TB- 22 yr
Very nice!
I might have to go check one out at the tack shop. :P
I luuurve it!
Nelson has an extremely masculine pink saddleblanket
---
Eventing, the sport where you strap your medical information to your arm.
Green Broke
Join Date: Apr 2009
Location: Queensland, Australia.
Posts: 4,488
• Horses:
1
---
Sir Success. Eventer.
2000 - 2013,

LOL guys! That's not pink!!!! It's Raspberry! Get it right eh!! LOL....besides, real men wear pink *wink*

I have my lesson today, I am oober excited about my Coach seeing me in her old saddle :)

I really need to get a saddle bag/carrier for it. It sucks packing my saddle around bare back and forth from the barn. I would leave it at the barn, but I have nothing to protect it, and I don't want it getting covered in dust or sat on by a barn cat or bumped or knocked by another boarder while they are getting their tack together.

Before I didn't care, it was a Wintec - but now...LOL.
---
YAYYYYYYYY!!!!!!! So excited for you that you finally got a new saddle! AND that you got a spectacular saddle at an even more spectacular price!! Very VERY good decision!
Thanks Upnover :) :) I am so thrilled!

I had my first lesson in this saddle today and I just can't stop oogling it and ooing and awwing over it. My Coach thinks it a smidge too small on me, but I feel snug as a bug in a rug in it.

I tried an 18" and it's too big. I don't feel secure in it, there is too much room. I can't feel secure in an 18" no matter how hard I try. Too loose, I feel floppy in it.

The 17.5" I feel just right.

My two point is so solid! My Coach was very impressed with where my form was today, compared to before in my Wintec.

I love this saddle!
---
you have to take pics of you riding in it so we can drool with you :)
---
:: Karley ::
Tucker WB/TB- 11 yr
Speedy QH/TB- 22 yr