A thought about commenting on pics
---
I'm going to post a pic here in the photos section, well it seems like a good place
I first posted this pic in the "Say something nice about the horse above you" thread, I think I have shared it elsewhere on the board without comment.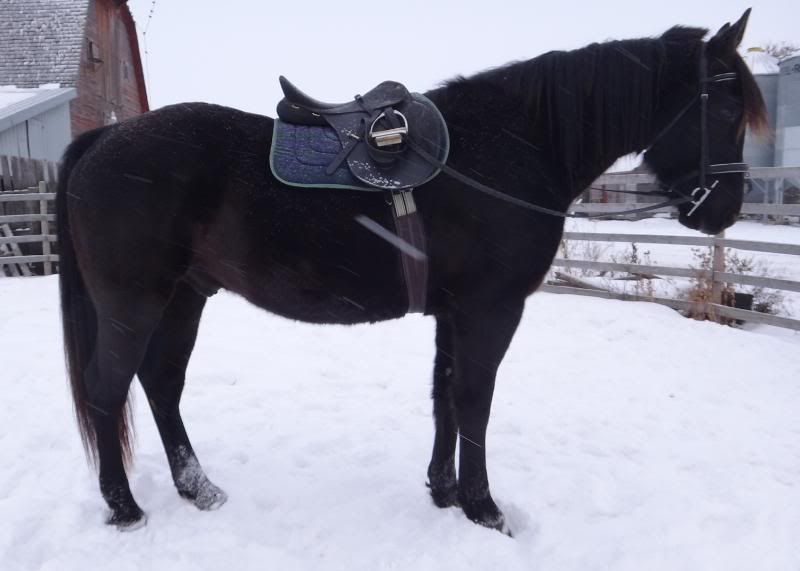 This time I received a very helpful and polite pm pointing out one persons view of the saddle fit and suggestions how to correct it. I thought it was very nice of the person to take the time to do that, BUT, now I'm left with a dilemma, I don't see the issue that she mentioned, and no one else has said anything, so now I don't know if we are all missing something, or if my helpful friend is wrong.
So I'm now I'm left with a niggling doubt over this saddle, and its fit.
If they had posted the same polite message on the board, then it's possible others would have given their thoughts and I could balance the feedback from all posters, and maybe come to a better decision. At the same time other people who are reading but not participating maybe will learn something as well, and can look at saddle fit a little bit differently.
There is a huge difference I know between someone being snarky about a picture, and someone being polite and helpful, but this is why I prefer open discussions, then we all may learn something
I think the pommel should be sitting lower when the saddle is rested on your horses back. What I mean by that is, the lowest point of the saddle *where your seat will end up being* is quite far back, mores-so towards the cantle of the saddle, instead of nearer to the pommel.

Your bodies weight will be pushed back, and your balance will be incorrect when you are in the saddle. The flaps are too "up" instead of forward. I believe that when you are in the saddle, you will be put into a chair seat position, and you will not beable to obtain proper balance over your feet.

Your weight should be distributed closer to the front of the saddle, when instead in this saddle, your weight will be distributed closer to the rear of the saddle, adding unnecessary pressure over your horses weakest point of their back, which is their loin.

I would hire a Professional Saddle Maker/Fitter to help you out with your saddle search.

I dislike Wintec's. The gullet channels are horribly narrow, the gussets of the panels are awful - the older models are just not that great.

Searching for the right saddle, is always a challenge.
---
I would love to help you..but I've only done English once..and I put the saddle pad on backwards lol. Good luck though, cute horse :)
Posted via Mobile Device
Does this saddle have the changeable gullets? It does seem that it might be a bit narrow, for the reasons stated above. it is not a huge issue, but it may serve to put you back on your bum a bit. If you have a wider gullet, you might try it. If it is not changeable, as long as it is not uncomfortable, you could try a pad with a lift back.
Yes to technically it has changeable gullets, but I haven't gotten around to getting them yet
I haven't been so worried about saddle fit yet, because we have only been doing ground work, and I figure that it fits well enough for that.
Now we are down to -40* outside and it does indeed feel like hell is freezing over, maybe I'll find an English saddle fitter somewhere around here, in the middle of nowhere, surrounded by western riders.
Ha, love it!!! When it snows here in Louisiana I swear hell has indeed frozen over.
Posted via Mobile Device
We will get this one checked
And this one, which I do have more gullets for, if I have a narrower one it may help
Quote:
Now we are down to -40* outside and it does indeed feel like hell is freezing over, maybe I'll find an English saddle fitter somewhere around here, in the middle of nowhere, surrounded by western riders.
You should let me know if you find anybody!
Showing
Join Date: Jun 2011
Location: Cariboo, British Columbia
Posts: 11,758
• Horses:
3
If it has interchangeable gullets, you can get the measuring system & extra gullets. Technically, we should be measuring our horses every few months as they change due to muscling, weight, age, etc. To me it looks like your saddle is too far far. The way I was shown to saddle a horse by a saddle fitter it to set the saddle down on the horse's back, almost up on the withers. Now wiggle the saddle until it settles in the proper placement on his back, meaning you can't wiggle it anymore to move it. I was surprised how far forward I was inadvertantly placing my saddle when it settled way back after this method.