Too wide or just right?
---
I think this saddle fits this horse good front to back, I am just wondering if I should put in the medium wide gullet or if the wide gullet is fitting him correctly. To me it looks a bit low.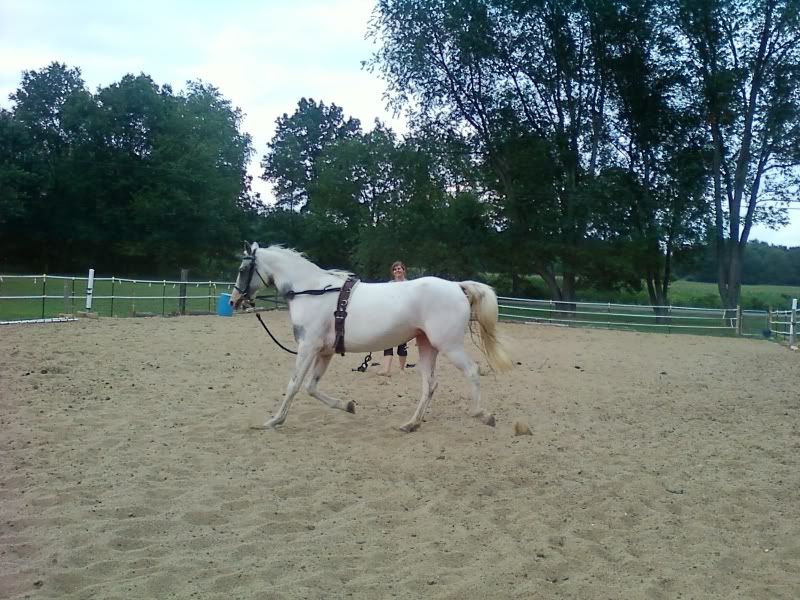 Before riding. I can fit 3-4 fingers under the pommel.
After riding.
I can fit two fingers.
---
RH Queen O Anywhere "Sydney"
2009 Sugarbush draft
Can you fit 4 fingers under there while you're sitting in the saddle? If not, then go to a narrower gullet.
---
You just have to see your distance...you don't have to like it.
It looks a bit low in front to me as well. I'd try the MW gullet and see how he rides in it. Check the sweat marks when you're done.
I can fit 2 and a half fingers under the gullet when I am sitting in the saddle.
---
RH Queen O Anywhere "Sydney"
2009 Sugarbush draft
Similar Threads
Thread
Thread Starter
Forum
Replies
Last Post
Wintec Wide

Greys Park Lodge

Tack and Equipment Classifieds

6

06-19-2009

05:11 PM

world wide forum?

racer179

Horse Grooming

5

06-12-2009

04:28 PM

horse with wide back

equinegrl4lyf

Horse Tack and Equipment

2

05-15-2009

01:22 PM

Wide English saddle

kitten_Val

Horse Tack and Equipment

2

11-17-2008

09:54 AM

Wintec WIDE

cherriebark

Horse Tack and Equipment

5

06-07-2008

05:31 PM