Treeless saddles?? =/
---
Hello people,
Well im still deciding on the best saddle for my youngster and iv always been set against treeless saddles because I dont understand how they work and iv heard bad things about them.. Like damaging horse spines/backs/muscles!
Yet all the research iv done and all the reviews iv read have been good so this thread is simply...
Opinions please for a relatively low withered wide youngster whos going to change shape(maybe a lot/maybe a little) to be used for hacking really as I am currently breaking him in
He's a thoroughbred x welsh section D.
Are treeless saddles good or bad? What are the best makes? I dont want to get a cheap imitation one or anything but I am on a budget so whats a good cheap make? Iv heard of torsion/foenix/sensation but I dont really know anything about them.
Are treeless saddles harder or easier to fit? I know you need special pads, are they expensive? Can you use normal stirrups/leathers? Iv also heard most horses love them and perform better/move freer which can only be a bonus
Please help, need all the advice I can get
Thanks in advance,
Sarah (& Rico
)
PS. Iv added a pic of my boy to show his conformation although his withers look a lot higher than they actually are
and his backs actually extremely flat...
i bet this has been beat to death.. but..
I love treeless saddles. for some people they dont work. simply because they are bad riders, dont balance, et. thats where the damage comes in. but you can get that in an ill fitting treed saddle.
They require pads that give better ventilation and sweat relief. I use a plain old felt pad. works wonders. i am now adding a thinline as well.
Treeless saddles come in all price ranges, qualities and styles.
There are "true" treeless saddle (such as the ansur, sensation, and cashel) and there are the semi-treeless saddles (such as the bob marshels, might be others but cant think of them).
Semi-treeless will have a hardened cantle and pommel. but the only thing that connects them is the padding, leather, rigging of the saddle.
True treeless is more of a glorified bareback pad but with a
lot
more grip and security. Which is why you can use stirrups with them. but since they have no ridigid parts they typically have a weight limit as well.
You can find really cheap non brand saddles that run about $100. My boarder purchased such a one and after replacing the cheap, cheap, cheap nylon stirrups with stirrups from her old wintec western saddle, it is doing fine for her leisurely trail rides. Though she switches saddle pads like nobodys business.. makes me wonder.
You can also find them brand new in the $3500 and up range. Built with what ever rigging, stirrup placement et that you want.
I went the middle route and found a used one ($500). its a bob marshall sports saddle and it is OLD. very old. I think it was the original sports saddle before bob marshall came into the scene. but not positive. Only thing that needs fixed on it is the stirrup leather covers. the velco has gotten very old and just doesnt velco anymore!
I find mine to be the ultimate in comfort for me and have never had a hrose reject it. From a high withered tb/qh mare to my dainty arabs, to braod backed qh's to a pony! a tall pony since the cinch rigging hangs so low i would need about a 5" girth to fit anything smaller!
I find them easier to fit to a horse then a treed saddle, more verstaile, and just plain comfy. Plus I cannot ride in a treed saddle. I cant physically sit in one with out being in pain after about 10 mins. Old injuries.
here are some pics..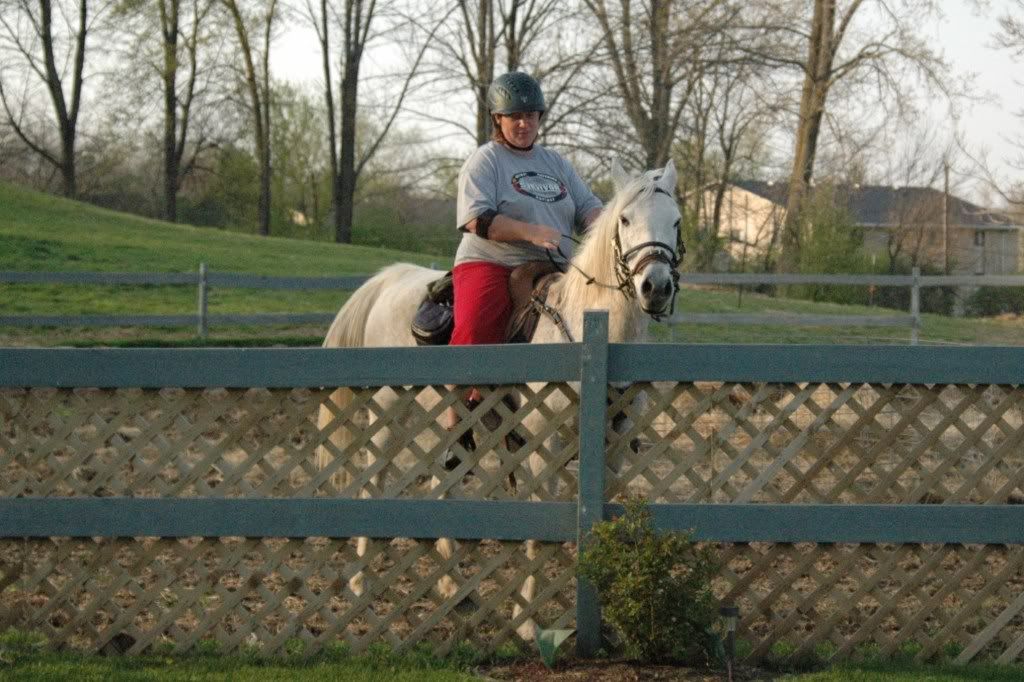 my 14.3 850lb 20 yr old arab gelding. narrow withered broad back.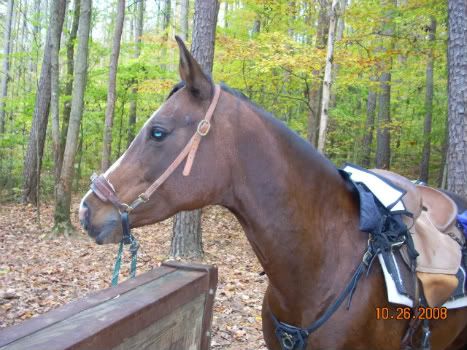 my 14.1 900lb 12 yr arab mare. dainty. but deep chested.
my 15.3 1100lb 10 yr old arab/paint gelding
none of them have a problem with it and garunteed that each has a different back.
I like the deeper cantle and pommel becausemy horses do stupid things and we go over some rough trail. its nice to be able to be able to grab something or stick my butt against. like leaping 10' in the air over a 2" creek of mud....
but thats my opinion on it and i love them. and my horses sure dont mind them.
I've got a friend who has a 14hh fell cob called BOW, he used to get lumps on his back, he went to the vets and had them cut off and tested and nothing came back from them. He had his english GP fitted professionally to his shape so she didnt consider it to be the saddle. Anyway in the end she bought a Torsion, and he's not had any lumps since.. i think she sent pictures to the company and they asked her to measure certains area's of him. Once they recieved the info n him they sent a GP saddle, she fitted it herself with a like rubberish pad under it which she bought and later on she bought the saddle. i've show jumped him in it and hunted him in it, i feel much closer to him and it makes you sit more upright. I still have mine in english gp's but thats because i can do everything in them and i'm used to them. I wont disregard the tortion and i think if it suits your horse then go for it, i think there the option to send the saddle back after a trial in it, not entirely sure though. She now has her 14.2hh traditional in one too, she goes very nicely it in! By the way her Fell has a non existent wither and is obviously quite round because of his breed, hope i've helped a bit! :)
Thanks all
They seem to be good.. I have about £250 max(inc shipping if its abroad-im in UK) so what saddle would you suggest for me?
I want a good quality one as iv heard something about pressure points from stirrups but I obviously have a low budget.
Also, I do think they look rather odd(which i'd ignore for my horse) so are there any that look more classical?
the closer the saddles look to classical the higher the price.

run a search engine and see what pops up.
Ahh thats fair enough, iv done that but theres so many and so many different sizes.

I like the look of the barefoot cheyenne. What do people think of these? They suitable for hacking(trail riding)
I am a big treeless fan. I have one Bob Marshall and one Black Forest. You do need a good pad, like a Skito Treeless pad, to help with weight distribution and stability. You also canNOT scrimp on the saddle or pad. Black Forest is about the cheapest brand I would go. The no name saddles on eBay, Hilason, Syndey, and other "cheap" brands are Asian made JUNK! You don't want to waste your money and risk the saddle breaking or hurting you rhorse.
Barefoot saddles are definitely a good choice.
Sizes on treeless saddles do tend to run a bit snug. If you like a snug saddle, then you should be fine. If you prefer a roomy saddle, you might want to go up a size.
To get some good feedback, go to groups.yahoo.com and do a search for Treeless Saddle. There is a great group there with lots of resources and members who have tried just about every saddle and pad out there
. You may also be able to find a member or two near you who would be willing to let you try their saddle. I've done that before myself, and there are international members there.
Good luck!
Here's a short video of me riding in my Bob Marshall. It's an endurance model with a short pommel
and higher cantle. I was riding this horse for a client who was interested in purchasing him. This was
the first time I had ever ridden this horse and the first time he had ever been ridden in a treeless
saddle. He stepped out a lot nicer for me than his owner in her big western training saddle.
I'm a larger rider, 250 lbs, and normally ride in a 17" western or 19" english saddle. My Bob Marshall is
an 18". It's a bit long for short backed horses, but it works for all of the ones I ride.
Here's a picture of one of my students riding in my saddle. He's a young 16 yr old boy who needs a LOT
smaller saddle, but he really likes mine, lol. This horse is a young "spunky" Haflinger gelding. Mike had
no problems sticking to the horse during any sillyness, and this saddle is all smooth leather.
Here's one more student riding another lesson horse in it.
All of our horses really like the treeless saddles.
Thanks guys.
Iv found a barefoot cheyenne saddle for sale just down the road to me so im going to look tomorrow
Its a size 2 so maybe a bit too big for me(im dress size 10-12) but id rather it be too roomy than too small and the ladys been using it on her 15hh tb.. I want it for my 15hh tbx :P So fingers crossed it'l be ok?
Whats the best pad to use? I know shes selling with a pad and girth that are good but I dont know what makes are good.
Also, can you jump in these saddles? Can you post to trot in them? And can you use normal stirrups and stirrup leathers?