Western to English - what bit should I use?
---
I have a wonderful Thoroughbred who I've been riding Western for a year and a half and I'm thinking I'd like to try out English. I know my horse has done it before - he's off the racetrack - but I'll be starting a new learning curve.
Now currently I find he rides best in a leverage bit, as he can get a little strong in the mouth when he gets excited and it's nice to have some additional brakes when he really gets going as he thinks the cue for stopping means he's to stop WAAAAAYYYY over yander. (We're working on this! On good days he can stop in a matter of about four strides vs. the twenty I used to get.)
This is the bit I currently use:

Now I admit I'm a sucker for black-steel bits - and in no way, shape, or form will I ever use an loose ring snaffle again on anything that isn't dead-broke-quiet. Nothing against people who do have success with them, but I find that they just don't give the rider ANY say in what's going to happen next if the horse gets any funny ideas in his head.
I've been mulling over this catealog for a while(
English Bits
) and so far I'm liking both the Black Steel Copper Mouthpiece (#2902) and the Slotted Kimberwick with copper rollers (#255610) but I'm wondering if anyone had any ideas as to which one would be better suited to a horse coming from the above bit, or if someone has a suggestion of a bit that would be completely different from what I was looking at?
---
A canter is a cure for every evil. ~Benjamin Disraeli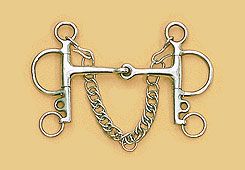 that is what I use its the metalab pelhem snaffle with curb chain, it applies the pressure that you were talking about with the extra control. I also have an OTTB that using a snaffle on would be a joke to him.
---
Your horse is an extension of you.
let me correct that its the eggbutt not snaffle idk what i was thinking there for a second
---
Your horse is an extension of you.
That does look like a good one. Is it made for single or double reins? my knowledge on English bits really could use a tune up
---
A canter is a cure for every evil. ~Benjamin Disraeli
it is made for double reins but i use only a single rein on the eggbutt piece. i dont know much about other bits either eeek haha just the ones that i have used
---
Your horse is an extension of you.
I would try him in a french link dee or full cheek to start off.
FES French Link Full Cheek in Full Cheeks at Schneider Saddlery
JP Korsteel French Link Hunter Dee Snaffle Bit < French Link Snaffle Bits|Dover Saddlery .
When you start working on more things like headset and whatnot, if he's not responsive in understanding it, try out a pelham like shown above, to get him more understanding with a little extra leverage, then wean him back the the snaffle. The good thing about the pelham, is you can mainly use the snaffle rein, and if he starts lagging, increase the pressure of the curb, then go back to the snaffle rein, until he's moving quietly in a good mind.
If you really like the mouthpiece of your current curb, they make the same sweet iron mouthpiece in the full cheek as well-
FES Bit Sweet Iron Snaffle 5" Full Cheek in Full Cheeks at Schneider Saddlery
There's also several posts on here about the different bits and their actions, so you might want to read up on some of them, to see if you find anything else that you think may work nicely for your TB.
---
"You're just as sane as I am."~Luna Lovegood.
---
Last edited by DejaVu; 08-04-2011 at

12:29 PM

.
Yes, I have been through the post by JustDressageIt, and it is exceptionally informative. (Many props to her for putting it together).

I actually think I have a Full Cheek Snaffle kicking around (I used it for training my gelding for driving) ... never really considered using it for English.

I do question the breaking power with it though. I had it on him when I was working him double in harness and had a slight runaway issue. (The situation set up badly for him and wasn't his fault by any means. The ranch mule thought it would be fun to tempt the two horses into a race and the mare who was supposed to be the calm, level-headed partner decided to partake with Nikki in tow) I found I had plenty of power to turn (that runaway is the first and only time I've ever accomplished a true donut with a team of horses) but I didn't have ANY stopping power, and it was only some good sense and a well-aimed escape towards the fence that got us stopped.

Do you find the French Links give you any more stopping power?
---
A canter is a cure for every evil. ~Benjamin Disraeli
French links act on the tongue, where single joints act more on the pallat.
So, a french link, when pulled, will drive down onto the bars and tongue, therefore making them want the drop their nose, and then, physically slowing.
I know we all probably sound like a broken record in saying this, but the bit shouldn't be what's stopping the horse. It's seat and leg. He's obviously not responsive enough, if he can't be ridden lightly in a simple snaffle. I know you said it's getting better, but I would keep him in a snaffle, and get down and dirty, and fix this no response to the halt cue issue. It can be fixed in a matter of one ride, if he's really believing what you say.
Full cheeks aid in directing, because of how the long sides act. It's why a lot of people like to use them with greenies.
Full cheeks are certainly legal in english disciplines. I'm not sure if there is any that it's not legal, since it's a snaffle...
Yes, horses get strong when they get excited, but that doesn't mean they're then allowed to lose all respect and not listen to you.
I'd put him in any kind of snaffle, french links I could see working nicer, and really fix the problems, to the point you'd even feel he's respectful enough to be ridden in a loose ring.
---
"You're just as sane as I am."~Luna Lovegood.
He's funny that way. If I'm being lazy and riding around in a halter bareback, he'll stop with just the shift of my seat (Granted for the sake of his TB withers and my pelvic bone I never go above a walk bareback) He's sensitive and at his best responsive-wise bareback, and after applying some great tips I recieved in another post about getting him to stop on cue, he started transferring it to my western saddle. He actually had begun to do a few sliding stops too with just the shift of my seat, a whispered "whoa" and as a last resort the lifting of my hand.

I've even had good success riding him around in a rope halter-bridle - which is loads of fun I might add!

But he is still a racehorse at heart. He behaves himself 95% of the time. But there are still times when I swear he's trying to chase down another horse and win that race. He's off in his own world and anything without a little bit of leverage is ignored completely.

I trust him 95% of the times ... but on that day that he thinks he's supposed to be running the Kentucky Derby I don't want to be dragged along for the ride! XD
---
A canter is a cure for every evil. ~Benjamin Disraeli
Personally I like the Kimberwick with the center copper roller. I have that bit and have used it with good results. Not the one I use now on all my horses but it was a good one for giving both direct rein to keep my blind appy straight and as he was a bit strong mouthed it also had good brakes. I never used it with the curb chain.
---