Western Saddle Fit Question with Photos...
---
So, I was having problems finding a western saddle that fit my gelding. I went through many saddles and nothing seemed to fit correctly. I opted to buy myself a Christmas gift this past year and got a treeless endurance saddle which was fantastic UNTIL I broke my leg at the end of March. I knew when I went back to riding, I would want more stability, so I began searching again for a treed saddle.
I friend of mine who primarily rides english had purchased a western Sharon Saare saddle that she really liked as far as western saddles go...BUT decided she just couldn't sit for hours in it as it hurt her butt. She made me a propostition about a month ago that if her Saare saddle fit my guy, she would trade me for the treeless saddle which she had been eyeing up. I had my trainer ride my guy in the saddle several times to see what his sweat marks look like and with my Prof Choice pad and Thinline pad, he now has perfect sweat marks!
My only concern is that when cinched up, the saddle lifts up slightly in the back. What could this indicate, and is it a problem?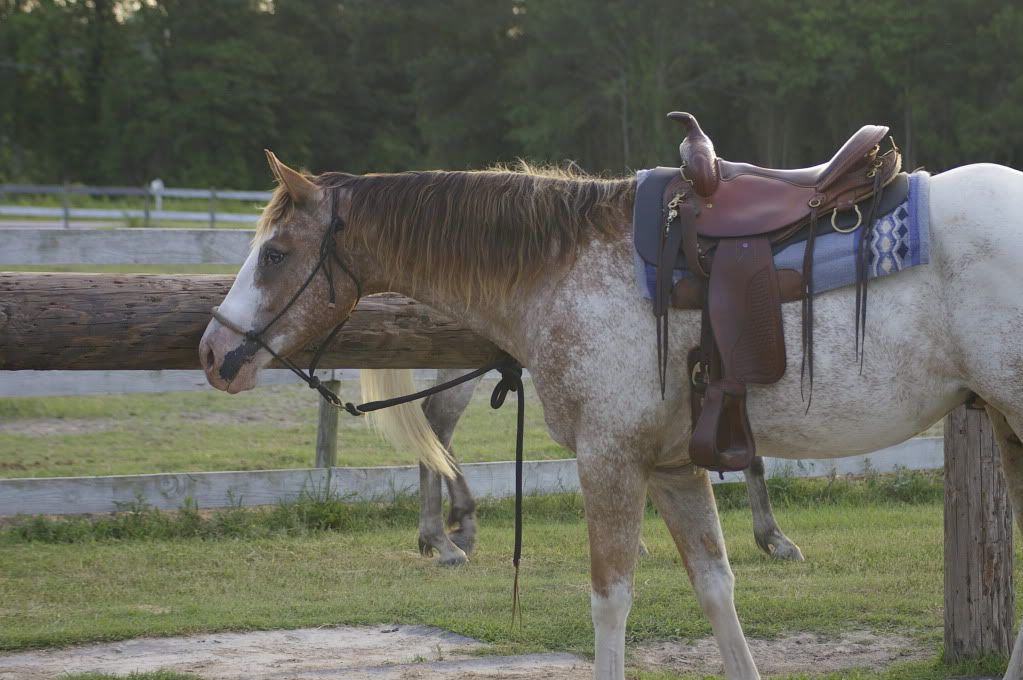 Could he be giving me a hint with that tongue???
Any chance of getting a couple more pics without a pad, plus a couple of pics with and without the pads from the front, showing the wither area and gullet area of the saddle as it touches the Horse.

Popping up in back could be a too wide saddle, it does look like the saddle could be slid up about 1/2"-1" forward, it looks slightly downhill. Not sure if that is too wide or too far back, without a few more pics.

Gorgeous Horse BTW


.
---
May all your Trails be happy and safe ones
Kevin
You could get a rear cinch but then again, it could be that the front cinch is too tight! Otherwise it will just go down in the back when you sit down on it! Theres no problem with that at all!
I will definitely try to get the photos you have asked for! It does look further back, however that is where the saddle "slides" to naturally...I am concerned that when I move it forward it interferes with his shoulder blade.

Oh BTW! Thanks, I think he is quite handsome too!
If the photos without the pads look good, then it could be that the girth tightness with those pads is just causing it to be out of balance a bit. If so, then you'll need a rear cinch to even things out, but it should be fine.
Take the photos of the saddle with no pad, cinched up lightly and then cinched up nice and tight, so we can see how the cinch effects the saddle.
ETA: I think the saddle is in a fine position. Most people put their saddles too far forward
.