What is this bit?
---
I was browsing through random pictures online and got confused over this -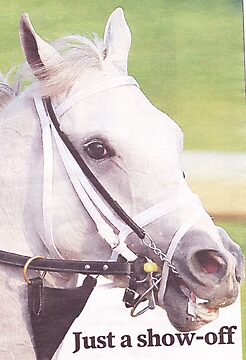 Maybe somebody could explain, what and why is in this horses' mouth? Thanks!
---
I have come a long way, to surrender my shadow to the shadow of my horse.
/James Wright/
that ring thingy is some kind of thing used on race horses.

that collecton of straps and rings and stuff looks pretty painful. chain on the pallette? Yikes!
It's a 1/2 cheek with a ring. I've never seen them used together, or as a combination bit. I'm familiar with a 1/2 cheek as a driving bit. I'm sure it's being used to keep control on a very strong racehorse. Certainly that chain and the noseband being used to keep the horse's mouth closed, indicates this, at least to me.
The bit looks like a Dexter with half-spoon cheeks.

The rest of it is a Medieval torture device.
Gosh could they fit anymore tack on that horse?

That's what is commonly called a 'ring bit' in the racing world. Very very common, I always liked it when I took a horse to the races and he was wearing one in the bird cage......one can very discreetly slide their fingers over that ring and get control of a horse that's going a little maniacal while trying to drag its handler into the bushes (blush....yes that's happened to me!) or rush by the blaring brass band!!! That's not the primary purpose of the bit, but it's handy!
I have seen some bits in my life but man, and cowboys get a bad rap on what they put in a horses mouth. :-0
The spoon bit by itself shouldn't be harsh.

I was told the chain on top was to release endorphins from those pressure points to calm the horse down or something. I don't know that for sure though. You see similar things in racehorse's mouths when they are being led too.
---
Pssh.I didn't pick up the wrong lead
It's called a counter canter...
...A very advanced maneuver.
Started
Join Date: Nov 2010
Location: Lethbridge, Alberta, Canada
Posts: 1,634
• Horses:
2
I don't have a problem with ring bits. We use them frequently at the track. The only time I ever see the chain directly on the gums is when it's a truly difficult horse. My great-great-uncle wraps his chains and doesn't put it on their gums though, he puts it over their noses.
Thanks, guys, I think I get it now. Horrible, though - I really dislike how much is sometimes put in horses' mouths - and that chain!
---
I have come a long way, to surrender my shadow to the shadow of my horse.
/James Wright/