What bit do you ride in and why?
---
I used to ride Fella in a full cheek single jointed snaffle, but had issues with him chewing on the bit and he would also lean on the cheek bars, I then tried a large O ring single jointed snaffle, same issues except it seemed as though I could pull it through his mouth if it wasn't for a leather curb strap......
SO, under the advice of my riding instructor, I moved to a double jointed kimberwicke with a copper roller and boy...I have seen a huge improvement! He is so light now, chews minimally and seems to have a great attitude about riding, seems much happier!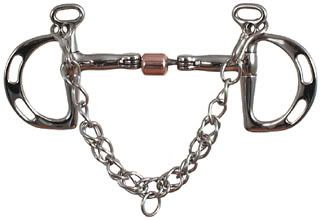 So far all my horses have been started in loosering snaffle. I find it's a very gentle bit. Starting them with something simple and only work my way up if I find its needed.
I just switched Denny to a loose ring french link (roller) happy mouth bit.
[IMG]http://img.thefind.com/images/XAD7Fr7j7DSGaQxTvRkZigvyi0qK4xPzUuLzS0tS8vOLihkySk oKrPT1y8vL9VILS0uL8_LL9ZLzc_ULivJTMnMT01OL9T0SCwoq c4E6Mnzy84tTgzLz0l30sgrSGQA*?m=1&g=2[/IMG]
Reasons:
1) French links, in my opinion, are a thousand times better for the horse's mouth than a single joint bit; they don't have any crackerjack action on the tongue, and they don't hit the palate, both of which happens with your basic single jointed bit.
2) Loose ring... would have preferred a dee ring or eggbutt to prevent pinching, but instead I'll use bit guards.
3) Happy mouth because it's a) lightweight b) has small bars c)doesn't take long to warm up in cold weather and d) has small joints where the three pieces meet.
4) the piece in the middle is a roller, so he can play with that
5) The bit is apple scented
6) The bit is extremely lightweight.
---
The lovely images above provided by CVLC Photography cvlphotography.com
What a good question!!
I have Bailey in a tom thumb loose ring snaffle. Why? Because she is a hard cookie to ride, and I've found that sometimes she just needs that extra coaxing to go around the corner, especially when she's wanting to go the other way. She's an alpha mare and when she gets the idea into her head that she's gonna do something else, you really do need something that is going to make her listen. It may sound harsh, but she has respect for this bit, and none of her riders are horrible with their hands so its fine. I used to ride her in a loose ring snaffle which she hated with a passion. She really likes this bit, and had her in it for the past two or so years.
Evo was originally started in a full cheek eggbutt snaffle. He went alright in it, but relied on the bars too much when turning. I decided to take the 'training wheels' off and put him in a hollow mouth eggbutt snaffle which he depised. I made the mistake of thinking that what suited my old mare, he would like too. He is now in a JP Korsteel Oval Mouth Eggbutt Bit (what a mouthful lol) and he completely loves it. It's got weight behind it and is thinner like the full cheek, but has no nutcracker action and he's so much easier to ride in this, not to mention more happy in it. I've seen a great change in his acceptance to work with this bit and have started using it on another gelding who really likes it too.
And with Honey I'm using Bailey's bit atm as she's only been under saddle a week, and haven't exactly decided what to put her in. Going to discuss that with my instructor/best friend this week :)
x
---
♥ Seoul Searchin' for the Lovebug ♥
I ride Shanequah in a Aussie snaffle, or a tom thumb. Why? She needs a little shank since she pushes through the snaffle and was ready to move on. She is very supple in theses bits, too.
Yotie I ride in a Aussie snaffle. He needed the "butter knife" effect of the side bars from the Aussie snaffle to make him more suple. He was going dull in a snaffle! I have been practicing neck reining in a hackamore.
Allie is ridden in a snaffle only, she has never needed more then that.
---
Shaneequah, 1998 gaited Bashkir CurlyxArab mare
Treyue, 1999 3-gaited Icelandic gelding
Loki, 2001-2015 Icelandic gelding
for shows, I have a simply western jointed snaffle with shanks. Not huge ones....just the simplest bit I could find that was a western one (since I hardly ever use it)
The english bit I use is a jointed Eggbutt. I wanted to get a double jointed one (believe that's the name of it) but none of the stores had it and I would have had to order it....and both places believed they were back ordered. So I got a single instead.
But normally, I ride in a simple rope halter. My horse does not need a bit so
why use one? Personally I dont' think any horse needs a bit, but that's just me
Vega and Montana are ridden in a myler low port comfort snaffle.
Both do well in it. I like the low port because it gives them some tongue relief, but not a lot. It is double jointed. It also has sweet iron in it which they both love.

Gem is ridden in a rope halter. Doesn't need a bit.
both of my guys ride well in hackamores (more halter like than mechanical like)

when they show, justin is in a fat loose ring snaffle, and boo is in a low port mullen kimberwick
---
kickshaw
Justin (qh/tb)
Boo (asb)
I can't explain why I use my bits becuase I'm not that educated on bits...

Pistol: english I use a double copper roller d-ring snaffle (I've used it forever, mild bit) for his western I use a broken snaffle, copper super mild

Blue: port bit for western and a port bit english for flat pleasure and a slow twist for hunt (I think he'd be fine w/ Pistols bits though)

Black: TWH Bit, it's a curve

Beauty: has a curve snaffle but she likes Pistols bits so I'll probably get her something like that

Riley: Port for home, snaffle or bosal for show, slow twist, wire, whatever - my trainer says use everything on him so he'll respond to anything... I dunno....

Style: egg butt snaffle....
---
"Be a best friend, tell the truth, and overuse I love you
Go to work, do your best, don't outsmart your common sense
Never let your prayin knees get lazy
And love like crazy"
I have three bridles for my one horse.

Dressage will be either double or single bridle using standard uncomplicated loose ring snaffle for the single bit. In the double just a regular curb with low port and 3 inch shanks. Pretty much the mildest I can find and coupled with slightly thinner loose ring snaffle but much much thicker than a bridoon.

For jumping a kimberwick, again low port and the reins are set through the top slot so once again in the mildest form.