What can you tell me about Thorowgood saddles
---
I have to find a saddle to fit my ample backside and my extremely wide Haflinger mare, all on a tight budget, as ever. Nothing I have here goes close to fitting her, and I can't start her saddle work unless I can find something.

Long term I was considering a Duett, but I want to get her going now, I have seen a Thorowgood Cob XXW advertised, and it's an 18" seat. It is described as 'as new' and looks like it if plenty wide enough for her, although as ever it's not until you get it on her back you really know about fit.

While I recognize the name Thorowgood, I really don't know anything about them, good bad indifferent? Do they run large, small or true in seat size??

I'm also struggling to find many advertised for sale to see if this saddle is at the right price or not.

Any information or experiences gratefully listened to.
Thorowgood synthetic saddles made in England
also, check out the greenhawk (tack store) website they have them for sale there. Maybe you can find out the price range of your saddle from these two websites.
I've never owned one, but I've seen them in the Greenhawk store. They're synthetic saddles, and don't seem to be that bad. They seemed a little stiff to me, but i'm no saddle expert. They would probably mold to your horse eventually. They're on the lower end of the saddle price spectrum, which means that they probably won't last forever. In the store they often sell them in "Starter Kits" with all the other tack stuff you'd need for a horse. Someone i know bought one for her TB, but it didn't fit her horse, so now she's looking for a new one. The lady who looked at it also remarked that the saddle seems somewhat overflocked, but i have no idea if this is true. I think they have a gullet system, but i'm not 100% sure. That's about all the information i can remember for now, sorry =P
I personally would rather buy a nice leather saddle from a local consignment store, but not everyone has one around the corner. It would probably be a good saddle as long as it fit the horse well. I've sat in one at the store, and they seemed comfortable for the price.
I know how hard it is to find a saddle for wide horses, my mare that sadly passed away was a Fjord cross, and the only saddle that would fit her was some expensive custom english one. She died right in between of fitting and buying the saddle, so i never bought it, and don't remember the brand. It had some gullet system too, so maybe another saddle with the gullet system would fit your horse? If you have any saddle fitters in your area it would probably be worth the money to get him/her out to help you =)
Good luck, and hopefully this helps you =)
GH, try to do the search on this forum. Thorowgood was discussed in past several times, I do remember the comments.
BTW I tried Duett and it was a nice saddle, but Thornhill Klasse was much better comfort-wise (although that one was too wide for my own horses unfortunately). I find Duett to be a little too hard under my butt. However to each own, of course...
---
"Life isn't about waiting for the storm to pass: it's about learning to dance in the rain..."

"When we are no longer able to change a situation - we are challenged to change ourselves."

"How people treat you is their karma; how you react is yours."

Indigo, thank you so much for the very detailed reply, that really helps, I appreciate it
KV....OOPS, yes I should of run a search first
I've had a look now and there seems to be lots of positives, so I think I may try for one, if I can snag one at the right price.
This is the back it has to fit, she is carrying to much weight at the moment, but she is a big girl at the best of times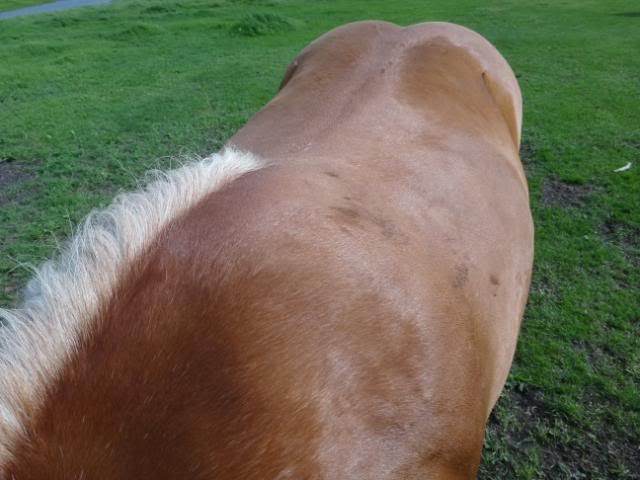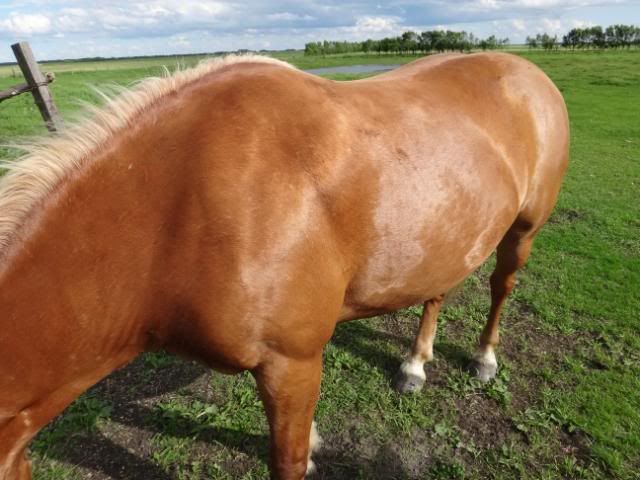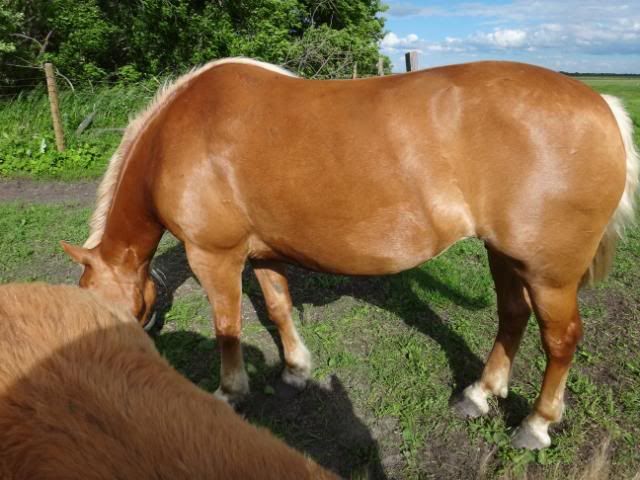 Shameless bump in case anyone else has input
Just ride her bareback!
---
"Life isn't about waiting for the storm to pass: it's about learning to dance in the rain..."

"When we are no longer able to change a situation - we are challenged to change ourselves."

"How people treat you is their karma; how you react is yours."

I have a Thorowgood GP for high withered horses. Love it. I beat the crap out of it and it holds up well. The only observation I can make it is a rather clunky saddle. Not in a bad way, but it just seems to have a lot of extra flap and panel to it. I feel like I'm not nearly as close to my horse's back as in my jumping saddle, but I guess that's how you have to design a saddle to clear a shark fin withered horse. Not sure if it would feel that way on a wide tree model.
---
You just have to see your distance...you don't have to like it.
Maybe a snow board, or a picnic table would fit? A door? Just put a pillow on her and secure it with a giant rubber band.

Sorry , I couldn't resist.
The picnic table may just work
No to bareback though, madam has a buck in her, I'm hoping that she'll get all out of her system before I climb on, but at least it isn't far to fall off of her
I had one last summer - it was comfortable and held up well to a few long trail rides. I bought it used for $100, and I'd say it was well worth that.