Quote:
Daisy wears pink. Period. Bahaha.
AND I just got a brand new headstall/breastcollar set with pink Swarovski crystals.
thats a lot of pink WOW!
The girl I graze with is another pink fanatic :)
This sounds like fun!

Summer Turnout Gear: Fly sheet w/ neck cover (oatmeal/brown), fly wraps (black because I couldn't find brown anywhere)

Winter Turnout Gear: Amigo midweight blanket (navy), Amigo sheet (gray), Rambo Duo (Navy w/ light blue and brown trim), Weatherbeeta Heavyweight (brown), Lots of other miscellanious blankets. I layer them according to the weather.

Everday: Brown Leather halter w/ white lead

Riding: Oakbark Aramas Bridle, Oakbark Pessoa saddle, Oakbark Pessoa girth, Thinline open front boots for jumping, thinline trifecta half pad, baby pads of all kinds of colors, Pessoa breastplate
Black wears Black and Silver. Blue wears purple and black. Pistol wears hunter green, gold and black. Beauty wears burgandy and blue. Sierra doesnt have a color yet... maybe teal? (she's a sorrel). Riley has been color jumping...I think I like him best in red and black.

Riley has a yellow western outfit, a red western outfit and a leapord print western outfit. My western saddle is... Oh gosh! I can't remember, textan I think. My bridle is circle Y... his english saddle is an HDR, can't afford a Bates...YET....

During the day ri wears a blue flysheet w/ matching flymask.... when being ridden he wears a very old work saddle... not sure the brand... I bought it from my trainers niece for $175....
---
"Be a best friend, tell the truth, and overuse I love you
Go to work, do your best, don't outsmart your common sense
Never let your prayin knees get lazy
And love like crazy"
All Carolina's tack is black. Her bit is pink and her saddle pads are pink except one white dressage pad. She looks good in pink lol.
Oh, I forgot Blue's tack and blankets!
Tack: brown bridle(have NO CLUE of the brand!) and my wintec saddle. She also has a black Dover breastplate. She does have a black Amiego bridle, but I have to have the leather guy we know work on it and fix it. For western, the same bridle with my wintec western saddle and a lilac saddle pad. She also has a light pink breastplate for western riding.
She has navy blankets, and a royal blue sleazy full body, hood, and tail bag!
---
Jumping a horse = Getting wings!
Why live on the edge when you can jump off?- Greenwood Horse Trials Tee-Shirt
Jersey: her colours are hot pink and black. i usually ride her in a black
"no choke" western breast plate, an old back saddle with a black square pad. black bridle with a knot in the front. oh, and her hackamore is wrapped in pink vet wrap LOL.
we switch between english and western, but when we do, she rides in the same saddle as darby with a hot pink saddle pad, zilco breast collar, and some times a O- ring french link snaffle. her reins are the same type as darby's except they are hot pink and black.
Luna: Purple and black. she has a purple/light pink halter with black padding and a black and purple lead rope. she dosen't wear much since she isn't broke.
Darby: his halter is hunter green with some tan on the edges. Black zilco padded brestcollar, black zilco marathon bridle with bit hangers (gahh annoying), and a black wintec 2000. for training and races, we use a hunter green toklat pad, but otherwise its just a square green pad with navy trim. we also have black stow-a-way pommel bags. he uses a double jointed kimberwick with a copper roller, and green and black rope reins.
A photo:
---
The lovely images above provided by CVLC Photography cvlphotography.com
Willow wears all purple! She has a bright purple saddle pad and a light purple saddle pad, a light purple fly bonnet, and different shades and patterns in purple for her polo wraps. We had some purpley jump boots but we're selling them and getting some SMB's. We're also starting western this summer, and I think I'm going to buy everything turquoise because I'm getting a little tired of all this purple lol. My saddle, bridle, and girth are all havana brown.
Nelson wears a rainbow of colors, all depending on what mood I am in during that particular day, with what color gets put on him. I love all colors, I have a difficult time sticking with just 1.

After I say that, majority of his colors are Navy Blue and Baby Blue. His blankets, fly sheet, mask, winter blankets, halter, lead rope.

His tack is black.
---
No pink stuff here lol!
Can you tell how much bigger the blue halter is than the green? The blue one is Arizona's fat headed halter.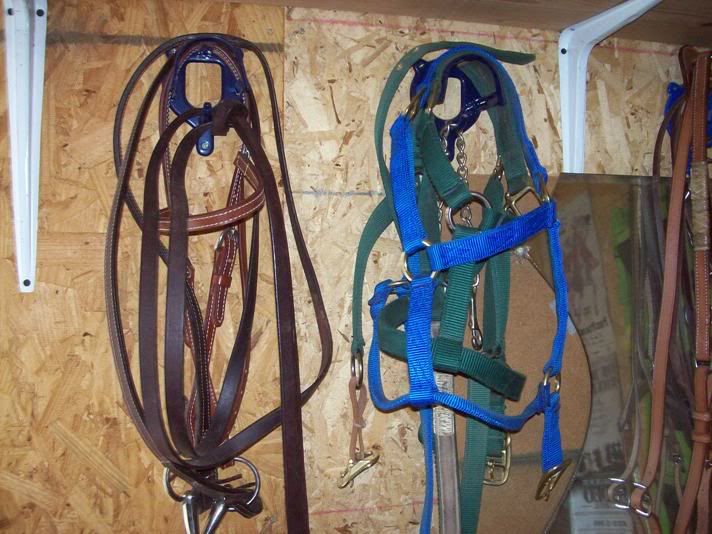 The saddles
Australian saddle. I LOVE these saddles.