What kind of bit is this?
---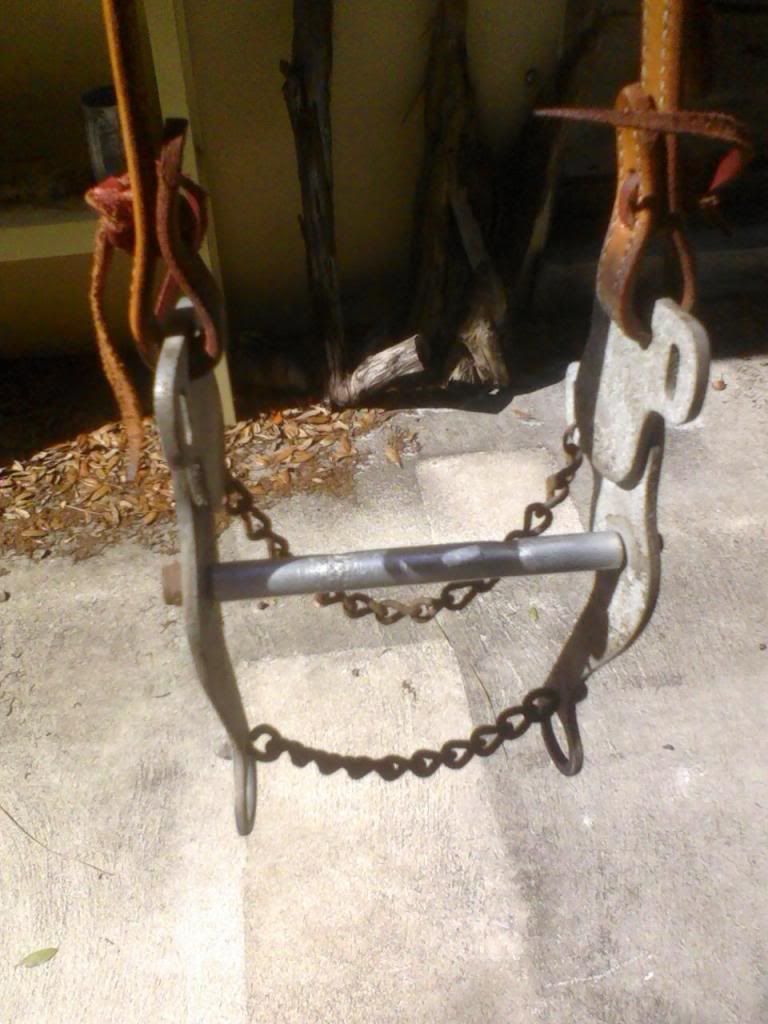 I hope these pictures are good enough! Anyone know what kind of bit this is? It was my mom's when she was given her first horse 47 years ago, so it's pretty old. I started using it about 5 or 6 years ago. Before, I used a plain ole curb bit with a low port, nothing fancy. To be honest, I don't even remember why I switched. I don't remember my horse having a problem with the curb bit. He didn't seem to mind this one, either. He did really well in it actually.
Since it's so old I'm wondering if it's all "original" or if it's had some gerry-rigged repairs over the years. My mom said she couldn't really remember.
I was just curious if any of y'all knew anything about it at all. Does it look to be very harsh? Something you may not be able to tell from the pics is that the mouthpiece has a tube around it, I was told this was in case the horse tried to hold the bit in it's teeth to avoid pressure, it just held the tube and the actual mouthpiece was still free-moving.
Anything y'all might know about it would be interesting for me to hear. Thanks!
I was just going to say how ancient that looks. Probably the result of some experimentation gone wrong. There were a lot of unique (er, scary) bits in the 40's, 50's, and 60's.
Reminds me a little of the one on this page:
https://rainbowsendtack.com/WesternBitsBosalsPage21.htm
Yes, it is very harsh, for a few reasons. First, the aluminum mouthpiece is not considered desirable. It is suspected, but not proven, to be a toxic compound, and it tends to dry the mouth out. It is also soft and prone to having chewed-up rough edges. Additionally, the straight bar mouthpiece puts a lot of pressure on the tongue with no chance for relief. Your single-link, rusty, rough curb chain is very abrasive on the jaw, and the swinging hinge action of the bit makes the curb pressure (and mouthpiece as well, once it is activated) severe.
It looks to me like that bit originally came with a noseband of some kind.
To me it looks like a mechanical hackamore modified into a bit.
---
Wow, that's just ugly...and scary. It appears to be home-made and I would judge it to be just an all around crappy bit. I would suggest that you find a bit that has been properly made for use in a horse's mouth.
---
Always remember that feeling of looking at a big, open country over the ears of a good horse, seeing a new trail unwind ahead of you, and that ever-spectacular view from the top of the ridge!!! Follow my training blog:
http://robertsontraining.blogspot.com/
Yikes, I hate that I used it knowing all that. At the same time I was riding in this bit, I had an English bridle with a bit similar to this:
Uxeter Kimberwicke Bit < Kimberwicke Bits|Dover Saddlery .
and my horse didn't like it or respond well to it. I really had a hard time stopping him in it and he would carry his mouth open when I rode with it.
All the same, I wont be using this bit anymore. I wasn't planning to, but now that I know all that I'll for sure be throwing it away!
Thanks guys.
Wow, very interesting.. And good to know.
---
It's an antique valued conservatively at $8-11 possibly as high a $13 at auction.
---
There's nothing like the Rockies in the springtime... Nothing like the freedom in the air... And there ain't nothing better than draggin calves to the fire and there's nothing like the smell of burning hair. -Brenn Hill
Plus it has history to it for you. It's a bit I would hang in my tack room (but not use).
---
I'm not arguing with you, I'm just explaining why I'm right.

Nothing sucks more than that moment during an argument when you realize you're wrong.

It's not always what you say but what they hear.

Weanling
Join Date: Oct 2011
Location: Illinois www.saddleonline.com
Posts: 509
• Horses:
1
Quote:
Plus it has history to it for you. It's a bit I would hang in my tack room (but not use).
This. I have several novelty bits, not items I would ever put in a horse's mouth and use, but kind of unique antique items that can make for interesting conversation pieces.
---
"Riding: the art of keeping the horse between you and the ground."
~Author Unknown