What kind of bit?
---
I have a 4 year old Percheron/TB cross. Lately, she has started resisting my cues for her to soften up her mouth and respond to my hands. She doesn't respect what I ask her to do, and tends to stick her head up in the air and go faster when I try to ask her to "come back to me". Sometimes when I need for her to slow down and relax and I pull back on the reins, it feels like I'm pulling a rope that's tied to a fencepost...she just doesn't give. She is fine sometimes, but other times she doesn't respect what I am asking of her, and is like a freight train thats on a roll.

I have her in a full-cheek snaffle right now, but I was wondering if anyone has any recommendations on a new bit for her. Something that would make her a little bit more responsive, without the harshness that some bits have. I was thinking maybe a loose ring copper snaffle...but I dont know if there's something better out there. Thank you!
---
When riding a horse we leave our fear, troubles, and sadness behind on the ground...

.:cami:.
I personally like french link bits.
However, it sounds like you have a horse/person problem, not a bit problem, to be perfectly honest.
When you say you are "pulling" is it a direct constant "pull" or are you checking and giving? Because if you're starting a tug-of-war with your horse, I can guarantee you that you aren't going to win. It sounds like she's pitting her jaw against you, and you need to let her know that it isn't okay for her to do this. You need to work on suppling rather than changing the bit, at least in my opinion.
---
The lovely images above provided by CVLC Photography cvlphotography.com
Yes, I understand what you're saying. I don't constantly pull at all. I give her her space, and when I do try to have a little bit of contact and do little half halts to get her to slow down and come back to me, she says "uh-uh...I don't think so". I can usually work through it and get her to soften up and be more responsive, it just takes a lot of patience. I guess I'm just going to have to be patient and work on relaxing myself and my hands even when she gets rowdy. Thank you for your input!
---
When riding a horse we leave our fear, troubles, and sadness behind on the ground...

.:cami:.
Quote:
Originally Posted by JustDressageIt
I personally like french link bits.
I'll second that.
You mentioned she sticks her head up in there air when you ask her to "come back to you." I assume you're using rein pressure to do this. Is her snaffle perhaps hitting her in the roof of the mouth? And she's sticking her head up to try to get away from the jab? A French Link (or other double-jointed snaffle) will eliminate this. Just a thought, but that may not be the problem here.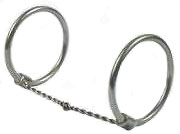 Well... it works. :roll:
i bought my mare a myler bit and have noticed a huge difference with her not throwing her head up and all. When i first got her, the trainer told me to get her a kimberwicke, well i didnt like that at all and was doing research on new bits. I went to a local tack store, told them what was going on, and they recommened a slow twist. I got it hoping it would help and it didn't do a thing, which i knew deep down in side but because she is my first horse, i didn't know much. So finally I cam across the Myler bits and how they work differently. I got her a level 2 with a low port. They also do a trial so if it doesn't work out you can return it.
The thinner and twisted bits are harsher, but work like a charm. I have my barrel horse on a twisted dog bone, and can work him like a pleasure horse in it.
---
"Doing what you like is freedom, liking what you do is happiness."
Quote:
Originally Posted by tim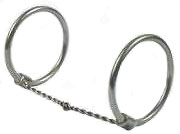 Well... it works. :roll:
I was very suprised when I read this.. My horse did exactly what your horse is doing, and he was in a regular snaffle. My old trainer then put him in a non-jointed tom thumb pelham, and it worked for awhile, but it kinda "stopped" He then started pulling horribly, and by that I mean, gate-sour. He would do anything to run to the gate, and you could get after him with spurs & crops & just regular aids, but nothing worked.
We then put him in that almost-exact bit that 'tim' mentioned, and it worked wonders. It is a VERY harsh bit, don't get me wrong here. After getting after him a few times with it, he stopped the pulling. The main reason he went in it was to get him to stop pulling & such.
After I stopped working with my old trainer, I went back to a french-link eggbutt && IT WORKS AMAZINGLY WELL. He does ok in a regular snaffle, but I have found the french-link's work very well. However, your horse needs to respect you, and you also need to respect your horse is a harsh bit is used.
Like I said, I was really suprised when I read this, because this is exactly how my horse was, and that was the exact bit I used, and now I use a french link. But I personally would recomend using that bit above, with possibly a running-martingale, but use your hands VERY lightly, its a very harsh bit in the wrong hands. After your horse respects you & vice-versa, move to a french-link snaffle, the horse will bend more, respect you, and become more supple & use himself more...
But its a different case with every horse... haha, wow, that was pretty long =]