Started
Join Date: Nov 2010
Location: Lethbridge, Alberta, Canada
Posts: 1,634
• Horses:
2
Tekna A4 jumping saddle, Alamo barrel saddle, Billy Cook trail saddle.
Yearling
Join Date: Nov 2009
Location: I was born in Germany, raised in Texas.
Posts: 824
• Horses:
5
The western saddles are all pics of when I got them brand new. They are a little more broken in now. The English saddles are my finds off Ebay. I've had really good luck finding what I like on Ebay for super deals.
This is my Tex Tan barrel saddle
Saddles 001.jpg
This is also a barrel saddle by Rider's Choice. Nice little American made saddle for half the price of name brand saddles.
Saddles 004.jpg
This is our Simco. It's my "guest" saddle for trails. It swallows me.
Misc 009.jpg
This is my Crosby dressage saddle. Most comfortable English saddle I've ever ridden.
Stubben and Crosby 003.jpg
This is my Stubben suede seat imperator. It's a Loreley. No coming unglued on this one.
Stubben and Crosby 001.jpg
And this is my Beim Kloster Schonthal Sattlerei dressage saddle. It's a nice German made older saddle but I'm selling it because I just can't get past my Crosby for dressage. This one gets the back burner and it's too nice of a saddle not to be used by someone.
Beim Kloster Schontahl Sattlerei 003.jpg
[QUOTE=COWCHICK77;1837352]First saddle is one of my favorites, made by a guy who used to build saddles at Capriolas. It is unmarked.
COWCHICK -I really like this saddle.
I have Courts trail saddle and a no name barrel older barrel saddle (only thing I know is that it was made by someone locally)
---
So in lies the madness, the pursuit of the impossible in the face of the complete assurance that you will fail, and yet still you chase.
This is my newest Billy Cook, purchased Spring 2012. The saddle in the background is also a Billy Cook, 10+ years old and still is AMAZING condition.
---
"The greatest pleasure of a dog is that you may make a fool of yourself with
him and not only will he not scold you, but he will make a fool of himself too."
-Samuel Butler
This is my Billy Cook barrel saddle. I don't barrel race as of yet, but the saddle is super comfortable out on the trails. I'm one of those people that sits close to the steering wheel, even in the passenger seat, I like to feel... held in I guess, and this saddle definitely does that.
I have a
Master/Mike Corcoran
Merit dressage saddle. I really wanted the Marvel model that my saddle fitter showed me (which is by far the most comfortable saddle I've ever sat in), but Mike Corcoran saddles are very pricey and somewhat hard to find; I saw several of the Master models when I was looking, but I didn't find that one nearly as comfortable. When I found a Merit in my price range, I jumped on it even though it's not quite as awesome as the Marvel.
I also have a jumping/AP saddle I got for cheap off eBay. I'm not sure what brand it is (there's a plate under the skirt, but whatever it had on it got rubbed off a long time ago) but it seems good quality and fits my horse reasonably well. I'm pretty happy with it!
I have a Tammy Fishcer treeless barrel saddle made by Circle Y, I also have an old Connie Combs barrel saddle also made by Circle Y.
Posted via Mobile Device
i have:
Kieffer Aachen II - dressage saddle
Stubben Juventus D - dressage saddle
Albion Legend - dressage saddle
Collegiate Ruiz Diaz - close contact saddle
Wintec Close Contact
I have a lovely no name Australian stock saddle and an older Stubben Siegfried. No pics as I'm on my phone.
Posted via Mobile Device
For my QH, I have an Action Saddle Company saddle. It is a bit wide for him and way too large for my hubby, who's going to be riding him. The saddle is 16.5" and hubby needs a 14". This one is for sale.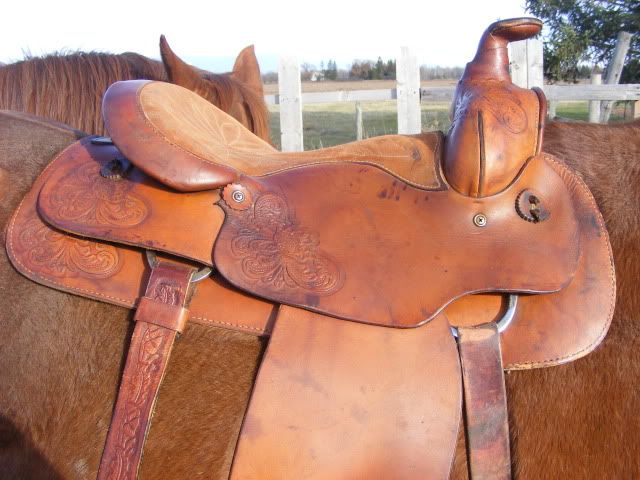 We got a 14" Big Horn to replace the Action. I LOVE this saddle and am trying to find a 16" for me.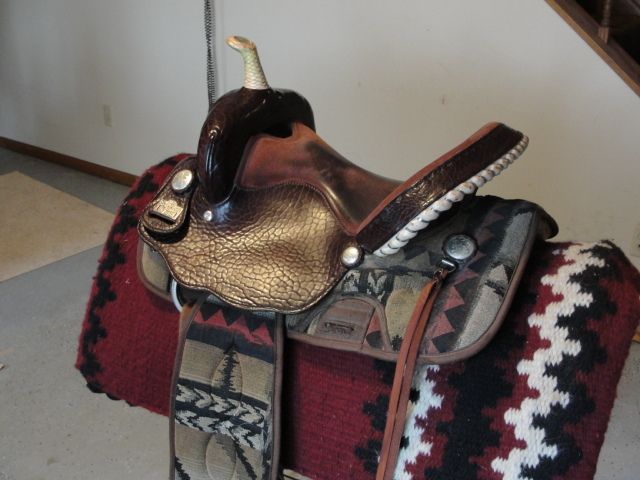 For my Paint, I have a Circle Y Park and Trail. I adore this saddle, but am not convinced it fits my horse or me that well.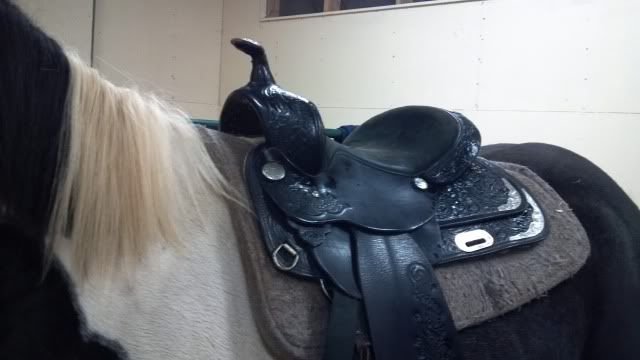 I bought this one hoping it would fit, but it doesn't.
It's a 16" Big Horn, and is also for sale.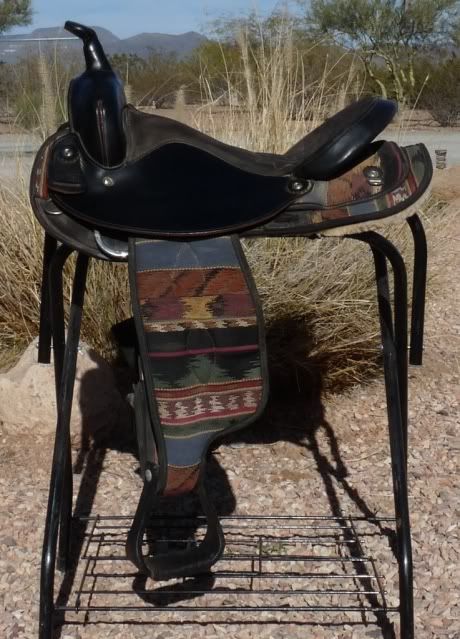 Posted via Mobile Device