Weanling
Join Date: Aug 2008
Location: On the banks of the Red Cedar...
Posts: 494
• Horses: 0
What shape flap do I want?
---
SO. In a critique thread I had on another forum a few weeks ago, people were saying that the flap on my saddle was the wrong shape for my leg [gr, my legs are always too long for things], putting me too far back and in a chair seat, I think. I'm about 99% sure that I won't be able to get a new saddle for a few years [if I even keep riding at that point], but I'm curious. What kind of flap do I need?
I'm just over 5'8" and from the point of my hip to the edge of my knee is 20" I dunno how important that is BUT ANYWAYS.
I've owned 2 saddles so far, an old Collegiate and a Dover Circuit. Right now I'm riding in the Circuit, which you guys said didn't fit me as well as it could.
Here I am in the Circuit [ignore the awkward timing of the photo, Leo was startled by the flash]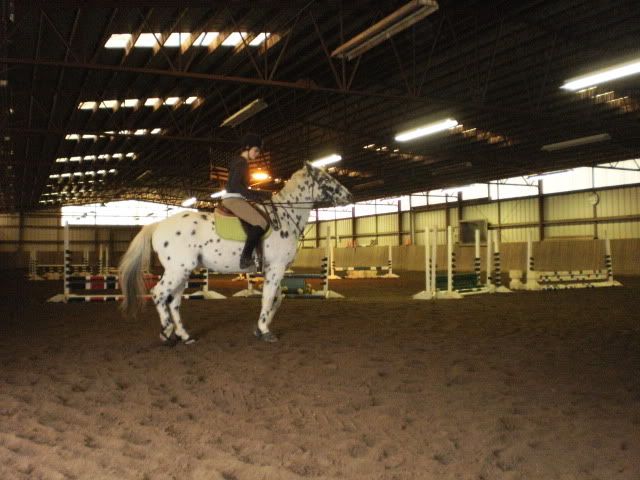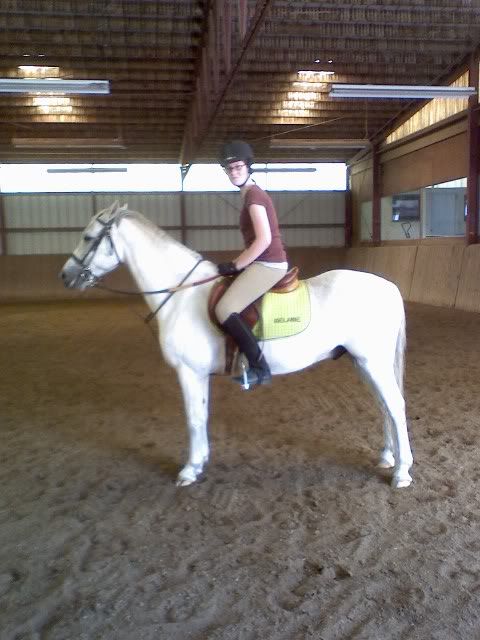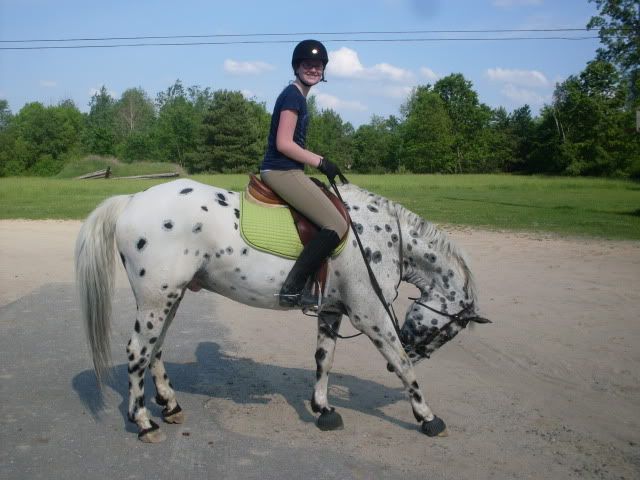 the saddle on it's own, the day I got it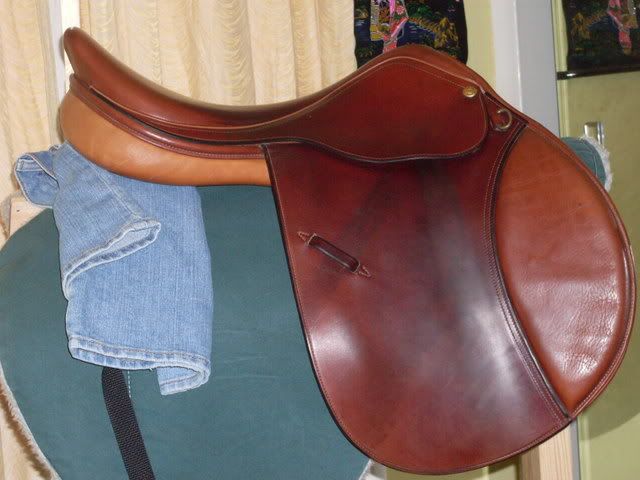 And then in my old Collegiate [the seat did get too small, that's why I ended up selling it. I loved it otherwise]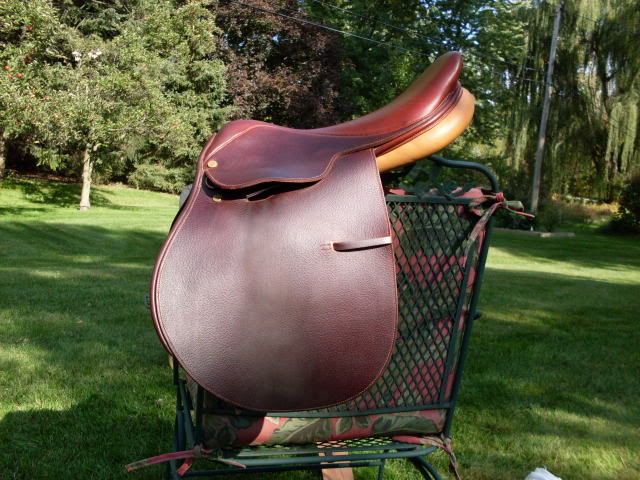 The only other good picture of me in my old saddle, I had just gotten on and I don't know why I was sitting so far back, haha.
ANYWAYS. Sorry for all the pictures, I didn't know what you guys would want.
I'm just curious...based on the way those saddles fit me, what kind do I want/need to look for? Purely hypothetical for now, but I like to wonder. Also, while I'm on the topic...the Dover is a 17.5", but it's got kind of a deeper seat. If I were looking at flatter saddles, would I be able to go down to a 17"? The Collegiate was 16.5", fwiw.
Thanks, and I hope this made sense :)
---
A dream you dream alone is only a dream. A dream you dream together is reality.
John Lennon

I can see how your old saddle was too small for you but the new one doesn't look so bad. Maybe what the other folks were talking about is that your knee appears to be overlapping or almost overlapping the edge of the kneepad area. Do you suppose they meant that you needed one with longer flaps? More of an all purppose style? I really don't know, but it's always fun to go to the tack store and sit in various saddles.
Weanling
Join Date: Aug 2008
Location: On the banks of the Red Cedar...
Posts: 494
• Horses: 0
I dunno. Here I am riding in it, I guess the saddle puts me in a chair seat? I've tried different stirrup lengths, sitting more on my crotch [I always end up back on my pockets though, partially habit]



*shrug* maybe I'll see if one of my friends wants to switch saddles for our lesson tomorrow, to see if the chair seat goes away.
---
A dream you dream alone is only a dream. A dream you dream together is reality.
John Lennon

---
Last edited by juniormylove; 04-07-2011 at

04:52 PM

.
it looks like the seat size is right but that you may need a long flap. that's my best (uneducated haha) guess.
Your leg is hanging over the flap, which is pushing you back in the saddle - exactly what you've heard already. It is not the shape of the flap that is doing this, it is the length. I would say you could go another 1/2-1inch bigger in seat size, which will increase flap size slightly and bring you more central in the saddle. Otherwise, find a different make of saddle that has a longer flap for that seat size.
A 20" thigh puts you into the 17.5"-18" seat size depending on how deep the seat is. That last pic looks just right. My thigh is 19". I got a 17.5 and wish I had gone 18". If you can, when you go to look at saddles, try to find an older sales person who really understands saddle fit rather than someone who has just product knowledge.
---
You just have to see your distance...you don't have to like it.
This could be another reason why you keep getting left behind. I hope you figure it out chickey!
---
Weanling
Join Date: Aug 2008
Location: On the banks of the Red Cedar...
Posts: 494
• Horses: 0
ALRIGHTY. SO. I switched saddles with my friend for our lesson today [she hates hers, I hate mine...so we swapped to see]. It's an old Collegiate, not sure the size [she said she thought it was 16.5" but she's not sure but I doubt that since I fit into it with room to spare and my saddle is a 17.5"] or model [If I remember correctly, the stirrup keepers were different than my old saddle which was like, a Graduate or something like that]. It was unpadded, no blocks. About as basic as you can get, lol.

I loved it. Not only did it feel nice and familiar, as that's the kind of saddle I grew up riding in [didn't ride in a padded/block-y saddle until like...two years ago], but I got on and my leg fell right where it needed to be at the walk, I didn't look at the trot. I don't know if it was the saddle or the horse [I rode a different horse than I've been riding] but it felt so...good. I liked having less between my knees and the horse. My knees did hang about an inch over the flap [like I was expecting] but since there wasn't any sort of block or padding it didn't really affect me.

You know how I tend to get really far behind/sit back too early over jumps? NOPE. Again, this was probably in part the horse since French Fry can/will refuse everything and Twiggy I can trust more...but it felt good. I jumped her up to 3' and felt incredibly balanced, even during an incredibly AWKWARD one stride, lol. I think it was possibly her because I was riding a lot more forward with my body [we were galloping down the lines haha] but it was weird. Hands down, the most balanced I've felt in a few months, from back when I was riding Scooter.

I wish I had video to see but alas, my mom seems to have forgotten how to use the camera.

Here I am on Twiggy a couple months ago in MY saddle, the one that may or may not be giving me problems. Do I really ride her that much differently? I know I still get behind on the way to jumps, but that's habit from riding Fry/Scooter.


In other news...my friend really liked my saddle and I really liked hers...I'm kind of tempted to just see if she wants to trade, lol. I'm sure I'd be losing money but...I dunno.
---
A dream you dream alone is only a dream. A dream you dream together is reality.
John Lennon