I love me some antique western tack. I've got two saddle, both antiques and still functional. I don't think I will ever own a saddle for myself that is less than 30 years old. My oldest saddle is a 1940 model. Needs a few strings replaced and refleecing,but is sound and unique.

That being said, I am owned by three arabs, and love native costume classes. I just wish they were more practical because I could totally get into riding in something similar to that every day. :P
---
Proud owner of ~Mana: 6yo Arabian gelding~Pearl 13yo Arabian~Danzer 14yo Arabian mare~ Tiny mini filly
Shiny Tack! ..well..not the wp silver everywhere saddles..that's just too much..
barrel saddle..light oil,chocolate seat..but when it comes to a breastcollar and headstall I like it SHINY..
Not the best pictures because I just took them on my floor in my room..so they aren't as shiny as in person, but oh well..
my snowflake tack..(I did the crystals)
cowhide tack
---
I am Sparkly Meanie Doodie Head and I approve this message!
A dark brown western saddle or a black english saddle! :)
My favorite is the dressage look. It's so elegant! I love the black and white together. Maybe a tiny bit of silver thrown in somewhere.

The only look I'm not really a fan of is the western show saddle look, with tons of silver dripping from it. It just doesn't seem like something that would be used outside of a show, and therefore seems so unefficient to own.

But I am saying that tongue in cheek, since part of my favorite look is white breeches... which hardly stay white for long!
Banned
Join Date: Jul 2009
Location: In a land far far away, or so I wish.
Posts: 12,825
• Horses: 0
I am with Crimsonsky, except the hunter look. Brown not black. But matching and properly fitted are a must. Conservative saddle pad.
I love arabian show track, but that's mostly because I have an arabian and know from experience that most "normal" tack doesn't fit properly. I like arabian western show tack with the silver on it. Done well, it can work great with the horse without ever looking tacky or overdone.
Posted via Mobile Device
A lovely pitch blackdressage set i think is just gorgeous with a dropped browband bright white nummnah and jods black jacket and tophat
you cant get classier then that especially on a stunningly turned out horse
---
To give a horse your heart guarantees a love that will last forever undamageable
Quote:
Originally Posted by
myhorsesonador
View Post
I LOVE THOSE BOOTS...I have a pink set and the giraffe set..I loved the elite boots but the ventech boots are sooo nice..
I didn't even think about boots when I was putting my other favorites..I have two pair of the Justin bell boots, fushia and turquoise..They are great boots. I've had the turquoise ones for years and I wear them everytime I ride and they are still in great shape..I only use the fushia ones for shows..
esp Classic Equine pads..
---
I am Sparkly Meanie Doodie Head and I approve this message!
Green Broke
Join Date: Oct 2010
Location: Some times Llanelian - North wales, sometimes Hull in East Yorkshire (UK)
Posts: 3,679
• Horses:
5
My absolute favorite has to be the beautifully fitting classical show horse tack from the UK. in dark havanah leather, and it asolutly has to be fitted and the correct width to dress the horses properly. Buckles should be done up level with the top corner of the horses eye, cheek pieces, browbands and nosebands should be the correct width so that they compliment or improve the horses head. Saddles should be low profile and straight cut with no knee roll to show the horses shoulder off. Absolutly classical and NEVER goes out of fashion.
Second to that would be a traditional English sidesaddle with full Habit.
3rd of all is arabian tack. and I'm not talkinging that western stuff you are all thinking. I'm taking about the traditional saddles that horses in the deserts of Saudi are ridden in they are actualy made of heavily embroydered cotton! like this: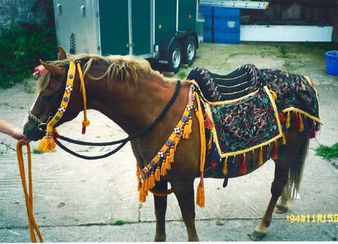 ---
RIDE your horse FORWARDS and keep him STRAIGHT