why do so many people object to Tomb Thumbs and dislike them?
---
Hey,
Okay, so i was recently reading some things on another forum, and SO many people do not like Tomb Thumbs.
I on the other hand, like them. Especially with loose curb chains. My gelding works wonders in one, and so does one of the horses i had trained and now am currently riding in a Tomb Thumb and they love it. Soft, supple and responsive. Not at all bit sour....
So what am i missing here? What don't i know about theses bits? Why do people say the are not good bits and object to using them?
Thanks guys!
Lena
To save me quite a bit of typing,
here
is a link to a page that describes it. They are basically unbalanced and just ill thought out bits. The issue is with the simple mechanics of it. If you have had success with them, then you are one of the lucky ones. As for me, I just hate the feel that they give. Due to so many openly mobile pieces, there is just too much going on to get a good feel from the horse's mouth in my hands. I could probably get away with using one and not end up with the problems that so many people do, but I wouldn't because I believe there are much better bitting options out there.
---
Always remember that feeling of looking at a big, open country over the ears of a good horse, seeing a new trail unwind ahead of you, and that ever-spectacular view from the top of the ridge!!! Follow my training blog:
http://robertsontraining.blogspot.com/
As with so many things horse, in the wrong hands, you can cause great pain and harm to your horse. In my opinion this is one of them. If you know what you are doing and it works for you, fine. But, if you do not know what you are doing this bit can be extremely harsh and painful to your horse.
Another thing to point out that many of us often don't understand the difference between and english and a western tom thumb.. When I first came to the forum I didn't understand it either, but that is because I am from an english background and to me, a tomthumb was just a pelham with short shanks.. not a western curb bit ;)

E
Yes, all of this i get...but if you think about it, a Tom Thumb is not really that harsh and harmful to a horse...i mean, look at all the other bits out there people dont see as 'harmful' to horses. To me it is silly to say a Tom Thumb is a 'no, no'. I have used it one MANY horses, some that i used for cow work, some i used as reiners, and for my pleasure horse. Too me, it is a simple up grade from a snaffle. It doesn't rip their mouths, and you do not need a well designed bit to 'feel' what's going on in their mouth. I mean, even a snaffle can be a 'harsh' bit if used improperly. If you have soft hands and are a skilled rider, then no matter what bit you use, it will not cause harm. And plus, the bit is a simple reminder to horses when they do not listen to your seat, a aid only to be used lightly. And the use of the curb is to intensify the 'bite' of the bit, but as i said, a Tom Thumb used with a loose curb isn't 'harsh' to me especially if i use my seat, not my hands, to ride...
In my opinion of course. We all have them.
and thanks for the insight.
Lena :)
---
Last edited by GeorgieNChex; 03-12-2011 at

06:58 PM

.
You see, the problem with a tom thumb is that it has all the harshness of a curb bit and combines it with the harshness of a snaffle's "nutcracker" effect. A snaffle does not use the leverage when applying the pinching nutcracker effect. Add leverage to tha pinching makes for a very tough bit.

Ask yourself if your horses do well because they like the bit... or are they afraid of having the broken mouthpiece nucracker their jaw while also adding tough curb leverage? Many horses behave because of the pain, not because it is a good bit.
For me, it is less about the "pain" reaction. I have the experience to be able to use one successfully but, to me, they just have no subtlety, no feel, no connection. They are sold as a cheap bit and that is what they are to me.........a cheap bit, no different from those $5 aluminum bits that come with nylon bridle packages.

I just don't see much point in using something like that when I can get better results faster, and with happier horses, in other bits.

But yes, in hands that are even barely harsh, this bit has the capability to inflict excruciating pain (even damage) on a horse's mouth.
---
Always remember that feeling of looking at a big, open country over the ears of a good horse, seeing a new trail unwind ahead of you, and that ever-spectacular view from the top of the ridge!!! Follow my training blog:
http://robertsontraining.blogspot.com/
Check out the link in my signature....I've written a rather lengthy treatise on the subject of bits, including a section on why TT's deserve all the bad reputation they get.
Here's that part, but I think the rest is worth a read, too.
Tom Thumbs and Argentine Snaffles
The Tom Thumb is a bit that gets a bad rap for being very harsh--stories have been passed around of people breaking their horse's jaw with it. Now, that seems a little exaggerated to me (I can't imagine how much pressure they'd have to be exerting on the reins to cause that much damage), and while I don't consider the TT to be particularly cruel, I just plain don't like it for a variety of reasons. Many people do use and love this bit, swearing by it and using it for training colts. To each his own, but my personal opinion is that there are
far
better bits on the market.
This, right here, is a true Tom Thumb--and the worst one in existence. The straight shanks don't give the horse any warning at all--the second you apply pressure, they pop right around, snatching the curb and activating the nutcracker effect with the mouthpiece. It also makes direct reining difficult--the straight shanks, combined with the way the mouthpiece attaches to the shanks (no freedom whatsoever), mean that when you pull on one side, the entire bit twists rather painfully in the horses mouth. The curved shank versions aren't quite as bad, but it's still quite difficult for the rider to convey the intended cue to the horse, no matter how light or heavy his or her hands are. This bit just doesn't have a whole lot of finesse in the horse's mouth--it's all or nothing. And any efforts at direct reining will likely result in confusion for the horse. While many horses do ride well in a TT, this often has far more to do with the kindness of the horse's temperament than the quality of the bit.
Now compare the above bit to this, your standard Argentine Snaffle.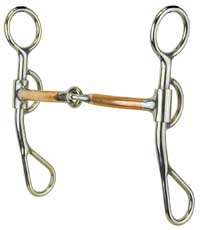 At first glance, they look very similar. But the Argentine is much better balanced. Look at the curved shanks--these make it less harsh, and a slight touch of the rein will give a horse warning that a cue is coming, giving the horse time to react. Also, the joint between the two parts of the mouthpiece is finished better, so it will be less likely to pinch. Most importantly, the attachment from mouthpiece/shank is not fixed in the vertical direction. This gives both parts some freedom and independent movement. Slight jingles in the reins are often all that is needed to give a cue and thus get the desired response from the horse without the yanking that is often required with a Tom Thumb. Ask any horse--most will respond so much better to bits of this type.
Of course, the "snaffle" mouthpiece in both bits has the potential to "nutcracker" and pinch, so be careful with that. A three-piece mouth is more desireable in most cases.
My horses do not do what i ask because of pain or fear, but because i have a bond with them and are extremely well trained.
I can ride in a rope halter on all of my horses (except my new one) and have the same result. I simply use the Tom Thumb 9with a VERY loose curb) as a aid, as said before, to lightly and gently, ask a cue if they don't respond to my legs and seat. My horses are never in pain from me, due to bits or any other issue on my part.
But i do understand that they can be harsh now, and i get that green riders, and aggressive ones, should NOT be able to use them.
But in reality, i still look at theses other bits and go, WT*.
Any bit can be harsh in my eyes, and any bit with a curb can harm a horse, and so could a snaffle, if you yank, pull, and snatch on a horses mouth.
Thanks.
Lena
---
Last edited by GeorgieNChex; 03-13-2011 at

11:35 AM

.
The problem I have with TTs is that they are straight-shanked, and gave no curve to the mouthpiece. Even your run-of-the-mill LR snaffles have some curvature to the mouth, thus being more comfortable to the horse. TTs generally don't have that curvature, which adds to their harshness.
Posted via Mobile Device