Will Anyone Notice?
---
OK. So. I got my show horse a halter that matches my show vest and tie PERFECTLY. It's purple. They had no plain purple leads.. only this one with a pattern. PLUS the chain on the lead is SILVER.. not brass like the halter's hardware! There WAS a matching halter.. $20 more expensive than the one I got!
Think anyone will give me looks? I mean, it's a small show, so I don't much care if I look weird, but it'd be nice to not look COMPLETELY redneck!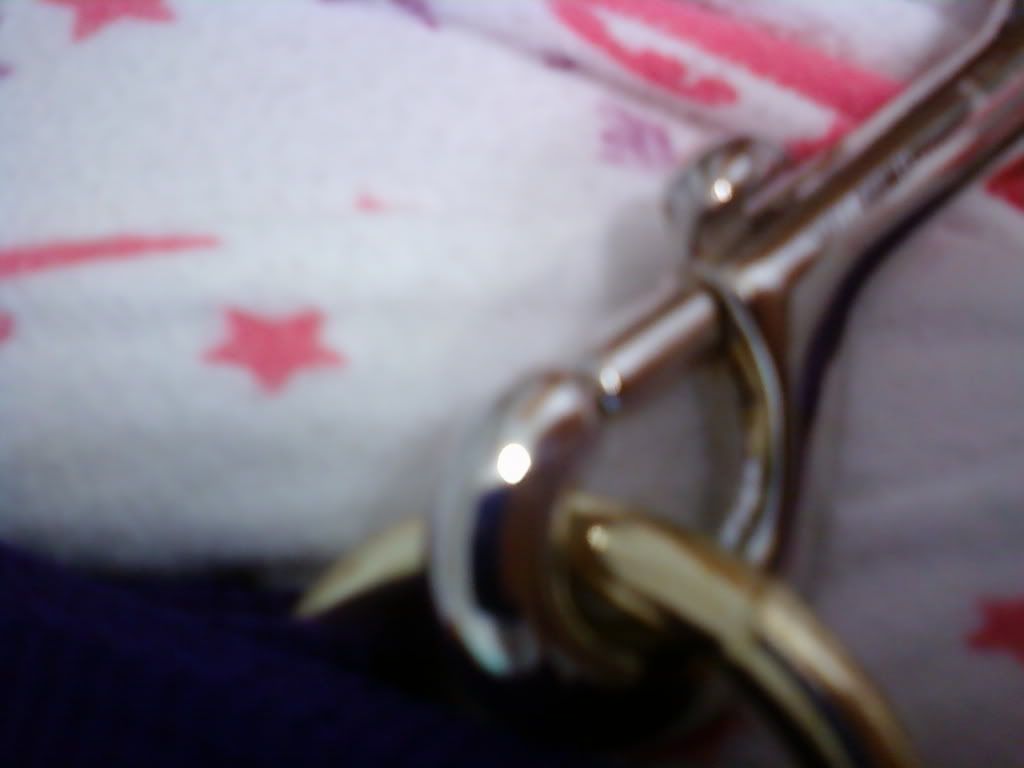 Everything I got today! Halter, lead, NICE black velvet-handle dressage whip with silver swirls and mushroom cap..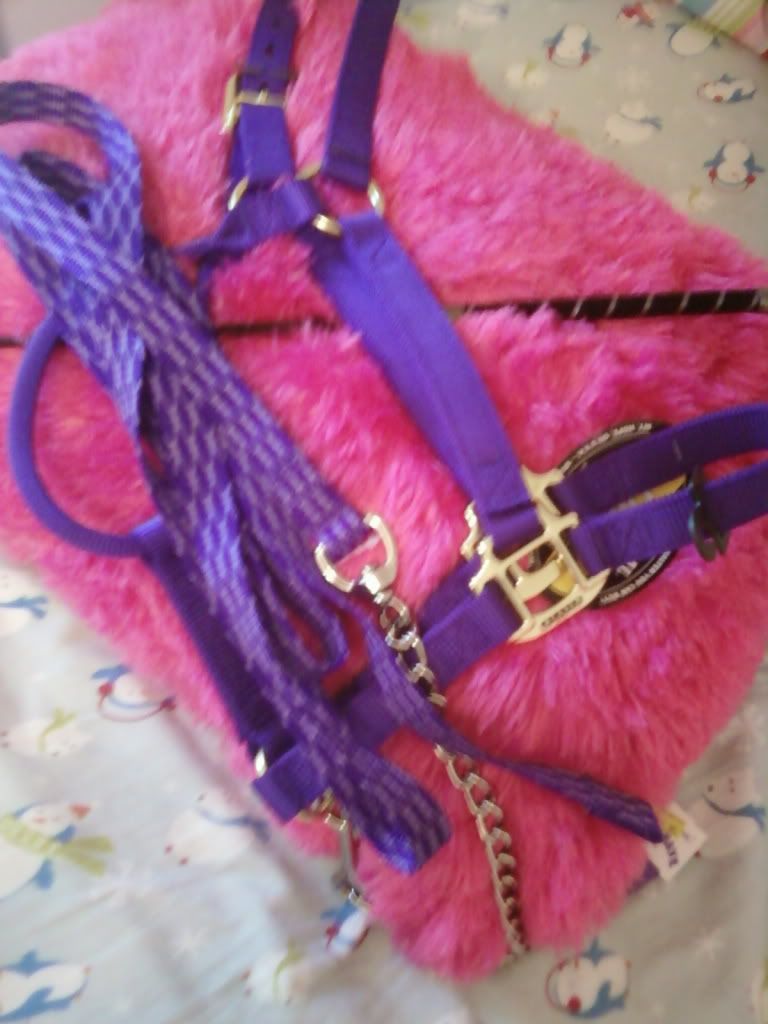 Are you showing halter? i dont think anyone will notice... you could always get a brass chain.

its anice halter, i like it!
---
If there are no horses in heaven... im not going.
Not this time. But I'm a matchy person. Nightie has too much of a.. TWH jughead. :P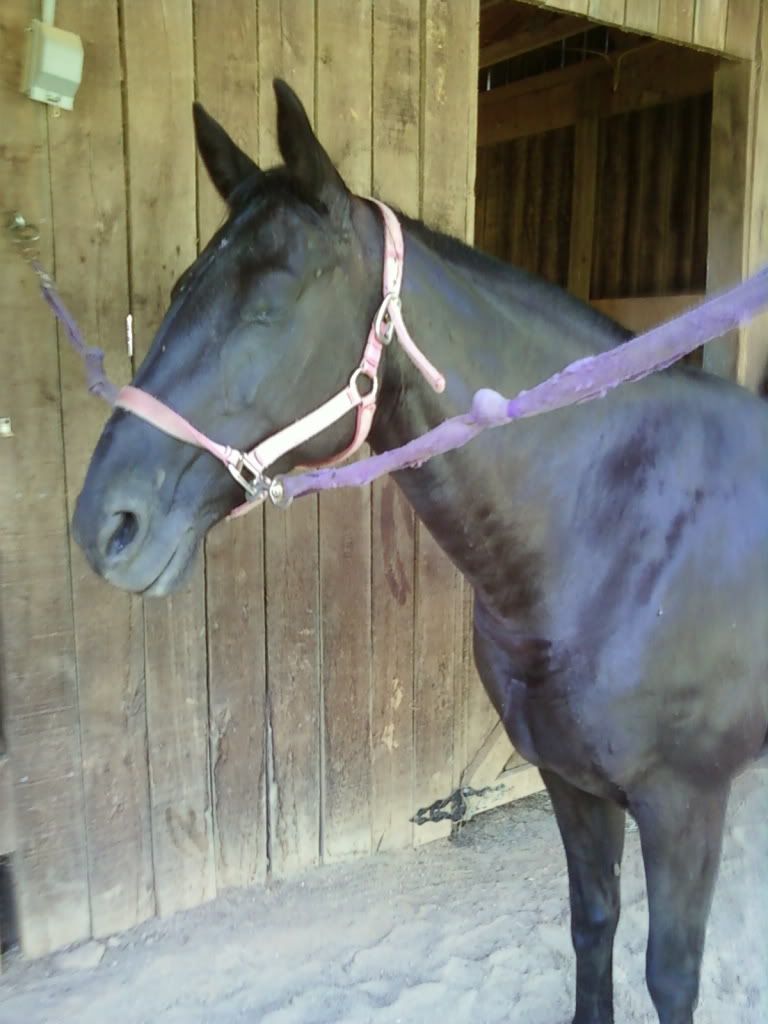 Nobody will stare at you.

In fact, no one will even notice that your lead line chain is silver and the halter hardware is brass.

People will be too involved in their own horses and how they look to worry about you. You'll be just one more person at the show.
Oh well, then that doesnt matter! Haha you wont look like a redneck if your chain isn't brass like the halter pieces! ;)
no one will give you looks for that! haha i go to shows in my pajamas,with a rope halter on, and rena wearing a rainbow blanket, with me in crocks. haha. and usually my hair is in a huge mess too. And i come from a fancy dressage barn. haha
---
If there are no horses in heaven... im not going.
There's a couple not-nice people I used to ride with that take it upon themselves to make a comment('oh, your lead rope is different!' or 'oh, that's not the Clinton lead rope. I like the Clinton lead rope.' 'You aren't gonna USE that stud chain, are you?'). I'm just insanely anal, and worry about EVERY LITTLE THING.

We're saddleseat people, and the people I'm showing against like to give newcomers the eye. Luckily I'm training under the lady who almost ALWAYS wins.

My silver browband is a little chipped, too! Oops! :P
haha people like that is WHY i dress in my pajamas at shows, I just LOVE to wathc them get all witchy. i think its hilarious.

just learn to not care what people think, otherwise you will miss out on laughing at them.
---
If there are no horses in heaven... im not going.
Hah, I am a Saddleseat person myself, but also like the Clinton crap... so imagine the looks *I* get when I lead my Saddlebred show horses out of the stall in a fancy schmancy rope halter... Psh, who cares if they notice. There is nothing wrong with being a little different. Nothing wrong with being A LOT different either... Just by you being a Saddleseat person, you will get looks. Embrace them. Revel in them. Make them your power. They WANT to get under your skin, so when they can't, it just bugs them more.
---
Last edited by LadyDreamer; 06-30-2010 at

05:16 PM

.
I wouldn't notice it at a show. I think it looks nice! :]
---
Do not go where the path may lead, go instead where there is no path and leave a trail...