Winter Blankets
---
I'm looking for a new winter blanket for Vega. She has outgrown her current one. It's a size 74 so obviously i need a bigger size, but when it comes down to thickness I'm clueless. I have no idea what thickness hers currently is.
It does get pretty cold in NJ and i would like something that's waterproof, but i'm looking for something that's going to be comfy for her.
Any help is appreciated
Weatherbeeta do some nice winter rugs (or blankets). I have this one for Jewel from Weatherbeeta:
This one is only a mediumweight (220g) though.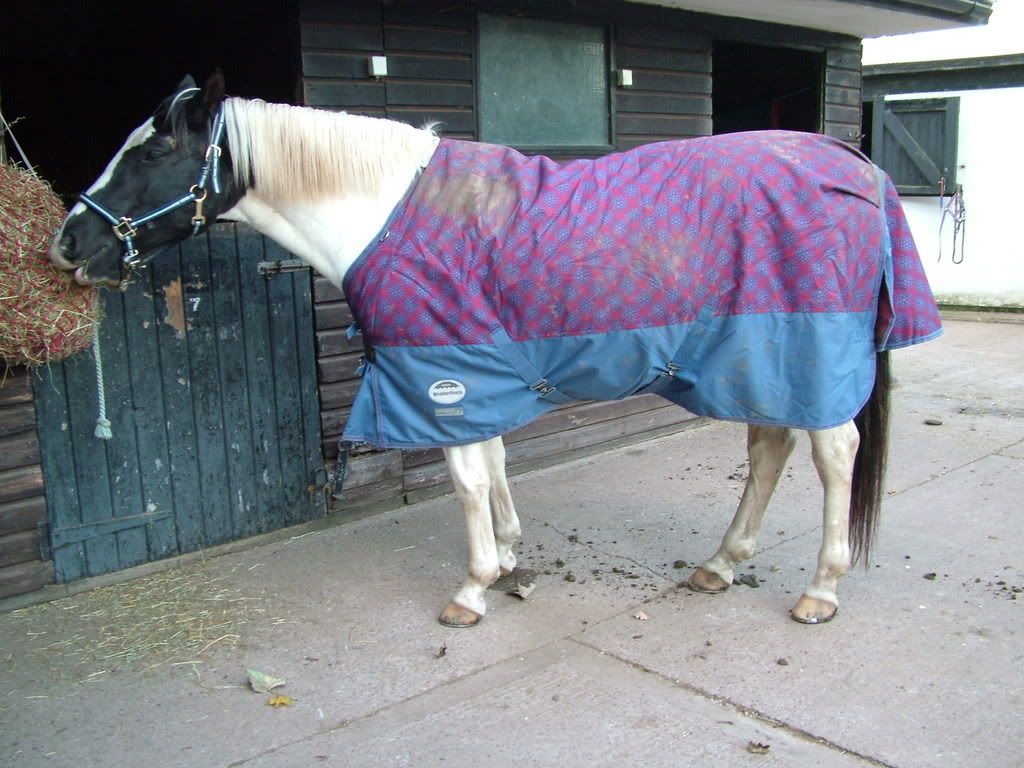 If you have a look on the Weatherbeeta site, they have some really nice ones. Horseware are good too, although they are a bit pricey.
---
AMAZING JEWEL
Thanks! I will look into it!
Appy, I got Saxon this winter (go to jeffersequine.com --> blankets --> Saxon 600D, unfortunately can't give the full link - it expires in no time). It's weatherbeta as well, but for very reasonable price ($40-50 range). Waterproof with some filling for warmth. I mainly ordered it because of price and was PLEASANTLY surprised. Good quality and it stand the bad ice storm we had. Another surprise was it's made in US (I was 100% positive it's China or India according to the price :) ).
Thanks! I'll look into that too. :)

I don't really care about the price, but i dont want to spend more than $250 for a blanket
I'm nto sure if it's the same in USA as Australia, but if it is, then i advise you to steer clear of Saxon. I bought one, and it was the worst fitting rug i've bought, rubbed my horse a ridiculous amount and just wasn;t very practical. It may be different quality and such over there, but just a heads up.
Thanks Wild_spot.
I'm still searching for one, but i'm totally clueless on what fill i should get. I see some with 100 and upwards and honestly, i have no idea what to get.
Are you sure your saxon fit properly? Two of the horses I work with have them and they are wonderful! Especially for the price! No rubs anywhere, no rips, nothing!

I would definatey get something that's at least 1000 D. The higher the Denier, the stronger the shell. I find that anything less then 1000 doesn't do well as a turnout blanket, especially for horses that play. I have my QH is a 250 g fill. He's fairly fuzzy but stays warm at nights when it dips into the teens. You may have to get something warmer if it's pretty cold in NJ, which I'm assuming it is. You're in luck, most places have their blankets on clearance right now! I got my saxon on horse.com, which has free shipping after like $50 or something.
Thanks Upnover.
I'm still looking, and i'm finding that a lot of places that have clearance blankets don't have her size. And i have to remeasure her anyways just to see what size she truly needs.
And i'm also kinda particular about the color. All of her blankets are burgandy, so i'm looking for a blanket that has a similar color. But i am willing to settle for anything right now. hehe. I'm just hoping i'll find something that will work for both.
---
The lovely images above provided by CVLC Photography cvlphotography.com