Daytona is pretty much all black, so I use anything from blue to purple to red.
She really looks good in red.
---
Ride more, worry less.
Here is a really terrible photo of me in a split skirt gettting ready for a parade. It was taken with a camera phone so the quality is bad as well. You get the idea of Vida in her yellow drape though. .
---

"Until one has loved an animal, part of one's soul remains unawakened..."
- Anatole France
My gelding wears a size 86 bright purple with yellow trim blanket. He also has a matching satin show cooler. Cliff looks like the purple peaople eater in them.
Every horse I've ever had, no matter their color, wears green because it's my favorite color.
---
Stella - sweet, timid, elegant, lovely, lively, amazing
Luna - large, unattractive, naughty, adored

Lacy looks really really good in Fern green, not hunter green but a lighter shade. Maybe it just makes her look whiter or something... Who knows. Haha
Wonderful color choices everyone!
Quote:
i want that bright blue for my leased horse Jackson at the left, he actually looks lighter when he is not in the shade! lol, whattya think?
I think that color will look wonderful on him!!
I'm going to dig up some pics of Brickens in his colors in a bit, so stay tuned.
Here are the promised pics!
sporting his baby blue/brown saddle pad
You can kinda see his navy with white trim cooler here
This is his spare blanket in navy/white (his normal got torn to shreds and is being replaced for free by the company)
This is his normal blanket which is navy with light blue and brown trim there's also a underblanket that's navy with white trim.
Mel (sorrel)- Either hunter green or hot pink (depends on what outfit I wear)
Snickers (buckskin)- Red
Twix (buckskin pinto)- Hunter green
Gus (dark bay)- Leaning towards some shade of blue
My mare is all girly colors so pinks and purples, my gelding is whatever else in between. I was going to choose a color for him but I like way to many different bright colors. The other issue is that I always end up seeing matching sets I like an buy them so...he doesn't have an official color.
Chances color is blue Light or Royal blue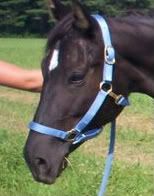 She also has blue and white polos and a baby blue saddle pad and a royal blue with black halter.
her color use to be purple but every black horse ive seen has purple.