Your recommendation for winter boots
---
This year is the first year I am going to be riding regularly throughout the winter. My toes froze in my paddock boots today so I'm looking at buying a new or used pair of winter riding boots. I need a wide calf, and I want comfort and warmth, but want to hear some of your recommendations before I buy. I was thinking of something like this.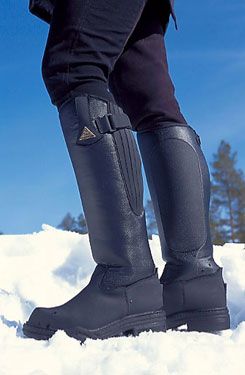 Super Moderator
Join Date: May 2012
Location: CT USA an English transplant
Posts: 24,602
• Horses:
3
I bought muck boots when we came here 5 years ago and I do the barn and ride in them, I've walked through snow and stood about in it and had no socks on but still felt warm.
The problem I have with most winter boots is that the soles feel too thick for comfort in the stirrups - I ride english so likely to be different in a western saddle
I bought cheap rubber riding boots in my first year of regular riding. I've had them in my trunk pretty much ever since, but am now using them, with a nice pair of wool socks inside, for both winter riding and mucking my stall and paddock. Its nice to be able to tromp through the mud without worrying about getting my socks wet, and they go up to my knee, so deep mud is no problem.
Trained
Join Date: Sep 2011
Location: Hour and a Half from Town!
Posts: 6,324
• Horses:
2
Mochachino I've been looking at those but can't stand such thick soles. If you get them let us know how it goes!
Posted via Mobile Device
I have the ones you posted a picture of for sale. Mountain Horse Rimfrost Rider IIs. Size 8. They're super warm and comfortable for winter riding.
Posted via Mobile Device
i have these (below) and love them. i have a wider calf for my foot size and these fit great with room for thick socks and winter breeches. i'm on my third winter with them and they're still great.
Active Winter Rider Mountain Horse USA
Ok thank you all. I am going to be riding english and was thinking about how wide and thick they are for the irons. Crimonsky thanks for the pic and letting me know they fit wider calfs. All good information, thank you.
if it helps any, those winter boots ARE wider in the footbed with the treads on them and whatnot, but they still fit in my standard stirrup irons. ;)
I got Mt Horse winter boots last year and been very happy with them (already started using them this year). But... We are in MD, so it's not nearly as cold as, say, Canada. :)
---
"Life isn't about waiting for the storm to pass: it's about learning to dance in the rain..."

"When we are no longer able to change a situation - we are challenged to change ourselves."

"How people treat you is their karma; how you react is yours."

Wider stirrups are made for winter riding. Look for boots with a rubber foot, not those plastics. Rubber is warmer. I had a pair of original Sorels with the rubber foot, roomy nylon upper with liners. No socks, just bare feet. I wore these out. Even had tire patches where I'd accidently cut them. The soles looked thick but weren't. I'd love it if I could find another pair.