Your tackroom!
---
So, there was a thread like this on one of the forums I'm on a while ago.
So basically, post photo's of your tackrooms XD
I had mine in the house, in the end study, but I now have one outside, so I just have to move everything in there from the car's and stuff (We had a fire, it's scattered about in different cars
)
Lot's of photos :/
Everythings an absolute mess, haha.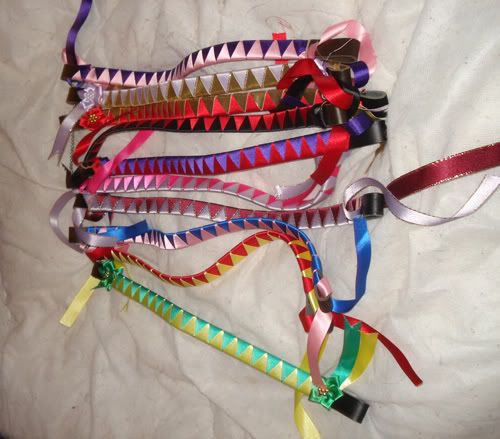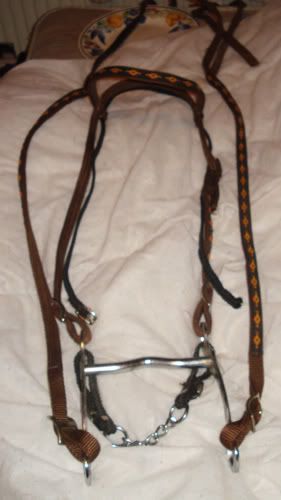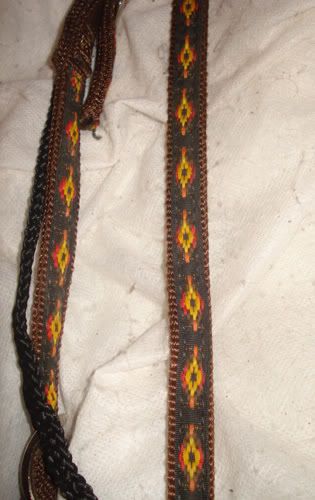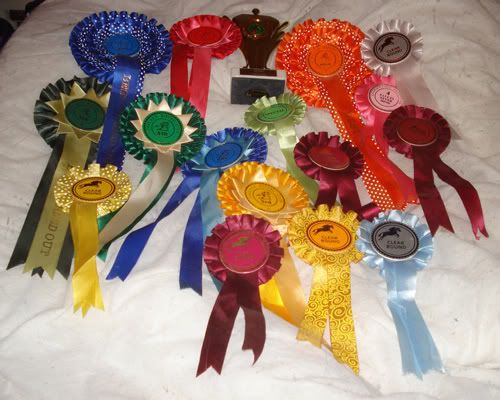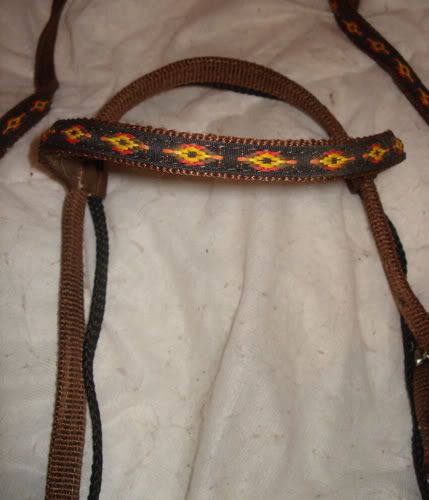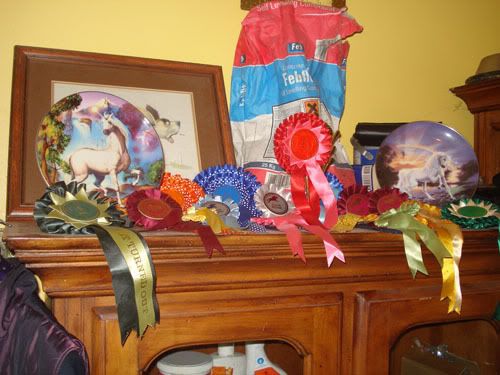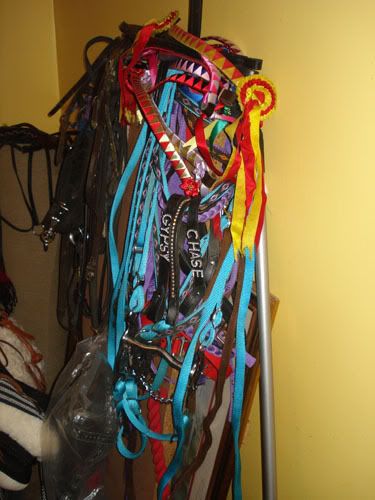 Good Golly!!! You could start a tack store with all that tack!!!
Or better yet, you could sell some of what you don't use and buy another horse!!!!!
I have the saddles in the living room and all the halters and bridles in the laundry room. I've found I keep things MUCH MUCH cleaner if they are in the house!
Dam Pictures 4-23-08 011.jpg
**Note, I do not stack my saddles like this usually, I was cleaning the floor underneath them and snapped this picture for someone...don't really remember why.....BUT the saddles are not stored stacked.
---
Be strong and courageous, and do the work. Don't be afraid or discouraged by the size of the task, for the Lord God, my God, is with you. He will not fail you or forsake you.
1 Chronicles 28:20
---
Last edited by Dumas'_Grrrl; 12-30-2008 at

06:39 PM

.
Mine is a shed out at the farm, so theres dust and mice and flies and spiders, and sometimes snakes... But it's all we have! Dads boss has taken back that paddock so we are having to convert an old silo into our new shed, but it will be waterproof and dustproof, so a bit of an improvement, although not as big. This is half of our shed, the other half is full of hay. The green barrels have our rugs and saddle blankets in them.
---
Hah! I suggested that to my parents, we already have 7 at the moment, but only 3 can be ridden at the moment because 2 are yearlings, one's a broodmare and has never been broken in and the other is a miniature, and the only piece of tack I have for him is a bridle, haha.

I just usually lend my tack to friends, as long as I trust them and get it all back, I used to write a list and put their names by it and get them to sign, haha.

My friend had to sell her horses because her ex husband was trying to sell them, but they were in my friends name and she bought them, so...

She just gave me a box full of grooming supplies, a ton of books (Which were in my room and burnt) boots, 2 bridles and even a brand new hunter bridle <3 load's of bits, boots, girths and some rugs and headcollars. She even gave me the stuff I bought her over the years as presents, she said since she doesn't have a horse now, I should have them back because I bought them, but she said she's keeping her browband with her horses name on because that meant so much to her.

We used to keep some tack out in the garage but that got really damp and mouldy, so yeah, I find it best keeping it in the house, haha.

The stable I stayed in for 6 months is all plasterboarded, so I'm turning that into a permanant tack room, just gotta put a little fridge in there and a kettle and microwave, haha.

I will be doing that when all the workers come back to work, hehe.

I don't want to be in their way, hehe.
I will have to take a photo of the tack rooms at the barn. We have a couple (big barn). I'll try to post photos of the inside of mine later as well but it's getting varnished so not at the moment.
Well our tack room is a bit of a story. Our BO bought new property this year and I agreed to help "organize" the tack room...sight unseen. When we saw the property we discovered that the "tack room" was just a pipe dream. It was a building that the previous owners had built as a dog kennel because they were breeders. My BO just envisioned it as being the tack room, but she didn't know how. Thank goodness I have somewhat of a creative mind and my husband works in construction so we agreed to build her a tack room within the walls of the old dog kennel. The place was a mess and stunk to high heaven. It took us months to complete (we were doing it on the weekends because we both have full time careers) but we finally finished it a few months ago. We kept it divided into four little rooms to maximize wall space. The end photo is just one of the tack bays. The photos below are in order from start to finish. Enjoy.
---
Last edited by IrishRider; 12-31-2008 at

12:47 PM

.
Quote:
Wow Irish... That turned out really really nice!!! Good Job!!!!
Thanks. It felt really good to finally get it done.
I don`t have any pics of my tack room because my trainer justed moved us to his new barn the first of December but ill discribe his tack room for now you walk into the bath room and there are shelves and a tolet and sink i want to get a mior and we have the feed bin. Therse a door in the bath room that leads to the tack room their is built in selves and a old metal desk and a couch with a window above it. next to the desk their is a three saddle rack. On the oposit wall there are wall mounted saddle racks with tack trunks below them