Your thoughts on side reins...
---
I've been trying to decide whether or not to get a pair of side reins to use on Lacey.
I totally know that they aren't a "fix" for anything but I've been lunging her quite bit and I want the lunging to be being actually beneficial to her muscles as opposed to just being exercise and Emily+Lacey bonding time.
She tracks up nicely most of the time when I lunge her so I'd assume she's "working through herself" but her head is always up. I'd really like to start working on her topline and her neck to wither connection (right now she has one of those ewe neck gaps going on even though she doesn't appear to have an ewe neck) and since it's getting rainy, muddy, and slippery I'm not going to be doing as much riding since I don't feel comfortable riding when it's super slippery outside...

Is that a valid reason to get some side reins? I won't be riding in them or any craziness like that, I just want to use them to lunge in...
Thoughts?
---
Fabio - 13 year old Arabian/Lipizzan gelding

~
Rest peacefully, Lacey.

i think side reins are great for lunging, i use them all the time, as long as they are not trapping the horses head into a uncomfortable position, mabye just slowly tighten them over a period of time. i would also recomend long lining, i LOVE it and i taught myself by reading books and asking other people at the barn, as long as your horse doesnt freak or anything when you make mistakes and wil be ok with you trying it out on her (haha, my horse was so patiant the first day i tryed long lining!) then i think you and your horse will find it very helpful. :)
---
If there are no horses in heaven... im not going.
I 100% agree with everything that ridergirl said. I have myself done long lining and have used side reins when lounging. My boy fought the side reins for about 6 laps around but once he got it threw his very thick skull (im sure yours will be much better, my boy was 2 and an idiot) but once he got it he was very good and i found them very helpful!
I use side reins sometimes with Thumper when I'm lunging him, just REALLY really loose to just encourage him to stretch downwards. If you start using them, just remember that she'll be using different muscles so keep the sessions short.
---
Green Broke
Join Date: Mar 2009
Location: Kansas in the summer, Kentucky most of the time
Posts: 3,028
• Horses:
3
I use them every time I longe Demi. They are helping her gain correct muscles with steady contact anf without me hitting her mouth. Her muscle mass has gotten better since I started using them. I use them on Uma sometimes as well
---
Look like a SUPERSTAR, Ride like a FOUR STAR, Win like a ROCKSTAR
Eventers: Making BAD Dressage look GOOD!
Side reins can teach some horses to either brace against the bit or avoid the bit. Side reins really help some other horses.
I don't like the donut side reins; the donuts just seem to bounce up and down and jerk on the horse's mouth.
I much prefer a Vienna style bungee side rein or something that goes from the bit, under the front legs and up over the wither; that can encourage a horse to really work long and low.
---
The lovely images above provided by CVLC Photography cvlphotography.com
I use side reins with my horse when I lunge. What I don't use them for is getting a horse "long and low", they are really to help teach the horse about contact and I really like them for that.
If you are looking for something to work a horse long and low - then the vienna reins that JDI suggested sound great.
If you are looking to teach the horse about contact on the lunge then I would use side reins. A few things that you need to keep in mind is that you MUST use a surcingle with them and don't have them attached any lower than the middle of her barrel. Because they don't "give", if you attach them low all you are going to teach her is to curl to give to pressure. They should always be level with the ground, or the part attached to the surcingle should be higher.
Another thing that I always have to do with side reins is buy the leather ones and endlessly punch holes. I don't use them so that the horse's face is cranked into it's chest, I use them so that a contact is being kept and so the donuts aren't bouncing all over the place. I usually end up with them between the 14-17th holes, they only give you 9 when you buy them.

I'd also recommend having someone show you how to properly lunge, or at least give you a refresher lesson if you haven't lunged in a while. The girls at my barn put their horse's face to chest devices on in the cross ties, crank them tight and then walk them to the arena 0_0 It drives me BONKERS.

Good luck!
i think the vienna reins some people were talking about are draw reins, am i correct?? side reins are great if a horse knows how to deal with pressure. i dont like lunging in any type of rein that goes under the legs. i am always paranoid about a horse getting caught in them. but in reality i dont think there are too many of those type of accidents.
I use side reins on young horses or those needing some "encouragement" to go in a proper frame. My DH's gelding always needs them, he's a star gazer, lol. My mare doesn't anymore, but she knows where I want her and has the muscle and topline to go right.

I also use side reins when lunging students on my horses. It keeps the horse focused and in a nice round frame, which relaxes the student and makes it easier for them to learn, which in turn relaxes the horses, etc. I set them to encourage a relaxed, slightly stretched frame, with enough freedom that the horse can express itself should the rider stiffen or do something else "wrong".

I'm a big believer in them when needed, and used properly (to encourage, not to force).
Green Broke
Join Date: May 2009
Location: Winnipeg, Manitoba, Canada
Posts: 4,510
• Horses:
2
Quote:
A few things that you need to keep in mind is that you MUST use a surcingle with them
Not true. The majority of people I've known or trained with attach them while the horse is tacked up English. It'd probably be a lot trickier trying to do this with a Western saddle, but as long as you loop the side reins around the billet straps, it's the same thing as a surcingle and actually prevents a lot of that "loose" bouncing movement.
I really like using side reins to teach youngsters about a more steady contact. They were also beneficial in teaching my Arab mare she didn't have to stargaze constantly. I've always used them with an English saddle, it wasn't until recently we even acquired a surcingle.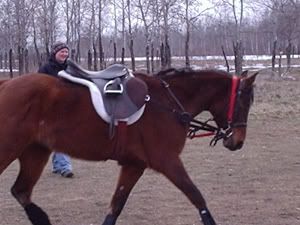 ---
Quote:
I hope God tells her to smash her computer with a sledgehammer.