Quote:

That said, if a 19 inch saddle fits you, the 18 inch will be to small and vice verse. Doesn't seem like there is much of a question here - get the saddle that will fit you now.
But what fits me now wont fit me in a little while, hopefully, and actually I have no idea what size I need....hang on a minute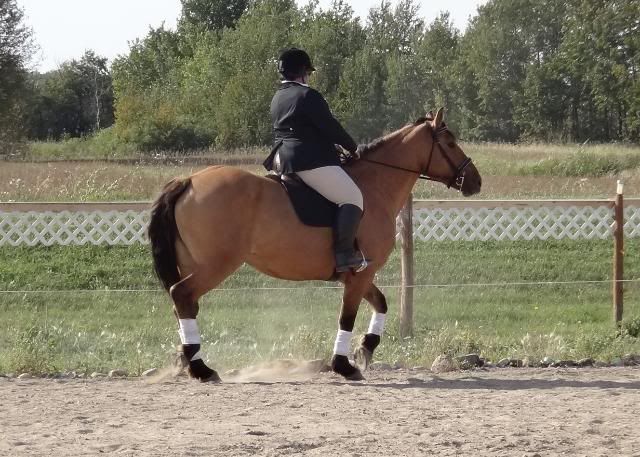 that is a 17" and my backside seems to have hidden the saddle, don't have a really good angle to show, but it isn't pretty.
Quote:
Also, do you want a dressage saddle or an AP. Getting a saddle that doesn't fit and isn't what you need/want simply because the price is good, isn't a good deal. Think of it like clothes. If you wou;dn't pay full price if you could, don't pay half price just because you can.
Well as I said I would much prefer an AP, and that would probably do for intro and training, but seeing as I mainly ride dressage now I suppose I should have a dressage saddle....Oh and I have a closet full of clothes bought because they were cheap!!!
Quote:
Good thing about Stubbens especially and Collegiates to a lesser extent is that they hold their value. If you get one now and need something different later, you should be able to sell it without too great of a loss, so long as you care for it well.
Yes, I've learned my lesson well on that one
Far out I have a collegiate convertible post grad dressage saddle and seriously, doesnt get any better than one of them!
---
Cross Country- The act of hurling yourself and your equine partner at a stationary object with poise and grace while attempting to survive...

I absolutely ADORE my Collegiate. :) I've got the Diploma close contact convertible right now and I'm just madly in love with it...I'm actually planning on buying an Intellect myself, when I have the funds! I've had a couple friends ride in it and they all agree that it's a wonderful value for what I paid for it. I got mine very lightly used (it's a 2009 model), and for the saddle + an entire gullet kit, shipping from California to here in Eastern Canada, and good quality fittings, it ended up only being about $700. Could not have been more pleased! Even a friend with a $2500 Barnsby adored it. :) I'm definitely on the Collegiate bandwagon!
I've put the deposit down on the Collegiate, $850 shipped brand new, sounds like a deal, now to find a gullet kit
Yay! Good choice :) I've heard from a couple people that Stubbens can be pretty uncomfortable. I 'poked' a few in a tack store once and they did seem quite stiff and solid. Not to say that that's a bad thing or that Stubben has bad products, just not my cup of tea!
I'd really love to know what you think of the Intellect when you get a chance to try it out. :) Like I said, I'd love to buy one myself, and I'd love to hear your opinion!
Don't hold your breath, gotta pay in installments, so it is going to be a little while before it gets here
No rush - I'm not going to order mine until I can afford it without borrowing money from my parents, which probably won't be for a good few months yet. :)