Corriente Saddles
---
Looking for reviews on Corriente barrel saddles.. Please only people with experience with the saddles
Posted via Mobile Device
I do!
What would you like to know about it?
They're really good quality for the price. I've had mine for a little over 2 years and have not had any complaints with it. My BO commented on it last month about how nice it looked and didn't think it showed 2 years of wear at all (especially for how much I throw it around in the dirt).
The cantle isn't as high as other brands, but I really only trail ride, so it's not something I can review in terms of actually running barrels.
Wondering mostly about quality. And how they fit.
Posted via Mobile Device
They only make 7" gullets, which fits my mare for the most part. It fit her best during the summer when she's in a hilly pasture and ridden at least 5 days a week in addition to working herself. During the winter, she loses back muscle because I don't have as much time to do work her and the first place she loses the muscle is her withers, causing it to sit farther down and pinch, but it's more my fault for just not keeping my horse in shape. Haha.

Smrobs uses Corriente too and has said in other threads that it fits almost every horse she's ever put it on from her 14.3 mustang to a 16.2 or so Belgian/QH.

I got the recommendation from her to try one because the quality is awesome for how much you pay for it.
Are their cantles hight or are they ok?
Posted via Mobile Device
Call them and ask if you have any questions. I have talked to them on the phone when searching for a saddle for a short backed horse we had and they were very helpful. I don't have any experience with their barrel saddles but like mentioned before smrobs has a modified association and very happy with it. I know of several guys that had to send their saddles in to be fixed or waiting on a custom and used a Corriente to cowboy out if until they got their new or repaired one.
Posted via Mobile Device
Quote:
Are their cantles hight or are they ok?
Posted via Mobile Device
The cantles aren't as high as seen on bigger name barrel saddles (Circle Y, for example). Still enough to lean on, but you aren't clamped in like you would be in a saddle with a higher cantle. The seat is also flatter and broader than a lot of barrel saddles. I think it's perfectly comfortable and snug.
This was the first time I used it. You can see the cantle goes out at more of an angle than straight upward than most barrel saddles.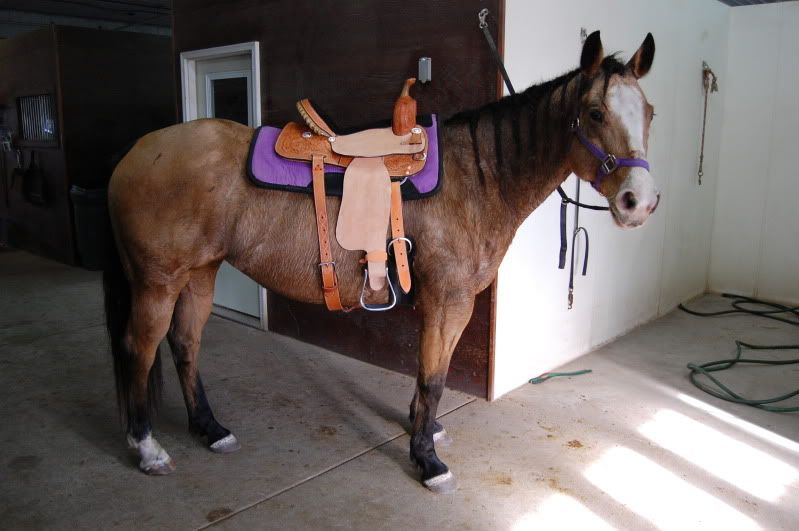 ---
Last edited by Poseidon; 11-21-2013 at

12:52 PM

.
I had a corriente roping saddle in the '80's, selling it was one of the bigger regrets of my rodeo career!
---
FYI, it is spelled W-H-O-A.
Personally I hate Corriente barrel saddles. I don't like how they sit me, and they kick my legs back and throw me forward if a horse sets up hard.

Just not a fan....
---
Conformation is how far the horse CAN go,
Mind is how far the horse WILL go,
Training is how far it DOES go.