I am just not liking the rope halter at all. Ours is really stiff and difficult to tie. I also don't like how it makes our bridle fit (I keep it on under the bridle because, let's face it, he's two).
The only time Aires wears his halter is if he's being led somewhere, tied for grooming/saddling, being lunged (free lunged...he refuses to lunge on a line) or if we're on a ride. In turnout, I take it off because he and my friends' arab geldings like to grab each others halters and try to either pin each other with them (Aires almost did this to Rex the other day) or tear them off. He also doesn't wear it in his stall because there's no reason.
I just want something that will hold up to a 16hh, ~1500lbs coming 3yo sitting back while tied (he doesn't do it often and he's usually tied with the blocker tie ring, so it gives) and that looks nice and neat. I really really really wish I could find a version of our old halter to fit him. *sigh*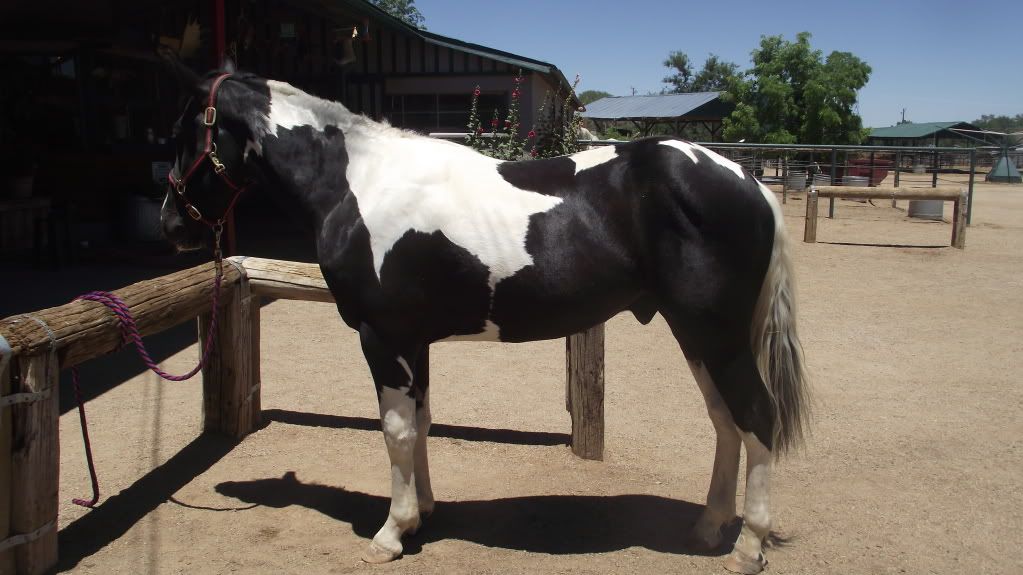 ---
Do not tell me I can't...because I will
show
you that I can.
Clinton Anderson halters are stiff... Any other rope halter I've used hasn't been very stiff.

Have you looked on Ebay? They have good halter deals sometimes.
Posted via Mobile Device
But, we have to consider that he's already outgrown a "L" horse halter, so it would have to be sized bigger than 1,100-1,600 pounds.
Quote:
The one that you originally posted, it appears that the ring on the noseband is sewn into the nylon. What the purpose is...your guess is as good as mine
.
Here is a site that I've heard good things about....and they let you build your own halter so that it will fit your horse.
Draft Halters and Leads
I always forget about drafttack.com lol From the looks of their sizing, their warmblood halter would fit him (I love how the list out measurements for each size, instead of pounds...Aires has the head of a much larger draft horse compared to the size of his body), but I'd have to get an adjustable noseband on it because his nose is a about 32" (I think that's what it was when I measured it...I put his measurements somewhere...).
I'll have to wait on that one, though, as it'll be $30+ plus shipping and I can't afford that right now because I still have to get my truck out of impound and replace the browband on my bridle because my dog ate it.
And to your last statement, smrobs...EXACTLY my problem! He's too big for the "large horse" halters, but too small for the full draft halters. Which is why we went with the rope halter because it fit, but it was adjusted as big as it would go, and now it's about >.< this close to being too small. I love my horse, but he is next to impossible to fit things on his friggin' head!
As for eBay, it's all either huge draft or large horse, which as has been discussed, doesn't fit.
---
Do not tell me I can't...because I will
show
you that I can.
---
Last edited by DraftyAiresMum; 02-08-2012 at

01:42 AM

.
If you think a warmblood halter will fit him, I saw some nice leather halters in a tack store here - $24.00. I bought one for Vanna and it was a little stiff, but a couple applications of leather conditioner and a bunch of kneading/flexing loosened it right up.
When I get home, I can take a picture of it for you if you'd like. If you have the measurements for his head, send those too and I can measure my halter (Vanna wears a warmblood sized) and let you know. If you think it'll work for your guy, I can pick one up and ship it to you. :)
Actually, here it is:
http://greenhawk.net/cgi-local/SoftC...630+1328724607
I can measure Vanna's for you and if it'll fit Aires, it might actually be cheaper for you to order directly from Greenhawk. For the price, it is a really nice halter.
---
Last edited by Courtney; 02-08-2012 at

11:20 AM

.
Thanks, Courtney!

These were his measurements from a few months ago:
Bit to bit (over the poll): 46"
Throatlatch: 44"
Noseband: 26"
Cheek to cheek (over the poll): 38"

I think the only measurement that has changed on that is the bit-to-bit, which has gone up by about an inch (had to loosen the bridle by one hole on either side so the bit wasn't too high in his mouth). Oh, and the noseband is closer to 27" now, not 26". I'm pretty sure the cheek-to-cheek (which is the measurements relevant to a halter) is the same, though, as is the throatlatch.
---
Do not tell me I can't...because I will
show
you that I can.
The two brands I have ever used are Mustang and Big D, I seem to have VERY good luck with halters though. Every single one I have bought for ransom has been good..but the only thing that I wish I could find is an adjustable noseband, it's always too big for him :(
Saddles Tack Horse Supplies - ChickSaddlery.com
is having a huge sale on halters & leads right now, I reccomend you check it out!!
Posted via Mobile Device
Bella, I was actually VERY tempted by the $25 personalized leather halter on Chicks! But, I'd need to find out what the measurements for the halter are and they don't have online customer service. lol
---
Do not tell me I can't...because I will
show
you that I can.