How much is this saddle worth?
---
5-6 year old M. Toulouse Celine.
This saddle has a 17.5" seat and a medium tree. It does not have an interchangeable gullet system.
I have used this for everything from Hunter/Jumper shows to informal Dressage shows, to trail riding and it has never failed me or given me any problems.
Although I haven't really cleaned or conditioned it all that often, it is still in VERY good shape, with minimal scuffing on the leg flaps from the stirrup leathers, and a few very minor surface scratches that you can barely see after using oil/leather conditioner. The billets where the girth attaches are actually very thick as billets typically go and are in GREAT shape. It has velcro moveable/removable knee rolls as well.
I will be selling it with a matching 48" girth, and the stirrups and leathers will also be included. All are in good working condition. There is a tiny bit of duct tape residue on one of the stirrup leathers from when the zipper on my half chaps broke before my lesson a few years back and I had to wrap them in tape but when riding, your leg covers it and it doesn't impair the function at all.
I bought it for $625 on consignment almost brand new, used only 3 times with no damage.
As a side note, it also fits just about every horse I've had to use it on. I've had the saddle longer than I've had Beau, and when I was taking multiple lessons a week on different horses, I used it every time and never had a problem with it. I haven't had to get it reflocked as Beau's muscles changed either.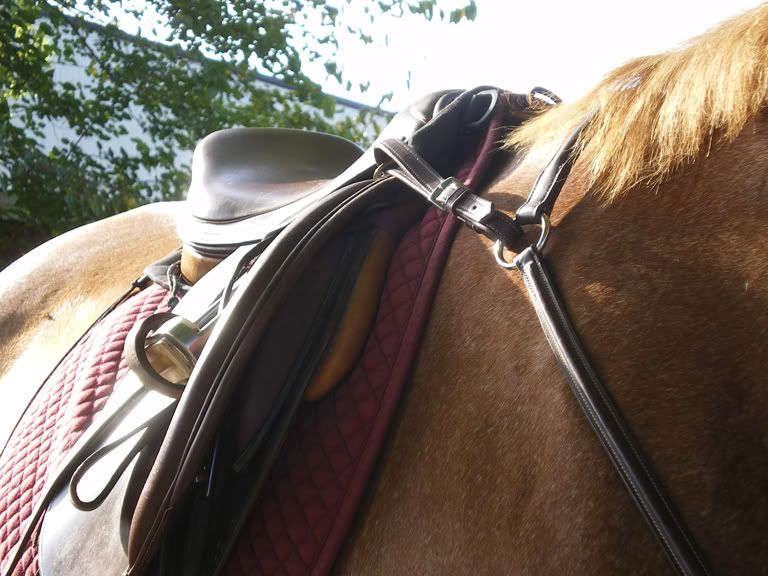 After not being conditioned/oiled for several months of everyday riding: You can see the scuffing from the stirrup leathers here, however they oil down to being nigh invisible with your everyday saddle conditioner.
(Yes Beau was overweight here, he has since been moved from that barn and is in much better shape x_x)
---
Fly Without Wings
I would pay $350 - $400 for it, as it is still in pretty great condition, and looks to have very nice leather, though it is used and does have scuffing and the like. Sad to see you have decided to sell after reading your other thread.

Cheers,
RSS
It looks to be in great shape and with irons, leathers, and girth I think it would be fair to price it at $500 - $550.

That's about 50% of what a new Celine (by itself) would cost.
Are you seriously considering selling this saddle?
Quote:
Originally Posted by
huntrjumprjenn
View Post
Are you seriously considering selling this saddle?
We actually had a bit of an issue with the lady shipping it up to me but that's been resolved now and it is on its way up to me.
I honestly don't know. I mean, I've had this saddle longer than I've even had my horse, not to mention it was a gift from my mother years ago. It has my name on a nice brass nameplate on the back of it. :(
I'm definitely considering it because I DO want to get a western saddle, but I'm not 100% sure yet whether I want to obtain said western saddle by selling this one, or just saving up to get a used one.
---
Fly Without Wings
It's still worth between $350-$650. Depending on how much wear/discoloration is going on with the flap. Hard to judge from your pics. You didnt purchase it at a bad price. Saddle prices are higher during the riding/show season, so now is a better time to sell.
---
It's a lot like nuts and bolts - if the rider's nuts, the horse bolts! ~Nicholas Evans
Since you bought it used for $625.00 and have been using it regularly, I'd expect it to go for about $530.00.
---
You want the truth? You can't HANDLE the truth!
I think that you will regret it if you sell this saddle. It will cost you more to replace than you will get for it. I would save up for a western saddle.
---
Celeste
Carpe Diem!
That's a beautiful saddle! I would hang onto it and save up for a western.
That saddle is a great brand to have. I'd keepmit