Opinions on Bit Designs
---
So I'm hoping to purchase a new bit for my TB to show in, and I know the style I want, but am having trouble deciding on a pattern.
These are the ones I like:



These ones I like the shanks but not the mouthpiece itself:

This is my favourite - but I despise the ported mouth XD: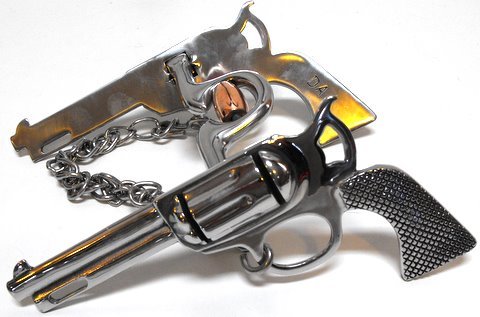 Any opinions on the designs of the shanks themselves? Is there a design you've seen that you like better?
just fishing for ideas right now more than anything.
---
A canter is a cure for every evil. ~Benjamin Disraeli
Are you having a bit custom made? Where from?
I would like to find someone who does custom, but right now I'm more scouring ebay.

I'm trying to find something that will last, but that also will be functional and - my own vanity here - pretty.
---
A canter is a cure for every evil. ~Benjamin Disraeli
Start with finding the mouthpiece you need, then worry about shank design. For a show bit, I like the third one the best. The guns, while "cool," are tacky for the show ring.
This is what I ride in now:
I want something similar to this... but flashier. And the reason I was liking the pistols is because my headstall has pistol conchos on it... but I'm not even sure I'll use my current headstall for show next year - might just buy a whole new set
My musts are it must be a snaffle. And - because I'm paranoid about it pinching his mouth at the joints - it must have no hinges attaching to the shanks.
As it is, I'm leaning towards the S-style shank and the hearts.
---
A canter is a cure for every evil. ~Benjamin Disraeli
You realize the bit you posted is not a snaffle, correct? None of them are. I think you just mean you want a single-jointed bit. What discipline will you be showing in?
i wish us english riders had bits like that! they are so cool looking!
Yeah, single jointed... that's what I meant. I stink at technical terms for bits
We just do local fun shows. The classes we've done in the past are command - which is basically like simon says - and we've done barrels for the fun of it... didn't even get out of the canter and trotted the barrels
.
I hope to be able to compete in Trail next year as well as Western Pleasure, but like I said, it's mostly just for fun.
I've been wondering about the dogbone bits, but I don't know if he'd go well in it... Even when we were using the D-ring for training I never used anything accept the single jointed bits. Be something to try out I think.
---
A canter is a cure for every evil. ~Benjamin Disraeli