Showing
Join Date: Jun 2011
Location: Cariboo, British Columbia
Posts: 11,940
• Horses:
3
They have worked out well my horses & a few others around here. Local feedstore got a few in about 10 years ago. My daughter bought one, I borrowed it, my horse liked it, so I had to go buy one. Someone else saw it, feedstore had to order more. I had to buy another for my everyday riding as I had taking apart show tack to use for everyday gear...
Cool! thanks for the info, like you said , great for everyday bits.
---
I DON'T LEAD 'EM AND FEED 'EM, I RIDE 'EM AND SLIDE 'EM.
Jacking thread now, but I was snagging some other photos from my PB account and came across this, so thought I'd post it since I was just talking about them.
My custom Myler--great little bit. The Mylers were using it on their colts.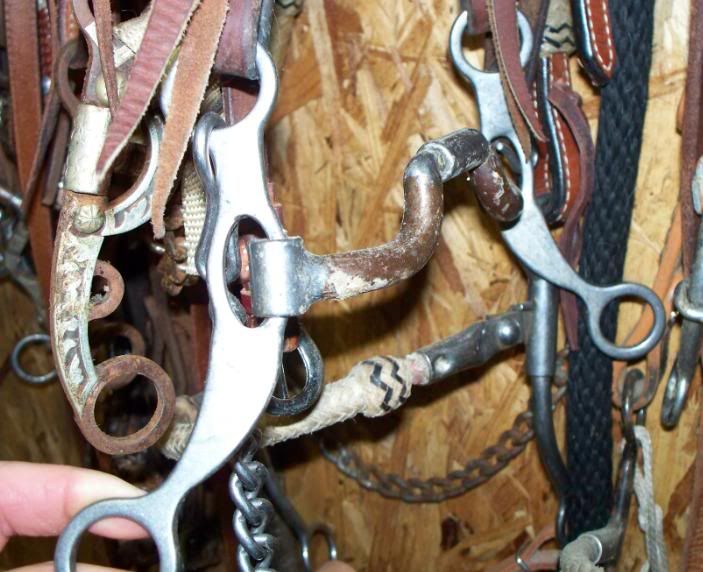 Showing
Join Date: Jun 2011
Location: Cariboo, British Columbia
Posts: 11,940
• Horses:
3
In a way, kinda shaped similar to the Robarts. Does the port swivel in the center?
Bubba, I love those square ports! They are great bits...very versatile...
---
I DON'T LEAD 'EM AND FEED 'EM, I RIDE 'EM AND SLIDE 'EM.
The flat port stays in place but either side rotates. But I guess it's still not all that different.
I really like that Myler.. People are so mixed about them, but I really like their 2-3 level bits. Great shape to them.
---
"You're just as sane as I am."~Luna Lovegood.